Twisted minds and the dark secrets of Edinburgh's other side.
He had wanted to update Robert Louis Stevenson's "Dr. Jekyll and Mr. Hyde" for modern times, Ian Rankin writes about his first Inspector Rebus novel, "Knots and Crosses" in the introduction to the compilation "Rebus: The Early Years", which contains the first three installments of the series. Oblivious to the mere existence of such a thing as the mystery genre – or so Rankin says – he was stunned to soon hear his book described first and foremost as a crime novel. But eventually this characterization prompted him to have a closer look at the work of other mystery writers, and he found that the form suited his purposes just fine; that in fact he "could say everything [he] wanted to say about the world, and still give readers a pacy, gripping narrative."
Bearing in mind the original duality of Jekyll and Hyde, however, Rankin's tales are not dominated by a contrast painted in black and white. While the villains Inspector Rebus faces are certainly every bit as evil as Stevenson's Mr. Hyde, Rebus himself is far from a clean-slated "good guy:" Divorced, cynical, hard-drinking and a former member of the SAS, he is a brother in spirit to every noir detective from Dashiell Hammett's Sam Spade and Raymond Chandler's Philip Marlowe to Michael Connelly's Harry Bosch, James Ellroy's squad of crooked cops and Peter Robinson's Alan Banks. Nor is Rebus's Edinburgh the touristy town of Calton Hill, Castle and Edinburgh Fringe (although the series has meanwhile sparked real-life guided tours to its most famous locations, too) – as befitting a true detective of his ilk, Rankin's antihero moves primarily in the city's dark and dirty underbelly, which is populated by society's losers and where those who have "made it," those with money in their pockets, only show up if they have shady deals to conduct as well.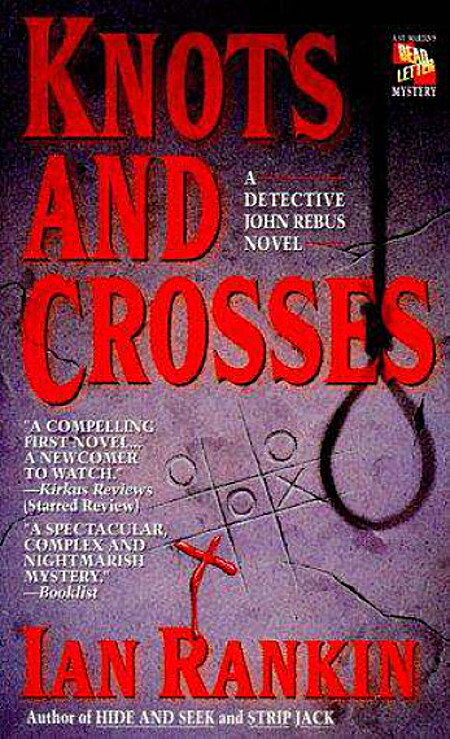 Knots and Crosses
In a similar fashion to Michael Connelly's first Harry Bosch novel "The Black Echo," where Bosch is forced to revisit the experiences he made as a Vietnam "tunnel rat," in his own first case Rebus must uncover long-buried memories of his SAS past. For hunting a serial killer whom the tabloids quickly dub "The Edinburgh Strangler," and whose headline-gathering murders at first seem totally unrelated, Rebus eventually makes the connection between those crimes and a series of anonymous letters he receives, and realizes that it is he himself who is the killer's true target, and that the murderer's crimes are based on such a cruel scheme – and executed with such inhuman skill and precision – that only one particular man's thoroughly disturbed mind can have come up with them. And at the same time, Rebus is trying to work out his difficult relationship with his brother Michael, whose life is so different from his own – financially successful and ostensibly happily married and squeaky clean throughout, Michael seems to be on the sunny side of life in every respect labeled a failure in Rebus's own life story – but he soon discovers that even Michael has secrets he is trying hard to keep from coming to light.
Hide and Seek
The title of Rankin's second Rebus novel is an even more overt play on Robert Louis Stevenson's famous dual character(s) than the mere juxtaposition of cop and killer. This time, Rebus is on the hunt for the killer of a junkie whose half-naked body is found in a run-down, deserted building in the Pilmuir housing estates – the worst part of town, notwithstanding a nearby construction project involving high-priced luxury condominiums – positioned crucifixion-style and near a drawing possibly hinting at Satanic rituals. And Rebus's only witness seems to be the young woman who had been living with the dead man for the last three months and heard him yell "Hide!" before pushing her out of the door, telling her: "They've murdered me;" but who is now more than just a little reluctant to cooperate, taking refuge, instead, behind an almost unbreakable rebel-against-society-façade, complete with peroxide hair, stud earrings and Attitude with a capital "A."
Tooth and Nail
Rebus's third case, finally (originally titled "Wolfman," for the alias that police have given the subject of their hunt) takes the detective to London, where he is to assist metro CID with the case of another serial killer, this one named for the bite marks he leaves on his victims' bodies. Not overly enthusiastic about his mission to the capital (and thus mirroring once more the feelings of Rankin himself, who did not much like living there, either, and "brought Rebus to London so he could suffer, too"), Rebus soon alienates his metro counterpart by his constant unwillingness to follow protocol, although the two men get along reasonably well on a personal level. Eventually, Rebus so seriously jeopardizes his and – by extension – Edinburgh CID's reputation with the Met that he is about to be recalled home, when he finally makes the crucial connection that unmasks the killer, just in time to save the young psychologist who has offered her help with the case and who is his latest love interest. (As befits a good noir detective, Rebus has a new flame in every book, not without incurring fresh scars from each separation, however.)
While this series had a terrific start already in its first three novels, published between 1987 and 1992, Rebus's character – and Rankin's writing – has evolved significantly over time. Thus, it is probably wise to read it in the order of publication. Contrary to the novels he wrote under the pseudonym Jack Harvey, however, and which he views much more critically in hindsight, Ian Rankin overall still seems to be happy with his early Rebus books, commenting almost nostalgically: "I can't read them without thinking back to my own early years, my apprenticeship as a crime writer. Read and enjoy." I have nothing to add to that…
Related Posts:
Ian Rankin: Even Dogs in the Wild
Ian Rankin: A Song for the Dark Times
A Playlist for Ian Rankin's Inspector Rebus Series
Ian Rankin: The Jack Harvey Novels – Witch Hunt / Bleeding Hearts / Blood Hunt