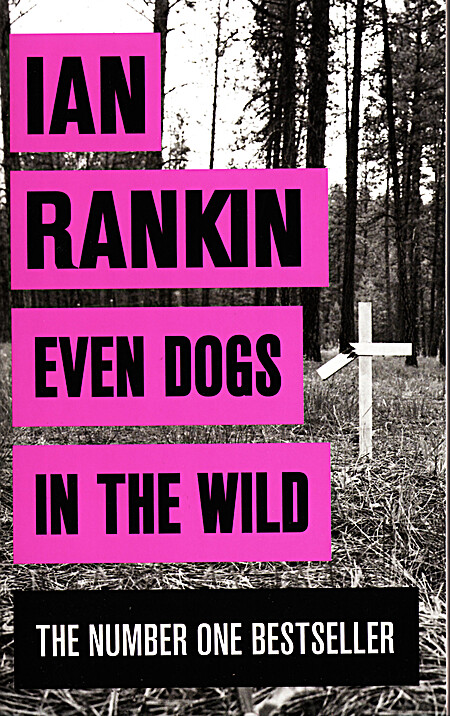 The Twelve Tasks of the Festive Season — Task the Fourth: The Gift Card:
– Read a book that you either received as a gift or have given as a gift.
This task truly came in handy, as my birthday fell smack into the Halloween Bingo and I therefore haven't made particularly great inroads with the many treasures I'd accumulated back in October.
So, always eager to find out what's going on in the life of one DI (has-been) John Rebus of Police Scotland, I picked Ian Rankin's Even Dogs in the Wild, which I absolutely loved … until it dawned on me that the back story of (and solution to) this entry in the series is VERY similar to that of Dead Souls, which happens to be one of my favorite Rebus books and which I therefore know inside and out. (And Rankin has also used the method of disposing of a dead body referenced at the beginning of this book before … not to mention bent cops, who more often than not seem to hail from Glasgow instead of Edinburgh.)
Bit of a bummer, that, and it knocked the book straight down from a five- to a four star read. Still, I loved the fact that part of the book was told from the perspective of "Big Ger" Cafferty, Rebus is as crotchety and unyielding a lonely wolf as ever, and I'm glad to see that Siobhan finally seems to be coming into her own well and truly, without finding it necessary to cling to anybody's coat tails (particularly not those of her boss, DCI James Page). What with Darryll Christie resurfacing in a prominent role and the Glasgow underworld in play big time as well, I wonder if we're headed for another gangland showdown along the likes of The Hanging Garden in one of the next books …? Now wouldn't that be a treat. Also, is Rankin unsure where next to take Malcolm Fox — or why is Fox virtually surplus to requirements at the beginning of the book and wondering whether he should throw in his towel?
Related Posts:
Ian Rankin: Rebus – The Early Years: Knots & Crosses / Hide & Seek / Tooth & Nail
Ian Rankin: A Song for the Dark Times
A Playlist for Ian Rankin's Inspector Rebus Series
Ian Rankin: The Jack Harvey Novels – Witch Hunt / Bleeding Hearts / Blood Hunt