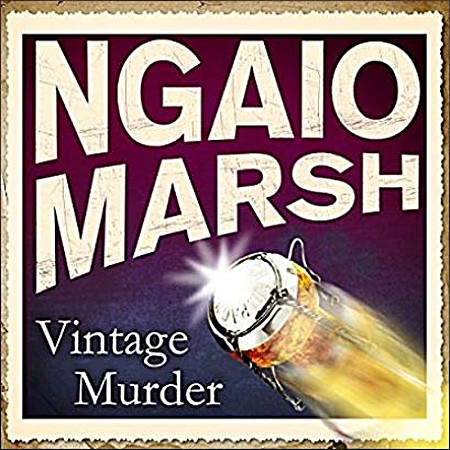 The Pleasures of Revisiting a Neglected Entry in a Favorite Series
I spontaneously picked the audio version of this book yesterday as my book for "Snakes and Ladders" square no. 40, "characters involved in the entertainment industry"; realizing that I'd read it so long ago that I remembered little more than the (rather unusual) method of murder and the fact that it concerns a company of actors travelling in Marsh's native New Zealand — the first of several novels set in her home country, and her second mystery set in the world of her main daytime occupation as a theatrical director.  And I'm glad that I decided to revisit this book; not only for some much-needed memory refresher (for one thing, the train journey opening the book's events takes up much less space than I had recalled) but also because, upon revisiting it, I find that overall I like it considerably better than I remembered.
In many respects, this is signature Marsh: both landscape and characters fully coming alive on the page with seemingly little more than a few well-placed brush strokes and pieces of dialogue, great insight into the world of the theatre in general and actors' psychology and modes of communication in particular, peppered with quotes from the great classic plays (in particular those of her and her main man, Chief Inspector Alleyn's particular favorite, William Shakespeare), and plenty of misdirection, with "opportunity" [to commit the crime] being writ large as a key factor of the solution from early on.
However, this book — at least as much as Colour Scheme, written a few years later (where Alleyn returns to New Zealand incognito) — is also a welcome reminder that casual racism was not ubiquitous in Golden Age crime fiction: Not only do both books expressly feature positive portrayals of the Maori in general, and of key Maori characters in particular; in both books Alleyn also makes a big point of befriending these characters, and he displays a genuine interest in learning about their history and culture.  (Now if only Marsh had also  extended the same enlightened attitude to gays.)  And revisiting this book also reminded me that many of Marsh's novels are subtle witnesses to the spirit of their time: In this one, for example (written in 1936), Alleyn and the local inspector (who has invited him to join the investigation) trade worries about the imminent outbreak of yet another war, and they reflect on the folly of their own generation's going into WWI expecting it to be akin to one great party.
This is not quite the pinnacle of Marsh's writing just yet, but she clearly was well on her way by the time she wrote this book — the fifth in her Inspector Alleyn series –, with one of her all-time best (Death in a White Tie, Alleyn mystery #7) right around the corner.
Original post:
ThemisAthena.booklikes.com/post/1852013/the-pleasures-of-revisiting-a-neglected-entry-in-a-favorite-series