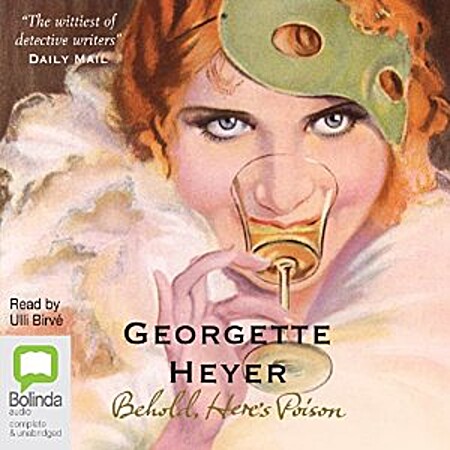 24 Festive Tasks: Door 2 – Guy Fawkes Night, Book
The first Georgette Heyer mysteries I read were her Inspector Hemingway books, which in a way meant I was starting from the wrong end, as Hemingway progressed to the rank of inspector from having been the lead investigator's sergeant in the earlier Superintendent Hannasyde books.  That doesn't impede my enjoyment of Hannasyde's cases in the least, however, now that I'm getting around to these, even though I found the first one (Death in the Stocks) seriously underwhelming.  But Heyer redeems herself in a big way with Behold, Here's Poison: Though a fair share of her mysteries have a sizeable contingent of 1920s-30s stock-in-trade bright young things and generally "nice chaps" (which got on my nerves enough at one point to make me decide I'd had enough of Heyer), when she did set her mind to it, nobody, not even Agatha Christie, did maliciously bickering families like her.  And the family taking center stage here must be one of the meanest she's ever come up with, only (just) surpassed by the Penhallows.  I'm not overwhelmed with the story's romantic dénouement (there always is one in Heyer's books), and while I guessed the mystery's essential "who" and had a basic idea of the "why" at about the 3/4 – 4/5 mark (the actual "why" was a bit of a deus ex machina), by and large this has to count among my favorite Heyer mysteries so far … though not quite reaching the level of my overall favorite, Envious Casca.
Ulli Birvé isn't and won't ever become my favorite narrator, and she seriously got on my nerves here, too.  Since all of the recent re-recordings of Heyer's mysteries are narrated by her, though, I've decided I won't hold her mannerisms against the author, and I've read enough print versions of Heyer books at this point to have a fairly good idea of what a given character would sound like in my head if I'd read instead of listened to the book in question.
Original post:
ThemisAthena.booklikes.com/post/1807678/24-festive-tasks-doors-2-and-5-books-for-guy-fawkes-night-and-veterans-armistice-day
Listening Progress Update: 30 of 636 Minutes
I'm listening to this for the "Guy Fawkes Night" book task (a book set in the UK).
Original post:
ThemisAthena.booklikes.com/post/1807327/reading-progress-update-i-ve-listened-to-30-out-of-636-minutes