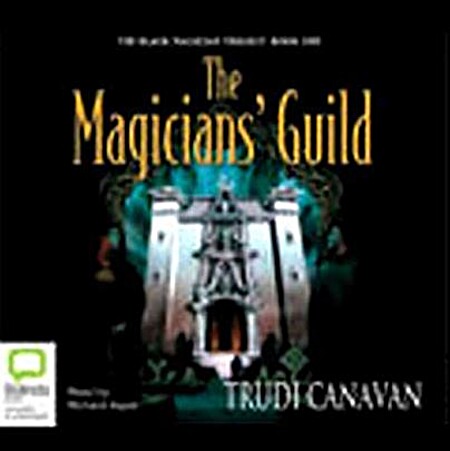 The first book of Canavan's Black Magician trilogy and, while it started out enjoyable enough, another book that ultimately failed to live up to my expectations.  (It's by no means awful, but it also didn't entice me to continue with the series, however much the ending may have be trying to do just that.)
The book concerns a teenage girl from the slums who in the course of an anti-magician rally with fatal consequences — though not for herself — accidentally discovers that (drumroll …) she has magical powers herself and is henceforth sought out by the Magicians' Guild who (1) want to make her one of their own and (2) even if she should refuse that rather unexpeted honor — all things magical ordinarily being perceived as something restricted to the country's ruling families — have decided that in her own interest as well as for the common good, a clamp must be put on her magical abilities, which indeed quickly turn out to be destructive and beyond her own control (a control she can only be taught by a fully-trained magician).
The first part of the book, which essentially concerns the hide and seek game involving the magicians' hunt for the protagonist, is sprightly enough — though even there the book is displaying its first unnecessary lengths –, but the second part, instead of kicking things into a higher gear, is riddled with lengthy and largely unnecessary exposition, and from the book's mid-point onwards the plot is entirely predictable.  The world-building, too, is only so-so: hardly original — and it doesn't become anymore so just by giving fancy names to ordinary everyday creatures such as farm animals, crops, or certain types of city buildings such as boarding houses, taverns and brothels –, and I am seriously sick of fantasy novels that believe they're doing something clever by slightly altering the spelling and pronunciation of ordinary everyday names.  (The heroine's first name is Sonea — pronounced Son-EE-a –; one of the magicians is called Dannyl (pronounced DANNyl.)
In summary, I miight have enjoyed this a good deal more if (1) it had been only about half (or at most, 2 /3) of its actual length and (2) the second half of the book had lived up to the promise of the first half, instead of delving into banal predictability.