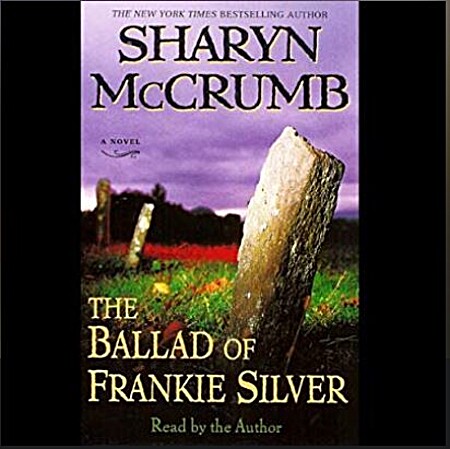 Holy hell St. Maloney, what a book.  Part of McCrumb's Ballad series set in the Appalachian Mountains, this is the story of two executions — and the convicts sentenced to death in each case, as well as their (purported) crimes and the lawmen called upon to witness their executions.  In modern times, Sheriff Spencer Arrowood (one of the Ballad series's central characters) is called upon to witness the execution of a man whom he himself had helped convict of murder when he was young and comparatively inexperienced, but all the more cocksure to make up for his lack of experience.  Recuperating from an injury sustained on the job and thus with some spare time on his hands, he decides to take a fresh look at the case … and comes away dismayed and disillusioned.  He also sees parallels to the (real life) case of Frankie Silver, an 18 year old girl hanged for the murder of her husband in Burke County, NC, in 1833; probably the first white woman to be executed in that county.
Frankie's story makes up the bulk of the book: we're learning it chiefly from the (fictional) diary of the 1832 Clerk of the Court, Burgess Gaither, who witnessed both her trial and the execution of her death sentence; interspersed with some passages in Frankie's own voice.  Her story stayed alive and became a local legend on account of the girl's ethereal beauty and meak, yet diginfied persona, as much as on account of the fact that she was very likely innocent of the crime of which she was convicted and went to her death in order to protect the real culprit; all of which also contributed to (alas, futile) efforts by prominent citizens of the community to obtain a gubernatorial pardon.  This is not an easy book to digest — it does not flinch from a close-up view of all aspects of the death penalty, as administered both then and now; and it asks hard questions about justice, equality, and the judicial process.  Yet, precisely for this gut-punch quality, and for Sharyn McCrumb's spellbinding writing, it makes for an absolutely unforgettable experience.
One additional word on the audio version, which is narrated by McCrumb herself: Though by far not all authors excel at reading their own books, Sharyn McCrumb is one of the truly happy exceptions, and listening to the story read in her own voice greatly contributed to the lasting impression of this particular audiobook experience.  Even among the many excellent narrations I've had the pleasure of listening to this month so far, Sharyn McCrumb's performance is a stand-out experience … singing of the titular Ballad of Frankie Silver included as the icing on the cake!