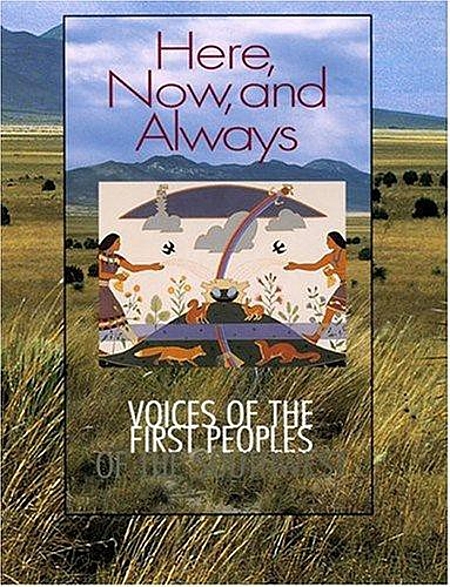 "We are the people."
"I am here.
I am here, now.
I have been here, always."
Edmund J. Ladd (Zuñi).
In 1989, the Museum of Indian Arts and Culture in Santa Fe, NM, began to put together a project designed to present Native American culture, traditions, and contemporary life from an Indian point of view: not looking in from the outside but looking out from the inside, not analyzing in the way of anthropologists but giving its Indian contributors themselves a place to raise their manifold voices. The process thus begun resulted in a fascinating permanent exhibition presenting all aspects of Native American life from its historic origins to modernity, from arts and crafts to farming and hunting, and from the sacred to the secular (if that distinction applies at all, for there is a profoundly spiritual element to every single act performed over the course of the day). Endowed with a multitude of exhibits – many of them of priceless value – and using traditional displays as well as a multimedia approach combining various audiovisual tools, from its inception the exhibition rested on one inimitable centerpiece: the multi-timbred choir of the First People's very own voices.
Bearing the same title as the exhibition and illustrated by numerous photos, "Here, Now, and Always" provides an additional forum for these voices and sends them out into the world at large. "Listen carefully. Let the stories carry you to the center created by each Native community. Here, at the intersection of sky and earth, you will find the Southwest's people," the museum's former archeology curator, Sarah Schlanger, is quoted at the end of the introductory text to the book's first part, "Ancestors." And thus, the book's Diné (Navajo), Hopi, Zuñi, Apache, Tohono O'odham (Pima) and manifold Pueblo contributors become messengers of their respective peoples; talking about Earth Mother, Sun Father, Changing Woman, Spider Woman and Spider Man, Salt Woman, the Great Spirit, the formation of the first clans and their wanderings, the sacred places marking their world and the meaning of home and community, the interrelation of the elements and man's interaction with them, the significance of clay, salt, corn, and tobacco, of minerals and precious stones, and of farming and hunting, the cycles of life, time, and the seasons, the importance of language, oral tradition, and sacred ceremonies in cultural preservation, and obstacles overcome and new challenges arising.
"Each mountain carries precious knowledge. Each is symbolized by certain birds, insects, trees, plants, songs, and prayers. Try to remember this when you think you might want to bulldoze these mountains. Let the sacred remain," warns Gloria Emerson (Diné) in the chapter entitled "Elements." Anthony Dorame (Tesuque Pueblo) explains about cycles that they are "circles that travel in straight lines." In the chapter on agriculture he recounts how his people revived their already-forgotten life as farmers, and wonders, "Today, we again hear the musical thump of a watermelon being split open in the field. Will we forget again what we now remember?" and later on, he adds that "[w]hen the branch is broken, the twig cannot survive. Without our language and without our ways, you cannot survive as a people." Similarly, recalling the young Zuñis shipped off to Pennsylvania in the 1800s, all of whom died from loneliness after having been cut off from their cultural roots, Edmund J. Ladd (Zuñi) – whose words also provided the project's title – reflects that these days, it is his people's language that is dying from loneliness. In the chapter entitled "Arts," Michael Lacapa (Apache/Hopi/Tewa) adds that the word "art" does not exist in his language at all, and muses, "We make pieces of life to see, touch, and feel. Shall we call it 'art'? I hope not. It may lose its soul. It is life. It is people." And in talking about a mid-20th century professor's prediction that traditional Indian life would vanish within a matter of years due to the spread of a cash economy, federal relocation policies, and WWII veterans' reluctance to return to their prewar lifestyle, Dave Warren (Santa Clara Pueblo) points out that like the footprints and handholds left behind by their ancestors in the southwestern canyons, cliffs, and plateaus, "tradition is deeply etched into our very being. … [W]e are of these spaces, places, and times. We leave our footprints for another generation; we leave our handholds to steady their journey."
Bringing together all these and many other voices, "Here, Now, and Always" pays tribute to the rich heritage of the Southwest's Native people, and builds a unique bridge to a way of life, traditions, and beliefs sidelined and on the brink of extinction practically from the moment the first white man set down his conqueror's foot in the region, although these very traditions had survived in (largely) peaceful coexistence for centuries before. A slim volume of less than 100 pages, the book is nevertheless powerful testimony to the First People's resilience and ability to adapt to altered circumstances while maintaining the core of their cultural values. As such, it is highly recommended reading – and hopefully, also an incentive to one day go and see the exhibition from which it originates.
"Together we traveled,
in search of the center place.
In numbers we grew.
The center place had not been found.
The gods divided the people.
Some traveled north,
to the land of winter.
Some traveled south,
to the land of summer.
We are the people."
Edmund J. Ladd (Zuñi).
Beyond the 100th Meridian
Project Page
Reviews and Blog Posts
Merken
Merken