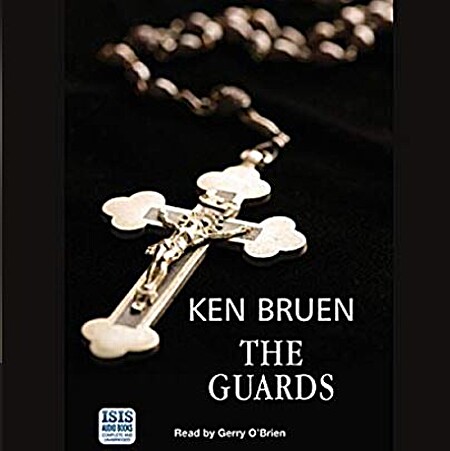 24 Festive Tasks: Door 21 – Kwanzaa, Book
Ken Bruen's Jack Taylor series has been on my radar ever since I watched the first episode of its TV adapatation, starring Iain Glen.  The Guards provides as gut-punch an opener as is conceivable to the series; we see how and why Taylor is dismissed from the Gardaí Síochána, and though the motif of the loner detective who struggles not only at socializing but also with a range of other things, most notably including full-blown alcoholism, is a veritable staple in today's detective fiction, I can think of few other series where particularly the protagonist's addiction is explored this forthrightly (well, OK, Harry Hole comes to mind).  Taylor is — literally — not afraid to pull punches, but he is fiercly loyal to those to whom he feels loyalty is due … and ready to take his loyalty all the way if necessary.  I've never been to County Galway, where the series is set, and I can't shake the feeling that I'd get even more out of it if I had, but even so, this is one series I'm glad to have finally added to those that I'm now following (and I'm not exactly sad I have a bunch of installments to catch up on first).  Gerry O'Brien's narration, too, did a stellar job in transporting the book's tone and atmosphere.
I listened to this for the Kwanzaa square (a book with a black cover).
Original post:
ThemisAthena.booklikes.com/post/1809121/24-festive-tasks-doors-3-21-and-24-books-for-melbourne-cup-day-kwanzaa-and-epiphany
Reading Progress Update: 5%
A book with a black cover — listening to this for the Kwanzaa square.  A series I've long wanted to look into.
Original post:
ThemisAthena.booklikes.com/post/1807741/reading-progress-update-i-ve-read-5