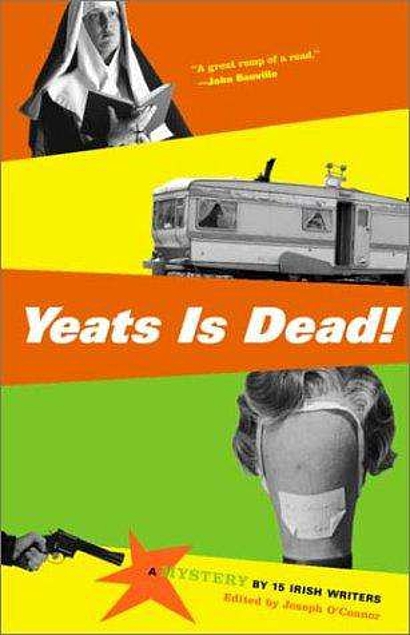 "Yeats is dead?" O yes.
Well, of course he is; in fact, has been for some 60 years now. But that's not the point. The point is, or at least seems to be, that "Yeats Is Dead!" is the unpublished last work of the doyen of Irish literature himself, James Joyce. Or is it? Or are the 600 pages of undecipherable scribble that are at the center of this book's wild ride really the chemical formula for a new anti-ageing skin cream? Or something else entirely? In short, what is the point of the chase; or put differently: Is there any point at all?
"Yeats Is Dead!" is the literary version of a midrange relay race; or of that party game in which a story is built one word or one sentence at a time, added in turns by each of the participants, often with hilarious results, particularly if the players abandon the idea of creating a story that actually makes sense and take off in whatever direction their fancy takes them. Here, the participants are fifteen Irish writers of varying calibers with a very well-developed sense of humor, who each get to add one chapter to the story, and the results are hilarious indeed. Bodies fall like flies, allusions to Joyce abound, and Irish clichés are jiggled by the dozen, from "O Danny Boy" (here: in a Rasta version) to bars serving whiskey and very strangely named drinks indeed, and accents from working class Dublin to Limerick and beyond. (And can there possibly be a more Irish-sounding name than Grainne O'Kelly?) Even one of Ireland's football – i.e., soccer – heroes, ex-midfielder turned sports journalist Eamon Dunphy (yes, that one) gets his fair share of shots from the authors' collective hips.
The book follows the example of the two short story collections "Finbar's Hotel" and "Lady's Night at Finbar's Hotel," likewise collaborative efforts by some of modern Ireland's best-known authors. Unlike those two collections, however, "Yeats Is Dead!" discloses the authors of the individual chapters; and unlike them, it also pretends not to contain several loosely-connected short stories but one continuous, novel-length storyline – for whatever that's worth, though, given the book's general premise and the differing styles and approaches of its writers. Contributors include acclaimed writers Roddy Doyle, Frank McCourt, Hugo Hamilton, Gene Kerrigan, Anthony Cronin and Joseph O'Connor (who also served as the book's editor), playwrights Conor McPherson and Gerard Stembridge, comedian Owen O'Neill, sports writer Tom Humphries, and others. Roddy Doyle gets to deliver the opening salvo, which is of course a hard act to follow – personally, I would rather have seen him write the final chapter; and I would also have loved to see a contribution from the editor (and co-contributor) of "Finbar's Hotel," Dermot Bolger. But from the murder by heart attack which starts it all to the surviving cast members' final conclave in (where else?) a bar in County Limerick, this is one great frolicking literary tour de force. It's not great literature; nor does it pretend to be … just fifteen Irish writers poking fun at themselves, their country and the mystery genre, and they had me laughing out loud a lot in the process. Definitely. O yes.
Favorite Quote:
"She'd tried her hand at most things, but drew the line at honesty."