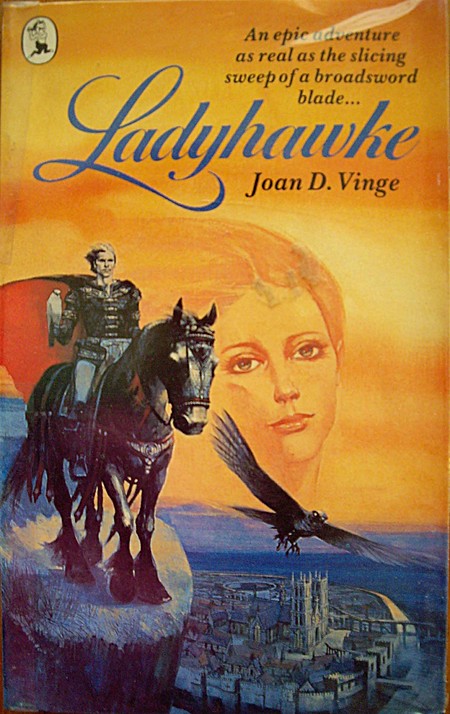 I'd been planning to only get to this one after Lehane's The Given Day, but I couldn't sleep last night and there it was right next to my bed … and a few hours later I'd finished the whole thing; so here we are.  (In my defense: It's a movie novelization, so it's not that long to begin with.  And yes, afterwards I slept just fine, thank you.)
For the most part, the book doesn't actually read like a screen-to-page adaptation, however, so if I hadn't known it was, I wouldn't necessarily have guessed — at least until I got to the piling up of "lucky escapes / rescues" (as in, major, mature hero A singlehandedly saves reckless, young and occasionally TSTL co-hero B from situations with impossible odds into which B keeps tumbling all by his own fault, such as being surrounded by a whole squadron of adversaries who are all trained soldiers and armed to the teeth), which "impossible scrapes" scenes, coming practically one right after the other, in a 167-page novel (in my edition) somehow come across as a bit much and straining believability.  The movie, being a movie — and moreover of the "1980s historical adventure with supernatural and romance elements" persuasion — mostly gets away with these scenes by dint of well-done action scripting and cutting, though having also rewatched it in the interim, this stuff does strain credibility after a while even there.
In any event, I liked the writing and the characterization; not least for the bits where Vinge provides an inner life to the characters which, in the movie, you can only guess at from their body language, dialogue and actions (even though there — not least given the quality of the actors — this is all you need).
This was a "Rutger Hauer memorial read" to me, incidentally — he's one of the movie's main stars, alongside Michelle Pfeiffer and Matthew Broderick.  All in all, I still found both the book and the movie great fun and the latter also very well-acted — and some of the visuals are plainly stunning.   Even as far as the "impossible scrapes" scenes go, it's by far not the worst of what the 1980s (and the decades prior to that, come to think of it) had to throw at us … and the supporting cast (Leo McKern, John Wood, Alfred Molina etc.) is truly first rate as well.
Original post:
ThemisAthena.booklikes.com/post/1965911/halloween-bingo-2019-tenth-extra-square