16 Tasks of the Festive Season: Square 8 – Las Posadas
A Christmas House Party, the Murderous Way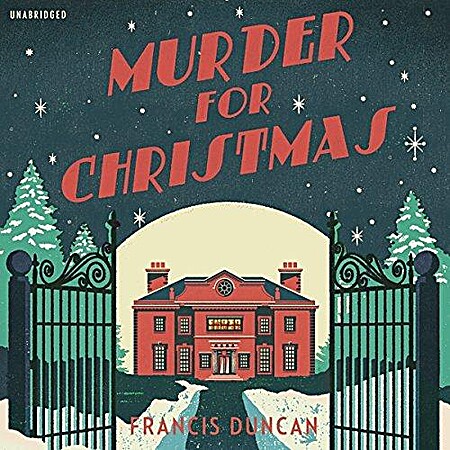 Book themes for Las Posadas: Read a book dealing with visits by family or friends.
Christmas house parties were definitely "a thing" with the Golden Age mystery writers — small wonder since they are, in essence, nothing but a seasonal subspecies of the subgenre that, perhaps, has come to be more synonymous with Golden Age detective fiction than any other subgenre: the country house mystery.  So it's no surprise that Francis Duncan, who published some 20 mystery novels between the 1930s and the early 1950s, but who was quickly and thoroughly forgotten after his books had fallen from favor,* turned to the subject as well, sending his amateur detective (and retired tobacconist) Mordecai Tremaine to the English countryside to attend the Christmas party of wealthy Benedict Grame.  But what begins like a true-blue Dickensian Christmas extravaganza, with Grame doing his level best to mime the likes of Samuel Pickwick and Mr. Fezziwig (Father Christmas / Santa Claus suit, presents on the Christmas tree, and all), in due course inevitably turns into a ghastly crime scene.  The victim is Grame's closest associate; a man whom some, but by far not all of those present seem to have a reason to dislike, but who to Tremaine seemed decidedly more "on the level" than some of the other guests, who had exhibited an unexplicable tension even before, and whose nerves now seem to resemble bow strings a fraction of a second before breaking point.
Few of the party's guests actually struck me as likeable — but while I would have been quite happy to live with this in and of itself (which is, after all, par for the course of the average country house mystery), the solution makes clear that Duncan's real purpose here seems to have been to turn Christmas (particularly the Dickensian Christmas clichés) on its (or their) head, and the final reveal in the book's last pages contains a brutal about-face,which considerably marred my enjoyment of the story, even if I had seen parts of it coming and my early suspicion as to the murderer's identity (though not their motive) turned out to be correct.
I own a print edition of this book, which I did pull for reference purposes on occasion, but I primarily listened to the deligihtful unabridged audio recording narrated by Geoffrey Beevers, who finds just the right tone for each situation and character.
~~~~~~~~~~~~~~~~~~~~~~~~
* As the Guardian reports, even his publisher no longer knew anything about him when Murder for Christmas was undusted and became a surprise revival hit — it took for the author's children to see the book at their local Waterstone's to become aware of the publisher's appeal for information and get in touch with them.
Original post:
ThemisAthena.booklikes.com/post/1623882/16-tasks-of-the-festive-season-square-8-las-posadas-a-christmas-house-party-the-murderous-way