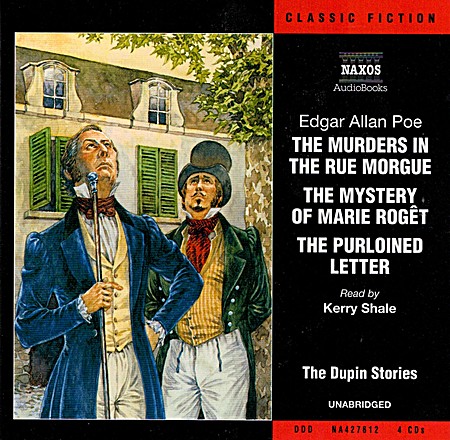 I already knew these stories and chiefly bought this CD for Kerry Shale's narration: Ever since I first listenend to his audio versions of Christopher Paolini's Inheritance cycle, I've been on the lookout for further recordings featuring him.
Edgar Allan Poe is credited with having created the first professional detective in C. Auguste Dupin — a fact that, unsurprisingly, doesn't go down particularly well with Sherlock Holmes when mentioned to him by Dr. Watson — and in fact, Dupin and Holmes share a number of traits and abilities, including their disdain (benevolent or not) for the professional police, their reliance on "trifles" (apparently unimportant details), and their rather astonishing ability to deduct another person's silent, unvoiced thoughts by "reasoning backwards" and then thoroughly startle the other person by explicitly responding to those very thoughts.  But while Arthur Conan Doyle's Sherlock Holmes stories rely on Holmes's fully-rounded character, as well as action and plot development as much as on Holmes's deductive methods and invite the reader along on the investigation, Poe's "stories of ratiocination" — once Dupin has been (or considers himself) called on  to help solve the case — are almost exclusively a rendition of Dupin's own thought processes and reasoning.  This, to me, makes them somewhat more monotonous and consequently somewhat less easy to follow than Conan Doyle's (even with a splendid narrator like Kerry Shale).
The Murders in the Rue Morgue is one of the earliest locked room mysteries in the history of crime fiction; together with the even earlier Mademoiselle Scuderi by E.T.A. Hoffmann (which however is more "impossible crime" story than locked room mystery in the strict sense), and with Gaston Leroux's Mystery of the Yellow Room, it pretty much laid down the template for this particular mystery subgenre.  Its solution is as, um, colorful as some of Dupin's conclusions, however, and it requires a healthy portion of suspension of disbelief — here, too, both Conan Doyle and Leroux did better, and so did E.T.A. Hoffmann.
The Mystery of Marie Rogêt was Poe's response to a widely-publicized real life murder case in New York: Poe transposed the events to Paris and, through the voice of his fictional detective, set forth what he believed to be the solution of the case; dissecting, in the process, the various competing theories advanced by the newspapers writing about the murder — the only material that Poe himself had to go on.  (Despite its notoriety and the public hunt for the killer, the real life case of the murder of Mary Rogers still remains