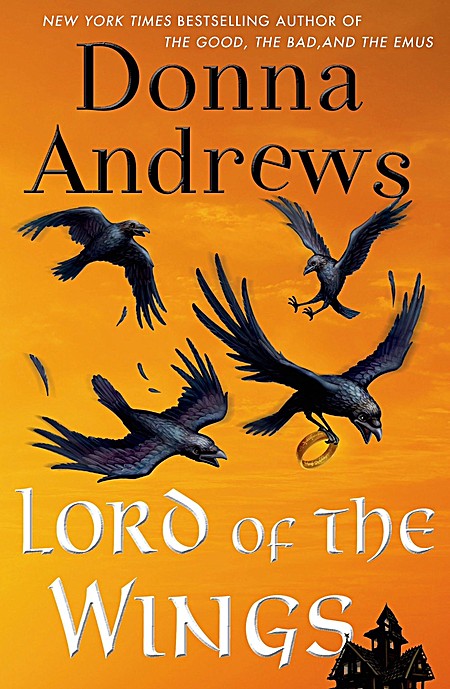 A Halloween entry in Donna Andrews's long-running series featuring Caerphilly, VA artisan blacksmith and volunteer town events organizer Meg Langslow — what could possibly be more fitting for this bingo square?
Caerphilly (that's CaerPHILLY to you reporters if you don't want to have the locals screaming at their TVs at the top of their voices) has decided to join the Halloween festival craze and is going at it hammer and tongs.  Mayor Shiffley is supposed to have an assistant organizing the festivities, but she's more bossy than efficient (and vanishes halfway through the event, to boot), so unsurprisingly the whole thing lands in Meg's lap all over again.  Unfortunately, some evilminded soul has decided to hijack the festivities for their own purposes, so soon enough Meg, the Mayor and Chief Burke have two real corpses on their hands, the local would-be vampire (formerly: the police department's forensic pathologist) is carted off to hospital with a near-fatal head wound administered with a blunt object, the town is beset by scavenger hunters who seem to stop at very little in pursuit of a computer game called "Vampire Colonies II" created by the software company of Meg's brother Rob, Mutant Wizards; and a group of live action role playing vampires have converged on the town with who knows what agenda of their own. — Meanwhile, Meg's grandfather has added a bat cave to the local zoo (which is run by him), has managed to tame a bunch of ravens to stick to him more or less like sown to his wizard cloak with fine thread and croak "Nevermore" and similar Halloween'ish things, realistic-looking body parts show up in the zoo's lion's den and Florida alligator swamp areas (they are soon revealed as part of the scavenger hunt pranks, however) — and in the middle of the festivities, a former heavy metal drummer of Scandinavian origin comes into his own again, which promises great things for the subsequent year's Halloween.
As an installment in the series that is set against the backdrop of a major holiday I didn't love this quite as much as Andrews's recent Meg Langslow Christmas books (Duck the Halls and The Nightingale Before Christmas) — perhaps because unlike Christmas, Halloween is the sort of holiday where you more or less expect a certain amount of craziness anyway; so oddly, it didn't offer quite as much opportunity for Andrews's comic genius to shine as the Christmas setting, where the contrast between the expectation of a supremely peaceful holiday (certainly in a small town setting at least!), and the chaos engendered by the intrusion of violent crime and various pranks seems to work a bit better — at least for me — than in a setting that, like Halloween, must have had Andrews walking a fine tightrope practically all the time in order not to have things going over the top.  But this is ultimately nit-picking … first and foremost, at now over 20 entries (of which this is no. 19), I'm happy to see that the series is still going so strong at all!