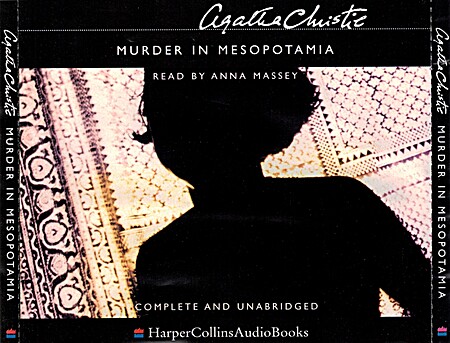 Any fan of Agatha Christie's knows that this is one of several novelizations of Christie's own experience gained during the months and years she spent with her second husband Max Mallowan on his archeological expeditions to (today's) Syria and Iraq: To what far-reaching extent this is true, though, only occurred to me when I read her memoir of her two years at the Chagar Bazar (and neighboring) digs, Come Tell Me How You Live, earlier this year. (Funnily enough, when I read the memoir, I didn't even remember we'd be getting to Murder in Mesopotamia only a little over a month later in turn; at the time it was a total "mood reader" grab.)
Now having read Christie's memoir, I find it easy to imagine that what seems to have interested her most was not merely the "archeological dig" experience as such, but also and more specifically, the perspective of a woman — and one who, without being part of the team of archeologists herself, is close enough to them to be able to witness their work and their relationship with each other from the inside. In that, Amy Leatheran is probably at least in part Christie's alter ego (not least as she, too, found her training as a dispenser in high demand, among the members of Max Mallowan's team as much as Syrian village people near and far — though whether the latter always ended up following her advice is another matter entirely). Obviously, if this really was Christie's intention in framing the book's narrative POV, that excluded both Poirot and Hastings's perspectives as the key narrative POVs and called for an entirely different narrator: hence, Nurse Leatheran.
Not least on these grounds, it's a pity that the makers of the David Suchet TV adaptation of this novel, probably purely for reasons of series continuity, switched the narrative POV back to Poirot and Hastings after all (the latter of whom, moreover, isn't even mentioned in the book, let alone making an appearance); even if the TV adaptation is faithful to the book in most other respects.
In terms of plot and structure, this is a locked-room mystery, and as these go, it's not quite as intricate as — and hence, somewhat easier to believe than — some other examples of that particular subgenre, including Christie's own Hercule Poirot's Christmas. At the same time, few of the book's characters are really likeable (though there are no obvious parallels to the members of Max Mallowan's team of archeologists: Christie may or may not have taken inspiration from real life in populating her books' casts of characters, but she knew better than to pull a Barbara Buncle and actually match up the real life inspirations of her books' settings and characters). So despite its exotic atmosphere and archeological subtext, I don't think this will ever be one of my all-time favorite mysteries by Christie, but it's definitely one I enjoy revisiting every so often; all the more now that I have also read about the real life experience that inspired it.