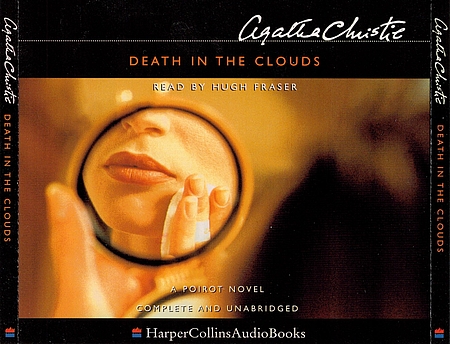 Blurb:
From seat No. 9, Hercule Poirot was ideally placed to observe his fellow air passengers on the short flight from Paris to London. Over to his right sat a pretty young woman, clearly infatuated with the man opposite; ahead, in seat No. 13, sat a countess with a poorly concealed cocaine habit; across the gangway in seat No. 8, a writer of detective fiction was being troubled by an aggressive wasp.

Yes, Poirot is almost ideally placed to take it all in, except what he did not yet realize was that behind him, in seat No. 2, sat the slumped, lifeless body of a woman. Murdered, and likely by someone in Poirot's immediate proximity.
I own the print version of this book as part of a Poirot omnibus volume (see above left), but revisited it courtesy of my CD version of the Hugh Fraser audio.