Festive Tasks Master Update Post HERE
Festive Tasks, Door 21 — Good Luck Charms and Traditions: Read a book from the fantasy genre, or one with something on the cover that refers to "luck".
Festive Tasks, Door 24 — Cherished Memories: Read a book with a split timeline, one that takes place in the present and one that takes place in the past.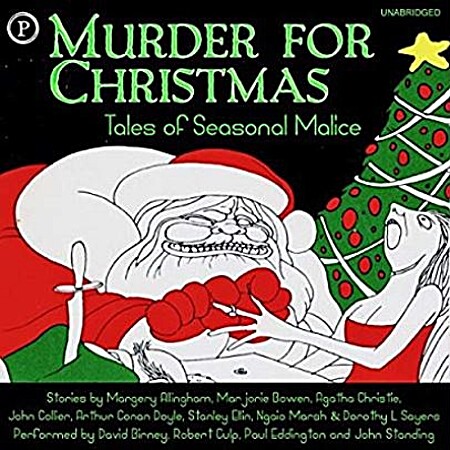 These two anthologies have the majority of their contents in common, so there's little point in writing two separate reviews. I'll be using them for two different Festive Tasks squares, however; the Murder for Christmas audio collection for Door 21, Good Luck Charms and Traditions, and Murder Under the Christmas Tree — the 2017 installment of the Profile Books series of Christmas mystery anthologies — for Door 24, Cherished Memories. Murder for Christmas has a star on the audio cover image: reference to a lucky star, as in "following your …", which started with the Three Kings and the star of Bethlehem; and Murder Under the Christmas Tree qualifies for Door 24, because it includes one story directly featuring a split timeline, as well as one where an investigation taking place in the present deals with a murder whose roots are in the past; and arguably, the whole book also qualifies based on the fact that it includes mysteries set as far back as the Middle Ages as well as others set in the 20th and 21st centuries.
Notably, the stories that both anthologies have in common are the five classic Christmas mysteries by Dorothy L. Sayers, Margery Allingham, Arthur Conan Doyle, Agatha Christie, and Ngaio Marsh — arguably the quintessential canon of Golden Age Christmas mystery short stories per se.:
Dorothy L. Sayers: The Necklace of Pearls: Traditional holiday party games in a fine old manor house are interrupted by the disappearance of a valuable necklace. Fortunately, Lord Peter Wimsey is on hand to see through the thief's clever scheme and recover the necklace.
Margery Allingham: The Case is Altered: In the shadows of a country estate aquiver with Christmas bustle, Mr. Albert Campion discerns activity that could be young love … or blackmail. — I actually prefer two of Allingham's other Campion Christmas short stories (The Man With the Sack and On Christmas Day in the Morning), both of which seem imbued a bit more with the traditional holiday spirit, but even so, this is still a very enjoyable entry.
Arthur Conan Doyle: The Adventure of the Blue Carbuncle:  Holmes on the trail of the diamond thief who's hidden his booty in a Christmas goose — simply a must-read in every respect (and one of my annual Christmas rereads, so I got to kill two geese with one stone here).
Agatha Christie: The Adventure of the Christmas Pudding (aka The Royal Ruby): Persuaded against his will to enjoy the pleasures of an old-fashioned English country Christmas, Hercule Poirot is on the trail of a rare and priceless ruby which has disappeared under circumstances embarrassing to its princely owner. — So what is it about Golden Age authors and jewelry in their Christmas mysteries?  A necklace, a carbuncle, a ruby … half a jewelry box's worth in the three stories by Sayers, Conan Doyle, and Christie alone! — Anyway, another one of my annual Christmas reads, so another twofer deal here.
Ngaio Marsh: Death on Air: Septimus Tonks has been found dead of electrocution on Christmas morning; Chief Detective, Inspector Roderick Alleyn, must determine whether it's an accident, a suicide … or murder. — In a way, Marsh's take on the sort of story that, at novel length, is one half of Agatha Christie's Hercule Poirot's Christmas (with a better-thought through murder method, albeit a weaker solution, and minus one very crucial element).
If either anthology had contained only the above five stories, it would have been a five-star read for me, no questions asked.
Marjorie Bowen's Cambric Tea (the sixth story included in Murder for Christmas) is also a frequently-anthologized Christmas mystery; if the author weren't expressly named, I'd suspect it to have been written by Ethel Lina White on grounds of setting and style alone. In essence, it's a "woman in peril" story (albeit told from the perspective of a male protagonist), and a somewhat implausible one at that; I don't think it will ever be a particular favorite of mine.
The two remaining stories included in addition in Murder for Christmas (Stanley Ellin's Death on Christmas and John Collier's Back for Christmas) seem selected a bit randomly; perhaps they were what was available royalty-free at the time of the recording. They're OK — John Collier's inverted mystery Back for Christmas in particular is decidedly superior to Bowen's — but neither of them quite reaches the level of the five Golden Age classics.
Murder Under the Christmas Tree, in turn, adds the following six stories to the Golden Age quintet summarized at the top of this review:
Edmud Crispin: The Name on the Window: Gevase Fen does a Christmastime armchair detective act, solving a crime related to him by a police inspector friend after the inspector himself is stumped by the apparent locked-room scenario with which he has found himself presented at the scene of the crime, a wealthy architect's country house some miles outside of Oxford. A bit far-fetched, and hardly an occasion for Fen's personality to shine in addition to his wits — by and large I prefer Crispin's full-length Gervase Fen books.
Val McDermid: A Traditional Christmas: In the Cotswolds, no less (also in a country house, of course); and a lesson in maybe not sticking your nose into a police investigation if you don't want to get your lover's nearest and dearest in serious trouble. Also fairly average, as McDermid's writing goes; she, too, shines more brightly in novel-length books, all told.
G.K. Chesterton: The Invisible Man: Probably one of the most frequently-anthologized Father Brown stories; like Poe's The Purloined Letter (by which it was obviously inspired) an object lesson in the fact that we frequently see but don't observe, and sometimes the best hiding place of all is in plain sight.
Ian Rankin: Cinders: A late entry in the Rebus canon; we're at the point where a beyond-retirement-age Rebus has grudgingly and temporarily been let back in the force as a D.S. Here he inveigles himself into an investigation run by his former junior partner, Siobhan Clarke, concerning the murder of an actress past her prime, who had been appearing as the Fairy Godmother in a holiday season production of Cinderella. (Gotta love the opening: "The Fairy Godmother was dead.")
Carter Dickson (aka John Dickson Carr): Persons or Things Unknown: One of the author's infrequent forays into the past, in that it is a 17th century tale of murder and a love triangle told during a 20th century gathering in the ancient mansion where the dastardly deed was done several centuries earlier in the depths of Sussex. This being a tale by Dickson Carr, the mystery is of the locked room variety (with an ingenious, but at closer inspection not entirely convincing solution); there's the suggestion of a malevolent ghostly appearance into the bargain, and the conclusion is satisfyingly framed along the lines of "(s)he who laughs last." Although Dickson Carr is probably trying to be just a bit too clever in the solution to the mystery, next to Ian Rankin's entry and, of course, the core Golden Age quintet, one of my favorites in this collection.
And finally —
Ellis Peters: The Price of Light: Also a long-standing favorite; originally one of the three stories in A Rare Benedictine, the little anthology chronicling Brother Cadfael's becoming a monk and his early days in the monastery, eleven books into the series. This is not a murder mystery (the crime at issue is a theft, or what appears to be one), but as a tale of the redemption of young love, bathed in the light of the holiday, it makes for a very fitting conclusion to this read.