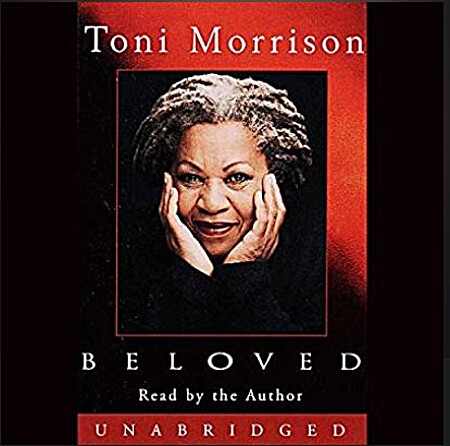 The book that accompanied me throughout this third week of September 2019, bit by bit, in both audio and the print version.  And oh, what a writer the world lost when Toni Morrison died.  This wasn't my first book by her, but it brought home her extraordinary qualities as a writer all over again: There isn't a word wasted here; Morrison even makes every single syllable stand up and be counted, and each and every one of them comes from a place deep inside her and reaches out right to the reader.  The narration is not linear; every fact unveiled simultaneously shrouds two more in allusion and "rememory" too painful to be allowed to come to the surface; and both this and the changing viewpoints make for a canvas that requires time, patience, and the reader's full attention to pull it out from its multiple layers of protection — and the complete picture, when it is finally out in the open, is one crying out with unbearable heartbreak.
Much as I enjoyed listening to Toni Morrison's narration as a companion experience to the book, I would join those who counsel against relying on the audiobook alone if this is your first experience with this novel: Morrison's vocal performance essentially does the same as her writing, coaxing forth and simultaneously shushing bits and pieces of the story as they come up in the text, so it adds yet another layer of complexity to a book that, based on its story alone, already calls on the full engagement of the reader's senses and awareness.
Whichever way you choose to experience this book, though — if you only read one book by Toni Morrison, by all means let it be this one.  She deserved the Nobel Prize in Literature for Beloved alone, and while her literary legacy has hopefully made her voice immortal, among the many great authors we have lost this year, she stands head and shoulders above all the rest.  Her contributions to the literary and social discourse will well and truly be missed.