16 Tasks of the Festive Season: Square 16 – New Year's Eve / St. Sylvester's Day
A Miraculous "Sky Stone"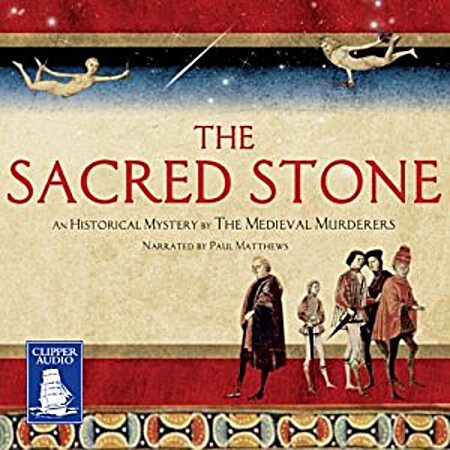 Book themes for Hogmanay / New Year's Eve / Watch Night / St. Sylvester's Day: a book about starting over, rebuilding, new beginnings, etc. –OR– Read anything set in medieval times. –OR– A book about the papacy –OR– where miracles of any sort are performed (the unexplainable – but good – kind).
Well, go figure, this book took me by surprise.  I've read enough of the Medieval Murderers round robins at this point to be thoroughly familiar with both the format and the recurring characters — and I've seen enough of the participating authors' writing styles to know exactly what to expect, and to have developed my preferences … or so I thought.  So far, while I've liked the series well enough to go back to it again and again, my rating of the individual books has always been a solid 3 1/2 stars — while there were individual sections in each book that I loved (or at least liked a great deal), there was always at least one that I didn't particularly care for; and more often than not, by the same author — Bernard Knight.
Not so here: In fact, Knight's entry was one of my favorites. There had been one other Medieval Murderers book — King Arthur's Bones —  where I'd already noticed that as soon as Knight ditches his very medieval-style macho main series characters I care decidedly more for his writing, particularly if and to the extent that he puts women at the center of his plots and writes from their perspective, as is very much the case here.  But up until now, I'd considered his chapter in King Arthur's Bones a one-off, because pretty much every other Medieval Murderers entry I've seen from him was centered around his main men, with plenty of gruff voices, growling, and repetitive vocabulary.  So Mr. Knight, might I suggest you continue to write about women … or at least, allow that female touch to brush off on your writing about medieval men of the law, too?  It seems to be doing them (and you) a world of good!
The other thing I really liked about this book was the way in which it — consistently throughout all the different authors' sections — treated the superstitions associated with the meteorite or "sky stone" which it follows from its first appearance in 11th century Greenland to the present day.  Given the magical powers historically associated with meteorites in popular belief, there would have been occasion aplenty to either take the individual chapters down a route blurring and even trespassing beyond the edges of reality (looking at you in particular, Ms. Maitland), or to talk down to the charactes for their adherence to such beliefs; but (again, as in King Arthur's Bones) the authors thankfully show themselves both too solid historians and too emphatic writers to be tempted into doing either.  As with their entry centering on the Arthurian legend (where the principal question, of course, is whether you believe in Arthur's historical existence in the first place), in The Sacred Stone there is the repeated suggestion that the "sky stone" might have miraculous / unexplained healing powers and be a force for good — but it is always counterbalanced by the whole series's central premise; namely, that a malign object's path is being traced throughout the centuries, from the Middle Ages to the present day — an object that inspires and fosters violence, murder, treachery, and all-out evil; and here, in fact, it is precisely the belief in the stone's alleged benign powers that brings about the evil acts at the center of each of the book's individual sections.
I was sorry not to see Michael Jecks as a co-author of this particular installment of the Medieval Murderers series, but, as I said above, there was not a single chapter I would have wanted to do without; my favorites probably being the prologue and epilogue (there are, for once, no author attributions, but even without those I'm fairly confident that both of these were written by Susanna Gregory), as well as the chapter authored by Bernard Knight (easily enough identifiable because a very much aged version of one of his series characters does make an appearance, even though he's not the central character), and the sections written by two of my longstanding favorite Medieval Murderers participants, Ian Morson and Philip Gooden (in both their cases easily enough identifiable because their sections were written from the point of view of their main series characters). — As an aside, I was also glad to have read an earlier entry in the series, House of Shadows, fairly recently, because it (inter alia) lays the groundwork for a plot line that I am happy to see Morson went on to incorporate into his main series (the Falconer mysteries, set in 13th century Oxford) and which he continues to spin in his entry for this particular book as well.
Final comment: I was tempted to use a different book for the New Year's Eve / St. Sylvester's Day square and attribute this one to the Dies Natalis Solis Invicti holiday book joker, as the Sol Invictus cult actually makes a recurring appearance in this book.  (And trust me, I almost fell off my chair when it was first mentioned and I realized it was going to be a theme in one of the sections — and even more so, when it even showed up again in yet another section.) However, none of the book's sections are set even remotely on this particular deity's birthday or make reference to that particular day (and there is only the vaguest hint, if even that much, at the connection between Dies Natalis Solis Invicti and Christmas), so "Middle Ages", "miracles" and Square 16 it is, after all.  (The book would also work for the Hanukkah square, however: It features several main characters who are Jewish — in fact, one entire section is set in the Jewish community of medieval Norwich — and the miracle of light plays a role in more than one section as well.)
Original post:
ThemisAthena.booklikes.com/post/1627366/16-tasks-of-the-festive-season-square-16-new-year-s-eve-st-sylvester-s-day-a-miraculous-sky-stone