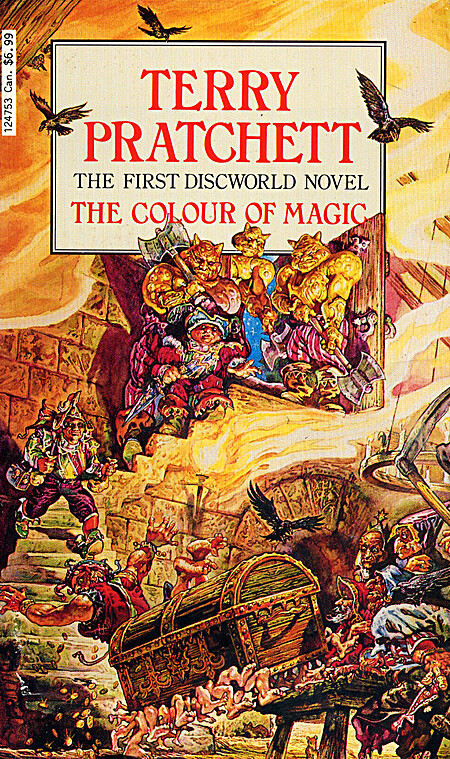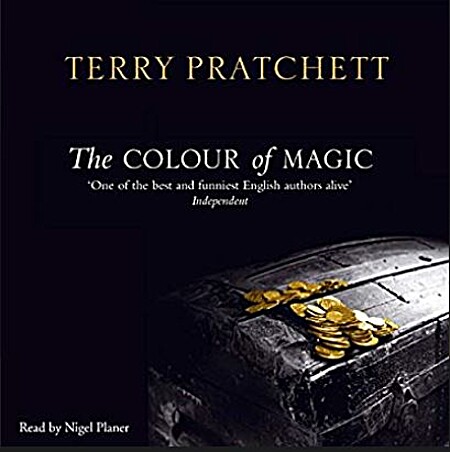 "The discworld offers sights far more impressive than those found in universes built by Creators with less imagination but more mechanical aptitude."
Aaah … Sir Terry.  What would Halloween Bingo possibly be without you?  Especially this year, what with Wyrd Sisters being the official bingo group read — and having inspired Booklikes's very own Discworld group, which very properly decided to read all the books in the order of publication.  So, another Halloween Bingo with no less than two Pratchett books — yey!
Before I started to explore the Discworld universe, people told me to just dive in anywhere, it didn't matter with which book I started; and that's just what I did.  But after going a-roving here and there, it's been pure joy to come back to the very beginning and see where it all started.  The Colour of Magic is a hilarious romp through 1980s fantasy (and to a lesser extent, science fiction) conventions; Big Bang turtle theory, imagine-dragons, magic sword, hero lore, staffless wizard (Rincewind), naive tourist and all.  The tourist (Twoflower: an inn-sewer-ants agent by trade with a reckless disregard for his own and Rincewind's personal safety) has even brought a precursor of the glorious Hex, as it were; an iconograph ("device for taking pictures quickly") with a demon inside who will sketch a perfect likeness of you in anywhere from 30 seconds upwards.  And then, of course, there is The Luggage … can there possibly be a more apt application of the "Relics and Curiosities" bingo square?  All the essentials of what makes Discworld — well — Discworld are in place here already, even if Pratchett may have further fine-tuned his style in the subsequent books (many of which, as a result, are even funnier).  I was glued to my speakers from the first second of Nigel Planer's hilarious, spot-on narration, and I also have to say that I liked The Colour of Magic quite a bit better than Equal Rights, the first Witches book (and overall, Discworld #3).
"This tourist is a thing that is out of place.  After acceding to his master's wishes Nine Turning Mirrors would, I am quite sure, make his own arrangements with a view to ensuring that one wanderer would not be allowed to return home bringing, perhaps, the disease of dissatisfaction.  The Empire likes people to stay where it puts them."
Group Read Announcement: HERE
Narrativium: Where the Falling Angel Meets the Rising Ape
– Terry Pratchett and Discworld
Project Page
Reviews and Blog Posts