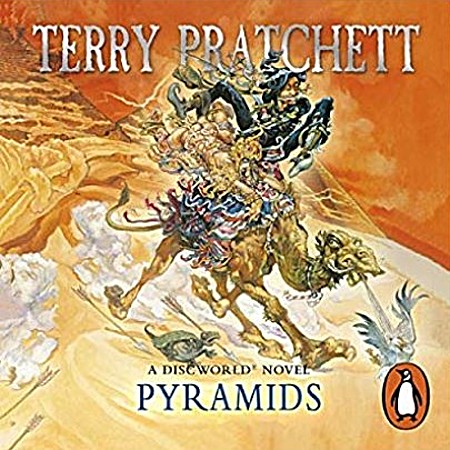 I haven't decided for which bingo square I'll be using this, but from the blurb and from what I've read so far, it will fit — at a minimum — the Supernatural, Creepy Crawlies, Deadlands, Monsters, Ghost Stories, Relics and Curiosities, Murder Most Foul, and Grave or Graveyard bingo squares; possibly / probably also Spellbound, Demons, Cryptozoologist, and / or Doomsday.
ETA: I ended up using it for the "Monsters" square.
This has a bit of an odd beginning, but I have to say I find the description of the inner workings of the Assassins' Guild and their final examination procedures weirdly fascinating, and it promises to be a rather merciless takedown of religion in general and the Egyptian death cult in particular.
Original post:
ThemisAthena.booklikes.com/post/1964774/halloween-bingo-2019-eighth-extra-square-and-discworld-october-group-read
Reading Progress Update: 60% (approximately)
"The fastest insect [on the Disc] is the .303 bookworm.  It evolved in magical libraries, where it is necessary to eat extremely quickly to avoid being affected by the thaumic radiations.  An adult .303 bookworm can eat through a shelf of books so fast that it ricochets off the wall."
Hehehe.
This is turning out hugely enjoyable — and yet another one of Pratchett's books that resonates extremely well with the world we've been living in since 2016.
Original post:
ThemisAthena.booklikes.com/post/1965119/reading-progress-update-i-ve-listened-to-60-approximately
Narrativium: Where the Falling Angel Meets the Rising Ape
– Terry Pratchett and Discworld
Project Page
Reviews and Blog Posts