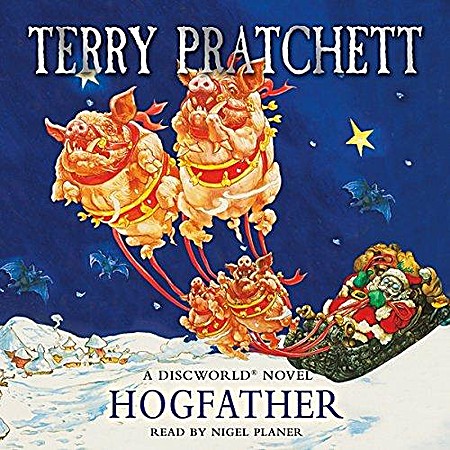 "And there's the sign, Ridcully," said the Dean. "you have read it, I assume.  You know?  The sign which says 'Do not, under any circumstances, open this door'?"
"Of course I've read it," said Ridcully. "Why d'yer think I want it opened?"
"Er … why?" said the Lecturer in Recent Runes.
"To see why they wanted it shut, of course."*

*This exchange contains almost all you need to know about human civilization.  At least, those bits of it that are not under the sea, fenced off or still smoking.

[…]

"I'm in charge here and I want a bathroom of my own," said Ridcully firmly. "And that's all there is to it, all right?  I want a bathroom in time for Hogswatchnight, understand?"
And that's a problem with beginnings, of course.  Sometimes, when you're dealing with occult realms that have quite a different attitude to time, you get the effect a little way before the cause.
Oh, it's good to be back with Sir Terry at the height of his powers — I feel like sharing every other page.  And of course Ridcully would have done better curbing his curiosity about that door …
Original post:
ThemisAthena.booklikes.com/post/1621787/reading-progress-update-i-ve-read-13-out-of-445-pages
Other Hogfather-related Posts:
16 Tasks of the Festive Season – Hogfather Buddy Read
Terry Pratchett: Hogfather – FTB Enabled
Terry Pratchett / Ian Stewart / Jack Cohen: The Science of Discworld
Hogfather Buddy Read
24 Festive Tasks: Door 23 – Hogswatch
Terry Pratchett: Hogfather – The Boot Menu
Glingleglingleglingle
Hogswatch – Door 23
My Favorite Discworld Characters
Sleigh Rides
Terry Pratchett: Hogfather (Annual Reread)
Bloody Stupid Johnson
Santa in Literature: Theodor Storm's Knecht Ruprecht and DEATH as Department Store Santa in Terry Pratchett's Hogfather
Terry Pratchett: Hogfather (Annual Holiday Read)
Narrativium: Where the Falling Angel Meets the Rising Ape
– Terry Pratchett and Discworld
Project Page
Reviews and Blog Posts