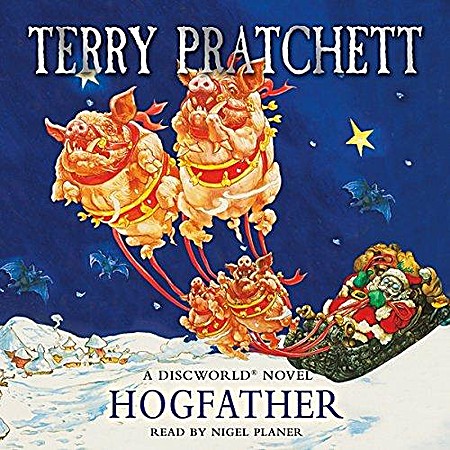 16 Tasks of the Festive Season: Square 13 – Hogswatch Night
Ponder and his fellow students watched Hex carefully.

"It can't just, you know, stop," said Adrian 'Mad Drongo' Turnipseed.

"The ants are just standing still," said Ponder.  He sighed.  "All right, put the wretched thing back."

Adrian carefully replaced the small fluffy teddy bear above Hex's keyboard.  Things immediately began to whirr.  The ants started to trot again.  The mouse squeaked.

They'd tried this three times.

Ponder looked again at the single sentence Hex had written.

+++ Mine!  Waaaah! +++

"I don't actually think," he said gloomily, "that I want to tell the Archchancellor that this machine stops working if we take its fluffy teddy bear away.  I just don't think I want to live in that kind of world."

"Er," said Mad Drongo, "you could always, you know, sort of say it needs to work with the FTB enabled …?"

"You think that's better?" said Ponder, reluctantly.  It wasn't as if it was even a very realistic interpretation of a bear.

"You mean, better than 'fluffy teddy bear'?"

Ponder nodded.  "It's better," he said.
Finished — and there will have to be an instant reread.  My life needs this right now.  Urgently.
Original post:
ThemisAthena.booklikes.com/post/1622016/16-tasks-of-the-festive-season-square-13-hogswatch-night
Other Hogfather-related Posts:
16 Tasks of the Festive Season – Hogfather Buddy Read
Terry Pratchett: Hogfather – The Bathroom
Terry Pratchett / Ian Stewart / Jack Cohen: The Science of Discworld
Hogfather Buddy Read
24 Festive Tasks: Door 23 – Hogswatch
Terry Pratchett: Hogfather – The Boot Menu
Glingleglingleglingle
Hogswatch – Door 23
My Favorite Discworld Characters
Sleigh Rides
Terry Pratchett: Hogfather (Annual Reread)
Bloody Stupid Johnson
Santa in Literature: Theodor Storm's Knecht Ruprecht and DEATH as Department Store Santa in Terry Pratchett's Hogfather
Terry Pratchett: Hogfather (Annual Holiday Read)
Narrativium: Where the Falling Angel Meets the Rising Ape
– Terry Pratchett and Discworld
Project Page
Reviews and Blog Posts