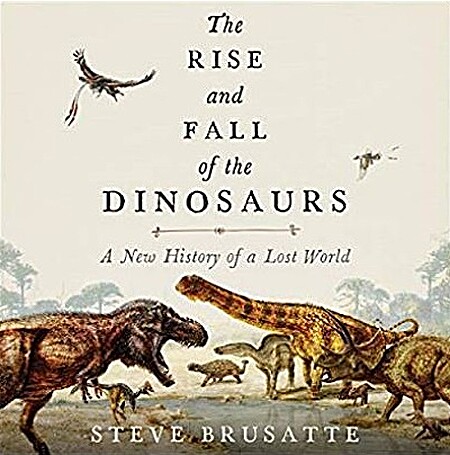 Yet another overhyped book
Reading Status Updates
8%
Flat Book Society November read, and also my read for the New Year's Eve square in the 24 Festive Tasks game.
So far, it's sounding good — at least you can tell the author is a scientist writing about the subject matter he's studied.  This makes me hopeful.
Original post:
ThemisAthena.booklikes.com/post/1805284/reading-progress-update-i-ve-read-8
54%
Hmmm.  The science content is paleontology 101 (though the explanation of the factors that impacted the changes from one earth age to the next is quite accessible).  Only with regard to a few major species and subspecies do we get some sort of discussion of their basic attributes, strengths and weaknesses, however — other creatures falling into the same bracket are basically name-dropped in as a lengthy list, without any discussion whatsoever.  Perhaps most importantly, though, this is another huge case of titular mislabelling — this is about the author's own career, field trips, cooperation with other scientists, and about his personal heroes as well as the notable scientists of yesteryear, at least as much as it is about the dinosaurs themselves.  I'll finish it, but it's not anywhere near a five-star book.
Original post:
ThemisAthena.booklikes.com/post/1805370/reading-progress-update-i-ve-read-54
100%
He redeemed himself a bit with the nonfiction part of the T-Rex chapter, but man, that narrative tone and his "I'm the greatest thing since sliced bread and I'm best buddies with all the cool kids in paleontology (even the long-dead ones)" attitude seriously grated pretty much from page 1 to literally the last words of the book.
Also, pro writing tip, Mr., um, Dr. Brusatte: If you seriously think it's a good idea to begin a chapter with a dramatic, pseudo-fictionalized scene involving T-Rex and a bunch of other dinosaurs, and you're telling it from the POV of one of those other dinosaurs, you'll want to avoid describing T-Rex as "a monster bigger than a city bus".  Because I'm pretty sure a dinosaur would have had no idea what a city bus was going to be looking like some 66+ million earth years after the extinction of its own species.  It's all about narrative perspective, you see …
Oh, well.  Next!
Read for the Flat Book Society and the New Year's Eve square of the 24 Tasks of the Festive Season (a book where things go BOOM!).
Original post:
ThemisAthena.booklikes.com/post/1806707/reading-progress-update-i-ve-read-100-of-yet-another-overhyped-book
~~~~~~~~~~~~~~~
24 Festive Tasks: Door 9 – Thanksgiving, Task 3:
A Book Full of Stuffing
The proverbial stuffed turkey — full of self-praise and completely unnecessary references to the author's interactions with paleonthologists of note; space that would have been better used for actual information on … the rise and fall of the dinosaurs.  And yes, Dr. Brusatte — I know.  Turkeys are birds, and birds are dinosaurs.
Original post:
ThemisAthena.booklikes.com/post/1811806/24-festive-tasks-door-9-thanksgiving-task-3-book-full-of-stuffing
The Flat Book Society
Project Page
Reviews and Blog Posts