Shared five-star honors for two simply gorgeously illustrated coffee table books full of facts and knowledge about medieval monastery life (Benedictine and otherwise), the healing arts of the medieval monks, and the plants they used.  Must-reads not only for fans of Ellis Peters's Brother Cadfael series but for anyone interested in the Middle Ages, monastic history, social history in general, botany, medicine, and pharmacy.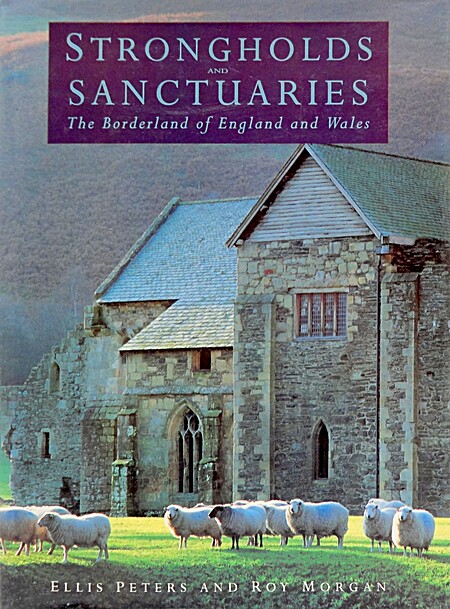 Incidentally, a third book by this pair of authors — Cadfael Country: Shropshire & the Welsh Borders — provided, together with Ellis Peters's own Strongholds and Sanctuaries: The Borderland of England and Wales, important information and stimuli for the "Welsh borderland" part of my trip to Britain in late July 2017, and will certainly be consulted again should I make good on my plan to spend some time in Wales proper some day.
Shrewsbury: Abbey of St. Peter and St. Paul, and abbey foregate
Shrewsbury: the castle (left) and the battlefield of the 1403 battle between the Plantagenets (Henry IV (Bolingbroke) and Prince Harry, King Henry V-to-be) and the rebels led by Henry "Hotspur" Percy — 3 1/2 centuries after the setting of the Cadfael series, but novelized by Ellis Peters under her real name Edith Pargeter as well (A Bloody Field by Shrewsbury) … in addition, of course, to the play by William Shakespeare.
"I am Hugh Beringar of Maesbury, (Under-)Sheriff of Shropshire …"
Left: the tiny church of Maesbury; right: St. Eata's church at Atcham, another village close to Shrewsbury repeatedly mentioned in the Cadfael novels (typically as a way station on trips out of town, following the River Severn going east).
Oswestry: Castle Hill and St. Oswald's church
The Welsh mountains at / near the ruins of Valle Crucis Abbey (dissolved in 1537) — and yes, Gwytherin is still on the agenda as well.  (All above location photos mine.)
Related Posts
Project Page: The Chronicles of Brother Cadfael
Reviews and other Blog Posts:
Ellis Peters: A Morbid Taste for Bones
Ellis Peters: The Devil's Novice
Ellis Peters: The Raven in the Foregate
Ellis Peters: The Rose Rent
Ellis Peters: Brother Cadfael's Penance
CADFAEL (Carlton / Acorn Media) – TV series
Brother Cadfael: An Ideal Teacher