Anger Management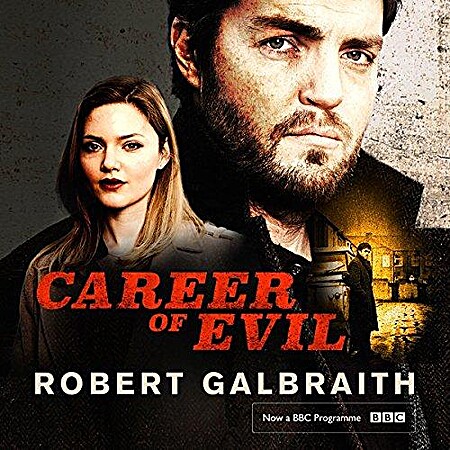 Soooo … turns out I listened to book 3 almost straight on the heels of book 2 after all, because I've had some fairly major anger and sadness issues to go through lately, and nothing helps in that process like a really dark-hued book, right?
As a matter of fact, it turns out that yours truly wasn't the only person in need of some healthy dose of anger management here.  I knew going in that this is a serial killer novel (that much is clear from page one); actually, though, the person ultimately revealed as the killer is only one of several seriously sick and violent bastards, all of whom have a major personal gripe with Strike and therefore pretty much auto-suggest themselves as suspects — I mean, who other than someone pretty obviously out to make Strike's (and Robin's) lives hell would send them body parts and go stalking Robin, intent on ultimately killing her, too?  (No spoiler here btw.; this, too, is obvious right from the beginning.)
But speaking of Robin, in this installment she is having to deal with some pretty substantial anger management of her own in turn, and she's unfortunately not doing all that brilliantly … in fact, for the better part of the novel she's behaving more like a sulking teenager than like a grown up woman.  We learn a lot about her background here, and about the reasons why she gave up university and kept on clinging to Matthew, her boyfriend of nine years, despite his obvious dislike of her work as Strike's assistant — and up to a point I can empathize with her insecurities (she's a rape victim and developed agoraphobia as a consequence, which it took her a full year to overcome and even so much as venture out again at all).
However, I have decidedly more of a problem empathizing with her for throwing a major fit every time Strike doesn't go to the end of the world to treat her as a full-fledged partner — and for her coming within an inch of fatally jeopardizing both her own and Strike's lives, not to mention his work, on several separate occasions as a result; not least towards the very end.  For an army / MP veteran with 15+ years of experience on the job as an investigator to accord that kind of equality to an untrained temp secretary who'd started in his office barely over a year earlier would be a ludicrous expectation under any circumstances, but even more so after she had repeatedly failed to follow his orders, thinking (wrongly) that she knew better, with disastrous consequences every single time. And no, Robin, you don't get to chalk that one up to your experience in university, horrific as it doubtless was.  Because this isn't a matter of anyone denying you your basic, inviolate human dignity — it's a matter of (un)realistic expectations, plain and simple; and if you did have even the most marginal claim to the position to which you aspire on the job, this would be the first thing you'd realize.  I don't doubt that your experience created major insecurity issues, but if those are truly still overwhelming to this degree, Strike is even more justified than he is, anyway, on the basis of your lack of training and repeated misconduct, in not treating you as an equal partner.  For him to be able to do that — and trust you with the blind assurance that true partnership in a dangerous job such as the pursuit of violent criminals would have to entail — you would have had to demonstrate that such trust on his part would be justified.  You, however, have demonstrated the precise opposite.
And I can empathize even less with Robin for her petty bit of revenge on Strike at the very end, getting married to Matthew after all — not because she's determined she really loves him and he is the man in her life now and forever, but simply to get back at Strike for sacking her … for what had been her most blatant act of stupidity and professional misconduct yet.  I hope by the time we get to the beginning of the next book, which it turns out is due to be published sometime soon now, she's got a grip on herself.  And if her marriage had gone to hell in a hand basket in the interim, I wouldn't feel particularly sorry for her — you don't marry for revenge, period.  Even less so a guy who you've realized is the wrong guy for you to begin with and to whom you're only clinging for sentimental reasons now (as you're very well aware, too).
So anyway, minus one star for Robin's temper tantrums, but full marks, as always, for the writing and for Strike's character development — as well as for introducing us to a guy named Shanker, who I very much hope is going to make a reappearance or two in the future.  The serial killer plot isn't of the ingenious, never-seen-before-new variety, but more than merely competently executed, and I've also had quite a bit of fun touring Northern England and the Scottish borderland with Strike (and, in part, Robin) on the hunt for the killer.
Original post:
ThemisAthena.booklikes.com/post/1656814/anger-management