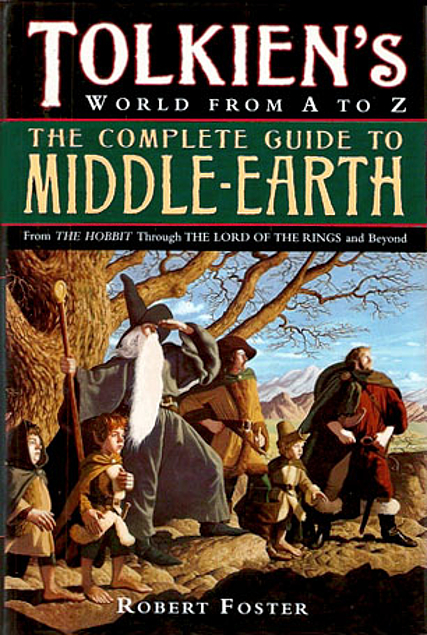 Blurb:
For the millions who have already ventured to Middle-earth—and for the countless others who have yet to embark on the journey—here is the one indispensable A-to-Z guide that brings Tolkien's universe to life.

EVERY CHARACTER
From Adaldrida Brandybuck to Zaragamba—every Hobbit, Elf, Dwarf, Man, Orc, and other resident of Middle-earth is vividly described and accurately located in its proper place and time.

EVERY PLACE
Colorful and detailed descriptions of geographical entries allow you to pick up the action anywhere in Middle-earth and follow it through The Hobbit, The Lord of the Rings, and beyond.

EVERY THING
From stars and streams to food and flora, everything found in Middle-earth is alphabetically listed and, when necessary, cross-referenced.


Enano Akd: Eru Ilúvatar and the Timeless Halls / Jerrel Salvatierra: Powers of Arda

Andrey Maximov: Illuin and Ormal / Ted Nasmith: Illuin

Valinor with the Two Trees, Telperion and Laurelin
(Art by MrSvein872)
The First Age

The three Elvish ambassadors to Valinor and representatives of the three Kindreds, Ingwë, Finwë and Elwë (aka Elu Thingol)
(Art by Peter Xavier Price)

The Silmarils: made by Fëanor and stolen by Morgoth during the Darkening of Valinor
(Fëanor: art by Steamey — Silmarils: source — Melkor / Morgoth: art by Frédéric Bennett)

The Realms of the Ñoldor and the Sindar and their rulers (map by Sirielle)

Lords of the Ñoldor: Finwë (art by Kimberly80), Fëanor (art by Steamey), Fingolfin (source),
Fingon (art by Niyochara), Turgon (source), Gil-galad, and Celebrimbor (source)

Sindar of the First Age: Thingol (art by Kimberly), Lúthien (art by Aerankai), and Círdan (source)

The War of Wrath (source)

Middle-earth before and after the War of Wrath (source)
The Second Age

Karen Wynn Fonstad: Arda with Valinor, Númenor and Middle-earth in the Second Age

Karen Wynn Fonstad: Númenor

Left: Númenórians (source) — Ar-Pharazôn (art by Steamey) — Elros Tar-Minyatur (art by MellorianJ) — Númenorian ships in harbor (art by Emilio Rodríguez)  — Giovanni Calore: Secret Harbor — Rómenna (source); 
Right: The White Tree and Forest of Mallorn Trees (both by Ted Nasmith) — Arrival of Ar-Pharazôn in Umbar (art by ivanalekseich) — Isildur and Nimloth (source) — Ar-Pharazôn's armada (source) — Ted Nasmith: The Ships of the Faithful — Darrell Sweet: The Fall of Númenor
The Third Age and The War of the Ring

Karen Wynn Fonstad: Circles of the World before and after the change from flat to round Earth

Source: Wikipedia

The Istari and the White Council
(top row: left image: source; center, top image: The Blue Wizards, art by Giuliano Bròcani)

Middle-earth in the time of the War of the Rings
Upper map by Pauline Baynes (1970); source of lower map here

Sauron, the Rings of Power, and the One Ring (image sources right column: here and here)

The Shire (source)

Christopher Tolkien (1954): Thrór's Map of the Lonely Mountain
(N.B.: While most of the maps shown in this post give the four directions — North, South, West, and East — the way "our" maps do, this Dwarven map places "East" at the top.  Thus, to reflect "our" perspective, this map must be imagined as turned clockwise by a 90° angle.) (Source)

Alan Lee: Rivendell

Mithril (Image top left: source)

The palantiri
(Palantír of Barad-dûr, center row right: art by Stirzocular)

The great swords of Middle-earth: Glamdring, Andúril, and Orcrist

Alan Lee: The Grey Havens
The Middle-earth Project
Book Reviews and Blog Posts
Book by J.R.R. Tolkien
Supplemental Material