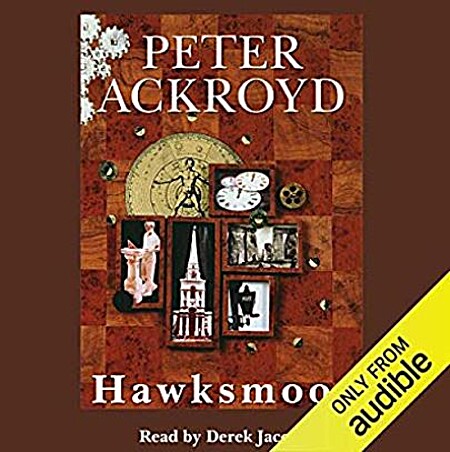 The first book I read in the second week's of September, and for the longest time it was on a solid track for a 4 1/2 or even 5-star rating.  Tremendously atmospheric, with London (both 17th century and present day) not so much merely setting but additional character and two timelines tantalizingly mirroring and winding around each other like the two strings of a double helix.  From early on, this is also a book that knows very well just how clever it is, but during the first  90-95% that doesn't matter a jot … until it does in the end and Ackroyd takes "clever" a step too far into the symbolic, as a result of which the ending is seriously deflating.  What a pity that he proved unable to contend himself with an actual dénouement (however cleverly constructed and meaningful) and instead chose to let narrative lift off and take flight straight into the ether instead.  Still, for the vast majority of its contents, definitely a recommended read — and the beginning in particular, set in the days of the 1665 plague and tying together the plague, a satanic cult, church construction and murder (mirrored by present-day murders in the same churches), definitely packs a punch.
Reading Progress Update: 15%
Hooray — what a relief to FINALLY be in the hands of an author who understands the absolutely terrifying effect of both a plague epidemic and the occult — individually and, even more so, when experienced in combination.  After a week's worth of reading books with (alleged) supernatural and / or mystery and / or horror elements that went anywhere from "nice but kind of nondescript" to "infantile drivel", it feels like with this book and yesterday's impromptu revisit of Agatha Christie's Regatta Mystery and Other Stories, Halloween Bingo is finally beginning in earnest.
Obviously, it helps that this book is narrated by Derek Jacobi — and I think it says a lot that not even Simon Vance's narration of two of the Agatha Christie stories managed to get too much into the way of my enjoyment — but by all the gods in bingo heaven, I sorely needed some quality grown-up, well thought out writing, and Hawksmoor is delivering just that … in spades.
Original post:
ThemisAthena.booklikes.com/post/1948675/reading-progress-update-i-ve-read-15