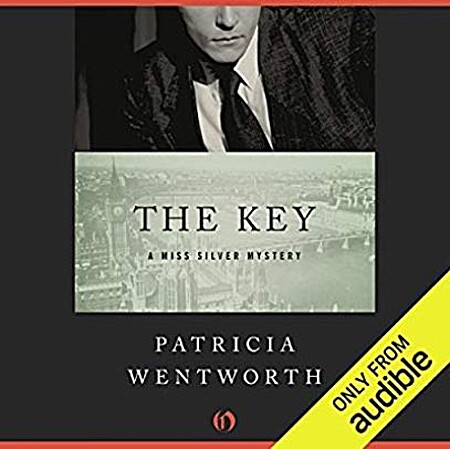 Like virtually all of the Appointment with Agatha side reads so far (except for Ellis Peters's Fallen into the Pit), The Key was a reread for me, but a thoroughly enjoyable one. 
This is a fairly early book in the context of Wentworth's Miss Silver series and one of her first really solid books, chiefly relying on a well-drawn locale, (mostly) individualized and engaging characters, and an entertaining chase for the killer, with plenty of red herrings and reverses — instead of the romance and mystery tropes that characterize Wentworth's earliest Miss Silver books (all of the five first entries in the series, though none more so than Grey Mask).  This being a book by an author who started out as a romance novelist, it does of course feature the obligatory romance element, which (like in most other Miss Silver books) is the bit that I could do without the easiest, though here at least the young woman in question is endowed with a brain and plenty of pluck and by and large rather likeable. 
Like most of Wentworth's other books written during or shortly after WWII, The Key makes use of the wartime setting, maybe not in the most ingenious of ways, but, as the intrusion of secret weapons, espionage and fifth columnists into English village life goes, in a fairly workmanlike and decidedly less hyperbolic manner than many another book written during the period (and as far a cry as imaginable from Agatha Christie's concoction of 17 years earlier, The Big Four).  And of course, Maudie (Silver) is just being Maudie — she's really come into her own at this point, and that's definitely a good thing.  We still do get a "woman in peril" ending; one of the tropes that Wentworth would continue to include in almost all of her Miss Silver mysteries: Oddly, that ending, the book's premise, and the overall solution was what stood out most clearly in my memory from my first reading experience several years ago, so it was probably just as well to reread it so as to remind me what else it had to offer.  Unlike some, though fortunately only a minority of entries in the Miss Silver series (most notably, The Alington Inheritance), this is a book I can easily see myself picking up for more rereads in the future.