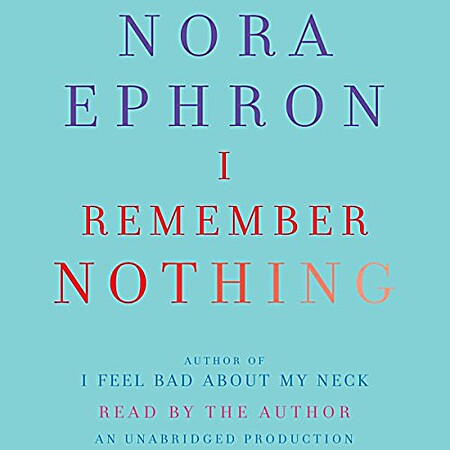 As already mentioned elsewhere, if at all possible I try to combine my Diversity Bingo and / or Around the World reads with my (Dead) Author Birthday reads: In January, that combination yielded Zora Neale Hurston's Their Eyes Were Watching God, in February, Toni Morrison's Sula, in March, Gabriel García Márquez's El coronel no tiene quien le escriba (No One Writes to the Colonel, and Other Stories) and Olivia Manning's The Spoilt City, and in April, Charlotte Brontë's Villette and the Ngaio Marsh / New Zealand binge.  The past month's birthday girl doubling as a diverse author (Jewish) was Nora Ephron.
I Remember Nothing, published two years before Ephron's death, was her final individual essay collection; followed only by The Most of Nora Ephron, which is a posthumously-published anthology including a fair amount of the essays from this and earlier essay collections, along with the opening scenes of When Harry Met Sally and Ephron's comments on that movie, the first chapter of Heartburn, her play Lucky Guy, and a selection of her blog posts and magazine articles.  When this present collection was published, it was not general knowledge that Ephron had been diagnosed with leukemia four years earlier: she kept the diagnosis private, because she feared if it became known she would no longer be able to get insurance covering for new projects.  Yet, it is unmistakable from the pieces included here — particularly the title essay and the subsequent one, The O Word (about ageing: "O" stands for "old") — that Ephron felt she was running out of steam.  And out of time.  In fact, the opening passages of the title essay, where she goes into downright excruciating detail about recent occurrences of memory loss, sent me straight to Google, to check whether I had somehow missed that Ephron had suffered from Alzheimer's Disease in her final years.
"I have been forgetting things for years, but now I forget in a new way.  I used to believe I could eventually retrieve whatever was lost and then commit it to memory.  Now I know I can't possibly.  Whatever's gone is hopelessly gone.  And what's new doesn't stick,"
she writes:
"I used to think my problem was that my disk was full; now I'm forced to conclude that the opposite is true: it's becoming empty."
Not Alzheimer's, though, Google assures me.
("I am living in the Google years, no question of that.  And there are advantages to it.  When you forget something, you can whip out your iPhone and go to Google.  The Senior Moment has become the Google moment, and it has a much nicer, hippier, younger, more contemporary sound, doesn't it?"
Ephron comments in the same essay.)
But old age, and the finite nature of life, was obviously weighing on her.
"I'm old.

I am sixty-nine years old.

I'm not really old, of course.

Really old is eighty.

[…] In these days of physical fitness, hair dye, and plastic surgery, you an live much of your life without feeling or even looking old.

But then one day, your knee goes, or your shoulder, or your back, or your hip. […] Your hands don't work as well as they once did and you can't open bottles, jars, wrappers, and especially those gadgets that are encased tightly in what seems to be molded Mylar.  If you were stranded on a desert island and your food were sealed in plastic packaging, you would starve to death.  You take so many pills in the morning you don't have room for breakfast,"
she writes in the collection's second essay.  And cancer, even though she doesn't reveal just how personal the topic now is to her, has become an undeniable presence:
"Meanwhile, there is a new conversation, about CAT scans and MRIs.  Everywhere you look there's cancer.  Once a week there's some sort of bad news.  Once a month there's a funeral.  You lose close friends and discover one of the worst truths of old age: they're irreplaceable. […] You are suddenly in a lottery, the ultimate game of chance, and someday your luck will run out.  Everybody dies.  There's nothing you can do about it.

[…] The realization that I may have only a few good years remaining has hit me with real force, and I have done a lot of thinking as a result.  I would like to have come up with something profound, but I haven't.  I try to figure out what I really want to do every day, I try to say to myself, if this is one of the last days of my life, am I doing exactly what I want to be doing?"
So, if you're looking for the lighthearted, spot-on humour of When Harry Met Sally — let alone the even more rose-tinged romance of You've Got Mail — this isn't it.  Nor is it the searing irony of Heartburn (which is, after all, based on Ephron's personal experience).  The rest of this collection does offer up a more varied and, in parts, also a considerably lighter tone than the first two essays, and there's plenty of Ephron's incisive insight into human nature, people, and society, too.  But by and large, it's more contemplative and (by Ephron's standards) at times even tinged with faint whiffs of nostalgia.  And death is a constant presence: that of her parents (particularly her mother's), that of an uncle (which taught her the several stages of inheriting wealth — or not), that of her friend Ruthie (whose absence at Christmas dinner caused a veritable crisis in the dessert making department), that of Lillian Hellman (and of their friendship, which ended in acrimony); and the death of her first two marriages, which ended in divorce: another word beginning with "D", which is in fact that essay's title — The D Word — and which again ends with the statement that
"for a long time, the fact that I was divorced was the most important thing about me.

And now it's not.

Now the most important thing about me is that I'm old."
Quod erat demonstrandum?