The first book by Ngaio Marsh that I ever read happened to be her very last one, Light Thickens, which is as much concerned with a production of Shakespeare's Macbeth as it is with the murder of one of the cast members.  To a mystery fan without any Shakespearean inclinations, this might have proved fatal, as the murder (and consequently, the "mystery" part of the book) only comes at approximately the halfway point; whoever reads that book solely with the expectation of solving a puzzle can't fail to be disappointed.  To me, however, it was a God-send: I instantly knew I'd found a new favorite author.  Light Thickens is — even after the murder has happened — all about Shakespeare, and the world of the theatre in general (and I found to my delight that Marsh's series detective, Roderick Alleyn, is a Shakespearean, too; as indeed, with that last name, how could he not be?).  Reading up on Marsh's biography, I learned that she herself was a well-renowned director, with Shakespeare her particular forte; and Mr. Alleyn (that's ALLen, not AllEYN, incidentally) really was named for Edward "Ned" Alleyn, the star actor of the Elizabethan Age, who had founded Dulwich College, which Marsh's father had attended, and which she had just visited when she sat down and began the first draft of her very first mystery, which would eventually be published under the title A Man Lay Dead.
I binged on Marsh's entire Roderick Alleyn series in the weeks after my discovery of Light Thickens.  The writing, particularly Marsh's deft hand at characterization, delighted me throughout.  I also found that Marsh had set several of her mysteries in her native New Zealand (and they even included well-rounded, prominent, largely positive portrayals of Māori characters — a thing practically unheard-of elsewhere in the world of Golden Age fiction).  Other than her mysteries set in the world of the theatre and / or in New Zealand (three of the four NZ-based books combine the two elements to some extent or other), my firm favorites soon were her "English village" books, which routinely turn the idyllic picture of English country life on its head in just as insidiously trenchant a manner as Agatha Christie's Miss Marple books and some of Georgette Heyer's mysteries with a village setting.  (Quoting from memory, from Christie's A Murder Is Announced: "Especially in an English village — turn over a stone, and you have no idea what is going to crawl out" … that is definitely true for Marsh's books as well.)  Moreover, as a "colonial" who spent long periods of her adult life in both New Zealand (where she eventually died) and in England, Marsh had both an inside and and outside perspective on British society and politics, and — although careful never to leave the stylistic confines of the Golden Age mystery tradition — she occasionally used plots and characters that allowed her to comment on issues that she felt needed to be addressed; probably most successfully so in Scales of Justice. 
Obviously and like most writers, Marsh has her downsides; if piano is, to misquote Ursula K. Le Guin *, the opposite of forte, Marsh's "pianos" are homophobia and a manifestly simplistic understanding of organized crime, especially the drug trade, as well as religious sects.  She insisted that she always read up on the subjects she addressed in her books and had in fact amassed quite a sizeable reference library over the years, and admittedly I don't know what type of literature would have been available to her and what books her reference library consisted of; but be that as it may, other than her first two books (A Man Lay Dead and Enter a Murderer, which I've come to consider her "apprentice" works; though the theatrical setting of Enter a Murderer already hints at what was to come later), as well as Alleyn mystery no. 3 (The Nursing Home Murder, which is more skillful, but where she was reaching for something she was not quite able to accomplish yet), any and all books that substantially feature either of Marsh's "pianos" are invariably among the worst in her canon.  (My personal "bottom of the pits" list constitutes of Alleyn books nos. 4 and 17, Death in Ecstasy and Spinsters in Jeopardy; but there certainly are cringeworthy scenes and characters in other books as well.)
And yet, those "pianos" notwithstanding, Marsh has now been a favorite author of mine for a considerable amount of time, so within a birthday-related reading challenge, it was more or less a given that I would reach for more than one book by her as part of my April reading.
____________________________________
* From No Time to Spare: "If piano is the opposite of forte, graceful chitchat with strangers is definitely my piano."
Black Beech and Honeydew
Perhaps oddly, although I had started to read up on Marsh's personal background as soon as I had discovered her Alleyn books, until now I never got around to her autobiography (first published in 1966; republished in a revised and enlarged edition in 1981, the year before her death) — so what better occasion than the (Mostly) Dead Writers Society's literary birthdays challenge to remedy that fact?
From the style of other nonfiction texts of hers, such as the biographical essays on Roderick Alleyn and his wife, painter Agatha Troy, as well as her rather trenchant letter to an aspiring author hoping to make it to publication on her coat tails (My Poor Boy), I knew that Marsh "in real life" was a formidable personality, not given to mince words if required by the occasion (I suppose in a theatrical director that's more or less mandatory); sober, matter-of-fact, straightforward, and with enough honesty and sense of humor to be, on the one hand, her own fiercest critic, and on the other hand, able to laugh at herself.  Yet, her mysteries display her artistic side; her sense of the dramatic, as well as her sense and professional training as a (visual) artist, certainly helped her in creating both the characters and settings of her books.  It is surely also no accident that six books into the series Inspector Alleyn falls in love with and (a few books later) eventually marries a painter.  In Black Beech and Honeydew, both of these elements — the sober, wry nonfiction commentator and the artist — merge to great effect: what will undoubtedly remain with me longest are not merely individual incidents narrated in the book but also images created in my head of the New Zealand of Marsh's youth, of individual members of her family or people she encountered over the course of her life, and of scenes (or sceneries) that struck her as noteworthy during her travels.  Here is her description of the place in the hills outside of Christchurch where the Marsh family would make their home, moving from (then more affluent) Fendalton when Ngaio was a little girl, and which would remain her home and her New Zealand refuge for the rest of her life:
Ngaio Marsh at home
in Christchurch, NZ (1978)
(source)
"When I looked south from the higher branches of my wellingtonia tree in suburbia, I saw, above park, roofs and Cathedral spire, the Port Hills.  They were only four miles away but to me they seemed as romantically distant as those snowy Alps that stood to the north beyond the Canterbury Plains.  The hills were rounded and suave in outline with occasional craggy accidents.  They would be called mountains in England.  The tussock that covered them gave them a bloomy appearance as blonde hair does to a living body.  I was told that a long time ago they had moved gigantically and heaved themselves into their present form and then grown hard, being the overflow of a volcano.

The crater of this volcano is now a deep harbour into which a hundred and fifteen years ago, sailed the First Four Ships: Sir George Seymour, Randolph, Cressy and Charlotte Jane, bringing the founders of the Canterbury Settlement. […] Whenever I return to New Zealand I like to come home by the hills and still think that an arrival at the pass on a clear dawn is the most astonishing entry one could make into any country.  There, as abruptly as if one had looked over a wall, are the Plains spread out beyond the limit of vision, laced with early mist, and a great river, bounded on the east by the Pacific, on the west by mere distance, and from the east to west by a lordly sequence of mountains, rose-coloured where they receive the rising sun.

[…]

In our Fendalton days there was only a scatter of about twenty houses on the hills.  We were lent one of these for a summer holiday — a house amidst tussock with nothing but clear air between it and the foothils of the Alps, forty miles away on the other side of the Plains.  It was this visit, I think, that decided our move. […]

So, on what seems to me to have been an interminable journey, we plodded through the borders of Fendalton, round the parks, past a region of drafting-yards and sheep pens where, once a week, livestock was sold, down a long highway and into Wilderness Road, an endless stretch between gorse hedges.  It is now a main suburban street.  This brought us at last to the hills; to a winding lane, a rough track and our destination. […]

The new house smelt of the linseed oil with which the panelled walls had been treated and of the timber itself.  It was a four-roomed bungalow with a larger semi-circular verandah.  The living room was biggish.  There were recesses in its bronze wooden walls and there was a pleasant balance between them and the windows.  My mother had a talent for making, out of undistinguished elements, a kind of harmony in a room.  At once it became an expression of herself and the warmth she always lent to human relationships. […]

From the beginning we loved our house.  It was the fourth member of our family and for me, who still lives in it, has retained that character: it has been much added to but I think its personality has not changed.  A city has spread across the open country where sheep and cows were grazed: the surrounding hills where I and my friends tobogganed and rode our ponies, are richly encrusted with bungaloid or functional dwellings.  An enormous hospital covers the old mushroom-paddock: Cashmere, which is our part of the Port Hills, is now a 'desirable suburb'.  But no skyscraper out on the plains can ever be tall enough to hide the mountains and, strangely enough, the little river Heathcote, where we used to sail on rafts that we built ourselves, has scarcely changed.  Children still paddle about on it in home-made craft."
What a lovely place indeed to call your home.
Obviously, one of the book's particular attractions to me were Marsh's extensive comments on the world of the theatre, and on Shakespeare's plays in particular.  To my great delight, she not only devotes considerable space to the productions in which she herself had a hand, as well as the very first ones that she saw as a child and a young woman, and which would inform her as much as her family's living room theatricals (both her parents were gifted amateurs; particularly so her mother, who had once in fact been invited to join a professional company, but had declined — with a somewhat heavy heart, one imagines — on the grounds of the uncertainty of the touring company life): Marsh also details at length her own interpretation of Shakespeare's and other authors' plays — especially, besides the Bard's works, Pirandello's Six Characters in Search of an Author, productions of which counted among her greatest successes as director –; and she (thankfully, from the fellow aficionada's point of view) even goes so far as to include, verbatim and unabridged, her Note on a Production of Twelfth Night, as published in Shakespeare Survey No. 8: The Comedies (ed. Allardyce Nicoll).
Marsh rehearsing with cast members of the University of Canterbury Drama Society (NZ) for a 1968 production of Hamlet (source: Wikipedia).
Marsh's book, like many memoirs, is not a beat-by-beat chronological recitation of every significant event of her life, but it does allow the reader to get to know her; or at least, the person as who she saw herself and wanted to be seen by others.  Along the way, we learn about Marsh's life in England, two of her many extensive sea voyages, and the background of several of her novels; besides the theatre and New Zealand, notably also that of When in Rome, where a murder occurs in a Minoan grotto deep below a Catholic church, which church, as well as the older archeological wonders and excavations extending far into the earth below the Catholic building on the surface, actually exists precisely as described in Marsh's mystery.  She really did very much believe in the tenet "write what you know" and was informed, in much of her writing, by personal experience.  Towards the end of the book we also witness, through her eyes, a(nother writer's) induction ceremony in the Detection Club (Marsh herself would be invited to join a few years later), as well as her first encounter with Agatha Christie, her comments on the writings of Christie ("at the apex of the classic style of detective fiction") and other mystery writers, notably of course Arthur Conan Doyle (whose works she first read as a young girl in the original Strand Magazine editions; how I envy her for that!), her dissatisfaction with cover artists, who, she found, very seldom devote due attention to the nature and details of the scene they portray (or even to the question whether such a scene, or such characters, feature in the book at all), and last but not least on the mystery genre as such: "a salutary exercise in the techniques of writing", particularly in what she considered "an age of much shapeless fiction".  The detective story, Marsh writes, "is shapely.  It must have a beginning, a middle and an end.  The middle must be a logical development of the beginning and the end must be implicit in both.  Economy as well as expressiveness in words must be practised.  One may not stray too far from the matter-in-hand."
Ngaio Marsh and Agatha Christie (Savoy Hotel, London, 1962)
(sources: here and here)
It also emerges from Marsh's autobiography that her decision to include Māori characters in some of her novels was by no means an accident.  She very much took it for granted that New Zealand was a country where Europeans had immigrated, not to push out its indigenous people but to live side by side with them.  There are aspects of her portrayal of her Māori characters to which I imagine that Māori readers will object (more on that below), but Marsh respected their essential human dignity and reacted with shock and disdain to the apartheid and racism that she would come to witness in South Africa and in the U.S.  On being invited to use a Zulu-drawn rickshaw as a conveyance to her hotel in Durban, when stopping over there on her first voyage to England (in her early 30s), she writes:
"I was not at all sure that I wanted to do this.  I came from a country where it would be beyond the limit of anyone's imagination to envisage a member of one race running between shafts like a horse for the convenience of a member of the other.  I didn't quite see that what was unthinkable for us should be OK in Natal."
Pressed by a companion, she eventually bit back her scruples and, the next day, made the following experience:
"The next morning when, still footsore, I came out of the hotel, there squatting by the kerb with his rickshaw, was yesterday's Zulu.  He said, with a pleasing smile, that he was my boy and where were we going?  My scruples about one human being trotting between shafts for another were honestly held and they now returned but were weakened by my blisters and confused by the attitude of the man himself.  Obviously, he had waited there a long time when he might have been working elsewhere.  He would therefore be a loser if I offered an explanation (which he would not understand or appreciate) and then, po-faced, tottered on my blisters in search of a taxi.  Should I have given him a compensatory sum and a self-righteous commentary?  An odious solution which he would no doubt have rightly interpreted as an insult to himself and his rickshaw.  I took the rickshaw.  He pointed out places of interest, nodded, smiled, trotted and uttered cries of greeting or warning to other rickshaws.  Did he hate me in his heart, think me mad or not think about me at all?  Without any shadow of doubt — the last."
(I don't, thank God, know anybody who has ever had to face this sort of atrocious situation involving another human being, but animal lover that I am, the carts drawn by undernourished horses or donkeys in some parts of the world do constitue a similar dilemma for me.  So at least on a considerably less egregious level, I can relate.  And I know that there are no right choices you can make in this sort of situation — only varying degrees of wrong ones; because the situation itself is fundamentally wrong on every level.)
When traveling in Germany, Marsh also gained a first-hand impression of the Nazi persecution of the Jews, which set in long before WWII, and she was equally appalled by what she witnessed there — as well as by a fellow New Zealander's open admiration for the Nazis.  (The episode as such doesn't appear anywhere in her fiction, but it doubtlessly informed the plot of Scales of Justice, as well as the inclusion of German refugee characters in a number of other books.)
A bit later on in her autobiography, Marsh offers a final comment on the issue of race relations:
Māori greenstone hei-tiki:
An artefact such as this plays
a crucial role
in Ngaio Marsh's
first book set in New Zealand,

Vintage Murder (1937)
(source: Wikiwand)
"It is strange, I think, that with [the New Zealand arts scene's] fierce concentration on the New Zealand element, so few of our major writers have concerned themselves in depth with the greatest problem and surely the most interesting aspect of life in New Zealand today: the process of integration between two races and the emergence of many formidable difficulties that must be overcome before we can honestly claim to have realized the intention of our forefathers: that the Maori and Pakeha shall be as one people.

Four years ago, when I was in America and about to be interviewed for radio I realized from a remark inadvertently dropped by the questioner that she had expected me to be dark brown.  When I said that I had no Maori blood but would be proud of it if I did, she looked politely incredulous.  It did not at once occur to me that my first name had misled her: so many Europeans have Maori names in New Zealand.  And then I wondered if ours is the only country where white parents give their children native names.  If so, it is perhaps not too fanciful to see in this habit a reflection of the attitude which, however much we may blunder, has been ours from our first entry into these islands.

It is often said that we have no right when colour problems of Britain, Africa or America are discussed to argue from our own experience: it is on too small and insignificant a scale.  I think we have every right.  The very differences are significant.  Our problems of integration, and they are real and cumulative, have developed out of a background of anxious determination to have the Maori people digest almost as one meal, our own slowly evolved habits of thought, behaviour and culture. […] The frictions and prejudices that undoubtedly exist spring from differences of behaviour and not from past injuries on the scale of the gigantic infamies in America and Africa."
I think a Māori reader —  or in fact, not least in light of the Christchurch mosque shooting, a reader from any non-Western community — might want to point out that New Zealand is, and has always been, as little immune to racism as any other place in the world.  They might conceivably also want to question the benign nature of the century-long attempt to get the Māori to adapt to the Western lifestyle in the first place, and would likely object, in particular, to the characterization of the European immigrants' culture as the "dominant" one (which is a term that Marsh herself adopts).  But seen against the context of the entire book, Marsh's assertion that she would have been proud to have had Māori blood herself, and her endorsement of the aspiration "that the Maori and Pakeha shall be as one people" strikes me as genuine.  I do believe that she saw the Māori as equal citizens of her country and wished for the existing cultural frictions to eventually be overcome.  She would very likely also have welcomed the recent years' emergence of Māori writers of note, such as Keri Hulme and Witi Ihimaera.
As companion reading to Marsh's autobiography, it seemed logical to revisit her quartet of mysteries set in New Zealand, plus A Surfeit of Lampreys (which begins in New Zealand and whose protagonists — other than Alleyn — are a family very closely modeled on Marsh's particular friends, who had first invited her to join them in England to begin with), as well as, finally, a comparatively late mystery, Grave Mistake, just because I could and because I hadn't read it in a while.  And the idea to revisit her fictional New Zealand canon proved a very good idea indeed: although I had always known that these books were in part based on personal experience, I had no idea to what extent that really was the case.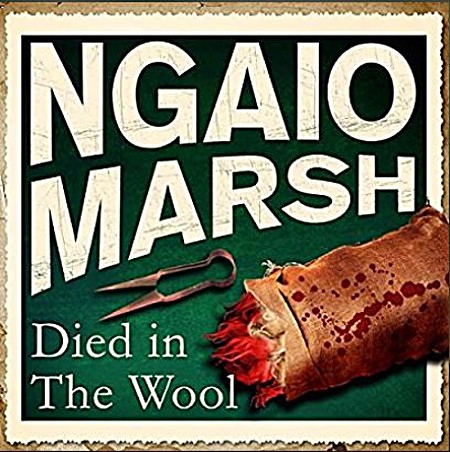 Died in the Wool
Died in the Wool (book no. 13 of the Alleyn series), like all of Ngaio Marsh's mysteries set in New Zealand written during one of the phases when she was actually living there, was her penultimate book taking place in her country of birth, and it has emerged more and more as one of my favorites in recent years.  It is set on a sheep farm in or near the Southern Alps — Marsh isn't specific about place names (real or fictional) besides the name of the farm itself, but newly educated by her autobiography, I think it conceivable that she might have been thinking of the area around Arthur's Pass, which she first visited as an Arts School student, and which left a huge impression on her.
The mystery concerns the death of the sheep farm's owner (in her second career, also the local Member of Parliament), who one evening vanishes from her farm, only to turn up inside a bale of the wool purchased from her farm by a nearby wholesale wool trader.  In structure, the initial part of the book is similar to Agatha Christie's Five Little Pigs, in that Alleyn — in New Zealand on special secondment to the British Secret Service, and visiting the sheep farm following an invitation of the murdered woman's nephew-by-marriage — begins his invitation by interviewing, at length, the victim's surviving relatives and current occupants of the farm.  From this interview, during which each person in turn tells the story of their connection with the victim, several different and, in part, sharply contradictory images of the murdered woman emerge: a dominant personality, unquestionably, but manipulative and selfish — or commanding her nearest and dearests' course of action with what she genuinely believed to be their own best interests at heart?  While telling their tales, of course each of the narrators also gives a portrayal of him- or herself, all of which is equally valuable grist to Alleyn's mill.  Unlike in Christie's book, where Poirot solves the murder exclusively on the basis of a series of such accounts, Alleyn has the advantage of also staying in the midst of his circle of suspects and being able to inspect the scene of the crime; though ultimately (like in Poirot's case), it is psychology that leads him to the murderer's discovery.
Died in the Wool is the only one of Marsh's New Zealand mysteries that doesn't directly feature the world of the theatre, though there is one character (the murder victim's young protégé and son of her farm's foreman) whom she has given the opportunity to study music, and who is struggling with the insecurities brought on by the prospect of leaving behind the life he knows, as well as with the suspicion that she might not have been acting out of a benign interest in his talent but have been motivated by an egotistical desire for self-aggrandization by being the chief agent of his hoped-for success.  And, yes, this being a book set during WWII (and Alleyn (in)officially being in New Zealand to hunt for Nazi spies), there's a whiff of dirty secret political doings, too, though except for one (major) scene, it doesn't disturb the flow of the rest of the book.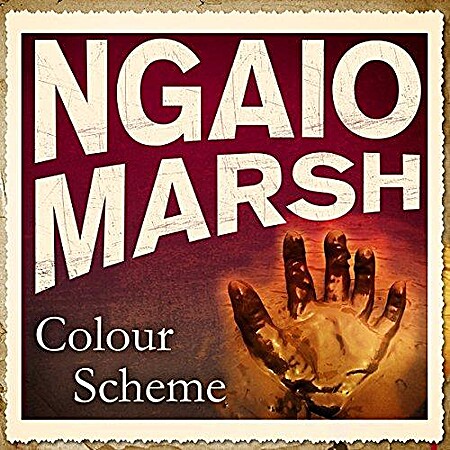 Colour Scheme
Colour Scheme, Ngaio Marsh's second book set in New Zealand (and Alleyn mystery no. 12), like its immediate sequel (Died in the Wool) takes place during World War II; but unlike its sequel it is set on the North Island in a spa town probably modeled on Rotorua, and also very much unlike the other book, the goings-on in the outside world (war, espionage and all their trappings) are front and center here — to the point that Alleyn, engaging in an undercover investigation, appears incognito; not only to the book's other characters but also to the reader.  (Anybody who has read more than a single other book from the series should be able to spot him quickly regardless, but I bet Marsh had quite a bit of fun devising ways in which to lead at least the completely unwary reader up the garden path.)
While the victim in Died in the Wool was almost certainly killed by someone very close to her, the murder in Colour Scheme may have been committed by a number of different people, none of them particularly close to the murdered man (though almost all staying at the same spa hotel), and for a variety of reasons: He is a rather boorish, newly-rich businessman who has a financial hold over the hotel's owner-manager couple, is unsubtly courting (if it may even be called that) their daughter, and is engaging in activities that make both the hotel owner-manager's son and his brother in law suspect him of espionage; and he eventually finds his end, as picturesquely as gruesomely, in the "mud pots" (geysirs) on the way from the nearby Māori village to the spa, after an evening of cross-cultural performances featuring Māori traditions as well as a performance by a star actor from London staying at the hotel (and shame on anyone who doesn't think "Laurence Olivier" when reading that particular gentleman's characterization). 
Among the Māori characters most prominently featured in Colour Scheme are Huia, a young woman employed by the hotel as a maid, Eru Saul, a young man of mixed background living in the village, as well as the village's most revered elder: a gentleman named Rua Te Kahu, who has spent decades in the white man's world as a journalist and, later, as a Member of Parliament, who has been around long enough to witness the sudden and brutal impact of the European settlers' way of life on his own people, and who in old age has returned to that people to spend the final years of his life with them.  He is portrayed as a man of tremendous wisdom and is treated with great respect not only by his own community but also by most of his white neighbors (including the famous actor, as well as, later, the character ultimately revealed as Alleyn); or more specifically, by all those with whom the reader is meant to empathize, whereas certain other white characters' casually dismissive attitude towards Rua is used to instantly single them out as shady and questionable.  Yet, there is one moment of great anger, brought on by a provocation amounting to the highest degree of sacrilege in Rua's culture, during which Marsh has him revert, to a certain extent, to cliché after all.  I'm fairly certain that she didn't mean this to come across as derogative or judgmental (let alone racist): she genuinely respected the Māori; and more generally speaking, she enjoyed writing about temperamental outbursts of all kinds (particularly those of actors, whom she often portrayed as "living every emotion to the hilt", and which was what she loved most about them); so to her, a flamboyant display of emotion was merely so much welcome drama.  In fact, in the scene in question, she even has Rua instantly use his anger to engage in an interrogation of Huia and Eru that actually does further the murder investigation to a considerable extent.  And some of the white people present are considerably more embarrassed by Rua's outburst than the old gentleman himself, who literally exits with his head held high.  Yet, a 21st century reader still may find it difficult to take that scene completely as a matter of course.
Colour Scheme has been one of my favorite Alleyn mysteries from early on, not least on account of its spectacular setting, as well as the way in which Marsh manages to sneak Shakespeare into the mix, courtesy of one of her mysteries' several Olivier-lookalikes, and also for her giving the Māori considerable space and show them (generally) in a positive light.  Still, a tiny part of me can't help but wonder how the book will be received 50 or 100 years from now.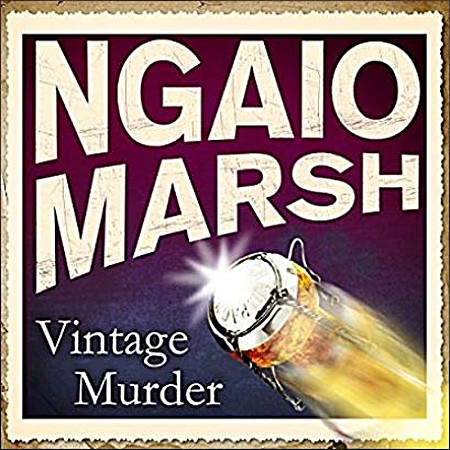 Vintage Murder
Ngaio Marsh earned her first theatrical spurs not as a director but as a young actress with the touring company of noted actor-manager Allan Wilkie, whose company she had seen in performance in Christchurch and whom she had spontaneously contacted.  Wilkie met her and her mother at his hotel; a short time later, she received his invitation to join his company as a bit-part actress.  Wilkie, like Marsh, was a great lover of Shakespeare; they would remain friends for their entire lives.  In Black Beech and Honeydew, she describes her train journey with his company from Wellington to Auckland at the beginning of their tour:
"The train journey to Auckland would take about fourteen hours and with or without a sleeper was, and still is, one of considerable discomfort and few amenities.  I, however, persisted in my rapture.  It was the first of many such occasions and I was to grow familiar with the look of my fellow players in transit: the ones who read, the ones who stared out of the window, the ones who slept, the cheerful, the morose and the resigned.  Mr Wilkie and Pat Scully, their shoulders hunched and their heads nodding with the motion of the train, played endless games of two-handed whist.  Mrs Wilkie read.  Jack Castle-Morris told me stories of his experiences as an actor in Africa and as a soldier in the mud and carnage of Flanders.  I had a sketchbook with me and made drawings of many of the company.  The world outside darkened and night had fallen when we reached Palmerston North […]

Mr Wilkie had been brought a sheaf of telegrams at Palmerston.  He stood at the far end of the swaying carriage in what appeared to be a portentous discussion with Kingston Hewett.  The guard came through and joined them.  Everybody settled down and after a timeless interval we prepared for the night.  The train had worked itself into its accustomed uproar.  The guard came through again and turned down the lights to a cadaverous blue.  I tipped back my seat, arranged my hired pillow and twisted myself into a series of unpromising postures.  The clamour of our progress swelled and faded, became grotesque and was lost in a scurrying flight of images."
Vintage Murder opens with a Prologue in a Train which exactly replicates this nighttime scenario (down to the endless game of two-handed whist, a conversation of two people on the platform at the end of the carriage, and another conversation of two people leaning forward in their seats opposite each other), when Alleyn, during his first visit to New Zealand, is thrown among a traveling company of actors, who rescue him and invite him into their carriage after he has failed to secure a seat on the train elsewhere.  He thinks that they will part company in the next town, where the actors will be staying to stage their performance, while he, after a bit of sightseeing, is planning to move on; but of course, that is not to be.  The company's owner and leading man is done to death, courtesy of a bottle of champagne rigged up above his and his wife's place at the lady's birthday dinner table: the bottle had been intended to be lowered gracefully down in front of the birthday girl, but it falls — unstopped by any rigging — straight down and breaks her husband's neck.  And when the local police discover that the "Mr. Allen" present at the birthday festivities is none other than the well-known C.I.D. inspector who has written the manual on policing that they consider their bible, the inevitable happens and Alleyn is drawn into the investigation.
Vintage Murder was Marsh's fifth Roderick Alleyn mystery and her first book set in New Zealand; like Colour Scheme (six years and seven Alleyn mysteries later) it, too, features — in addition to the actors — a prominent appearance by a Māori; in this instance, an Oxford-trained doctor named Te Pokiha who, like Rua in Colour Scheme, is the scion of an old dynasty of Māori aristocrats.  Dr. Te Pokiha has, like Alleyn, been present at the fatal birthday dinner, and is he who diagnoses the victim's death.  Again, we see the Māori character being treated with great respect by others, not least by Alleyn, who eagerly seizes the opportunity to learn more about the doctor's culture and people; and during that conversation (over dinner, at the doctor's home), Marsh gives Te Pokiha these lines:
"The pakeha has altered everything, of course.  We have been unable to survive the fierce white light of his civilisation.  In trying to follow his example we have forgotten many of our own customs and have been unable wisely to assimilate to his. […] The pakeha give their children Maori Christian names because they sound pretty.  They call their ships and their houses by Maori names.  It is perhaps a charming compliment, but to me it seems a little strange.  We have become a side-show in the tourist bureau — our dances — our art — everything."
Yet, here, too, there is one single scene where Te Pokiha — like Rua in Colour Scheme, in a moment of great provocation, in this instance an altercation involving a racial slur — seems to "revert" to stereotype.  At least he, too, extricates himself with dignity: "This man has spoken of my — my colour.  It is true I am a 'native'.  I come of a people who do not care for insults but I should not have forgotten that an ariki [gentleman, or first-born] does not lay hands on a taurekaraka [slave; low-class person]."  And yet, the same comments apply as with regard to the other book: I don't think Marsh intended her portrayal of the doctor in this one scene to be derogative or racist — his own response, as just quoted, as well as the entire balance of the rest of the book speaks against such an intention –, but a 21st century reader may see it in that light nevertheless; and it's certainly not helped by Alleyn of all people thinking at that very moment, "by Jove — the odd twenty per cent of pure savage."  Or, for that matter, by the doctor himself using the word "savage" when speaking about his own people elsewhere.
As a mystery, this is classical "impossible crime" scenario (nobody seems to have had an opportunity to tamper with the fatal champagne bottle's rigging), complete with floor plan of the theatre in the best of Golden Age "locked room" traditions; and it quickly turns out that quite a few members of the murdered man's company would have had a reason to do away with him, so there are suspects aplenty.  But like in almost all of Marsh's books featuring the world of the theatre, the story's true stars are the actors … and if (leaving aside the Māori issue discussed above) Marsh had foregone the one odd bit involving one of her definite "pianos" (it doesn't intrude overly much, but it's annoying and as unnecessary as a sixth toe), and devoted a tiny bit less space to the "impossible crime" setup and given us more of New Zealand's spectacular nature instead — which does appear, but not anywhere near as predominantly as in Died in the Wool and, especially, in Colour Scheme — I might even have added yet another half star to my rating.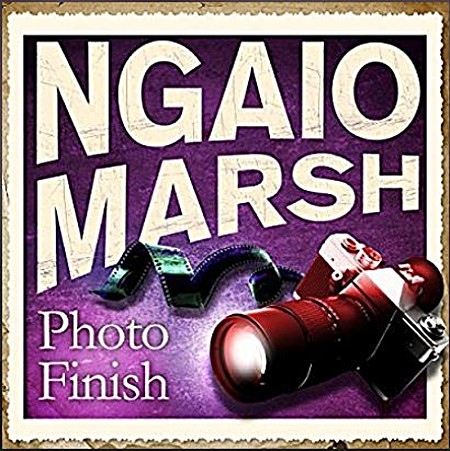 Photo Finish
Of all of Marsh's New Zealand books, Photo Finish (Roderick Alleyn mystery no. 31) is the one I distinctly like the least.  We're back in the South Island this time, in a Westland lodge just beyond a place called Cornishman's Pass in the book, but whose description so closely mirrors that of Arthur's Pass in Black Beech and Honeydew that it is obvious — even more so than in Died in the Wool, too — which real-life setting Marsh had in mind. 
This particular mystery's saving grace is Alleyn's wife Agatha Troy, who has been commissioned to paint a portrait of the operatic star who will in short order become a murder victim; Alleyn is "encouraged" by Scotland Yard top brass to tag along because the lady — whose (im)modest but fitting stage name is La Sommita — is being persecuted by a photographic smear campaign and the Yard has been receiving letters from her and her patron, an American millionaire, voicing complaints and demanding  protection, after the local police in the places where this has been happening so far — most recently, in Melbourne — have declared themselves unable to bring the guilty party to book.  (As in, of course you would dump this sort of thing at Scotland Yard's door as your next logical step, just because it's been happening somewhere in the British Commonwealth.  * Eyeroll. *)  Of course, it is doubtful that La Sommita would have commissioned the portrait if she had had any inkling that Troy's portraits are not, as a rule, glorifications of their subject but show them the way in which Troy really sees them, and may thus, to the discerning eye, embody subtle but unmistakable criticism, all the way to, on occasion, the level of a pithy caricature.  But then, hardly any of Troy's subjects are aware of this; and anyway, the only thing that La Sommita cares about is Troy's star power as a celebrated and critically highly praised artist.  So, off to New Zealand Troy and Alleyn go, some 30+ years (and 26 books) after Alleyn's first visit to "the antipodes"; and incidentally, in the unlikely event that by the time we get to this book you've still been harboring any doubts as to whether Alleyn ages in real time … he doesn't, and it's a simple calculation, as Marsh unwisely told us that he was 42 years old all the way back in 1937, when she wrote Vintage Murder.  But I digress.
Our scene is set on an island in the middle of a lake, where the diva is to make a starring appearance before a select private audience in a third-rate opera that an ardent fan has written specially for her; upon which the diva has instantly taken the flustered young man to bed and made him her private secretary (apparently in that order, too), as well as commanding him to conduct the orchestra at the opera's island premiere — which for him becomes an artistic conflict when he realizes that (1) his opera is trash, and everybody other than La Sommita knows it, or will instantly know it upon hearing it performed; and (2) La Sommita is exploiting him, not making him her protégé.  When the diva is murdered after the show (the unhappy composer having duly enraged her by resigning from the post of conductor), Alleyn is compelled to initiate the investigation by way of a sort of "watching brief" for the local police, as New Zealand's nature has, in the interim, made a showing not merely in the form of the island location's spectacular scenery but also by way of the requisite mystery-set-on-an-island thunderstorm.  (Refer to L.C. Tyler's new version of the Detection Club decalogue, rule no. 10 — "Snowstorms shall, as a matter of course, last long enough for the amateur detective to investigate all aspects of the case before the police can arrive" –; only omit the word "snow".)  Of course, by the time the storm subsides and his local colleagues roll around, he is able to present them with a complete case, all neatly packaged and with only a final bit of proof to be collected, into which revelation the person bound to supply it is swiftly tricked.
Other than Troy and Alleyn, there are few likeable characters in this book (only the doctor who assists Alleyn in the investigation of the crime scene and of the corpse; as well as an Italian music critic who strikes up a friendship of sorts with Troy, and an otherwise minor character whom Alleyn sets up as a guard to the crime scene in order to prevent it from being tampered with).  Although, as long as I have a sympathetic protagonist or POV character to tag along with, this sort of thing doesn't necessarily bother me, in this book it does, not least because Marsh's portrayal is unusually straightforward; she leaves little doubt that she doesn't greatly care for most of these people, either.  And, of course, it also doesn't exactly help that two of Marsh's "pianos" — homophobia and organized crime — make an appearance, though thankfully they do not intrude quite as much as they do in some other books.  Unlike in Vintage Murder and Colour Scheme, there are no major Māori characters, though we do learn that a bass singer named Eru Johnstone, who has been brought in for the operatic performance, originally hails from the same North Island community as Te Pokiha (the doctor from Vintage Murder), and that the good doctor is now a much respected elder of their people. — The mystery as such, though, is solidly plotted.  All in all, this book is middling in the context of Marsh's entire output, which however, given that she was 85 years old when it was published, is really "not half bad" (particularly as compared to Agatha Christie's output at that time of her life).
A Surfeit of Lampreys (aka Death of a Peer)
For the beginning of her tenth Roderick Alleyn mystery (one of several books by Ngaio Marsh published under a different title in the U.S., because apparently the publisher thought their titles to be too incomprehensibly British for their American audience), Marsh takes us once more to New Zealand; this time, however, not to stay there: rather, the book is one big piece of hommage to the friends whom she first met while they were living in New Zealand, who invited her to England after they themselves had moved "back home", with whom she subsequently stayed during much of her first five-year sojourn in the UK, and who would remain among her closest friends for the entire rest of their lives.  In Black Beech and Honeydew, Marsh says:
"In writing detectives stories I have only once, with intention, based a complete family upon people I actually know.  There can be no doubt, however much we may disclaim the circumstance, that fictional characters are pretty often derived, subconsciously or not, from persons of the writer's acquaintance.  One may not be aware of this until after one has done with the book.  In this instance, however, I wrote deliberately.  Although the ages, sex, circumstances and behaviour of my imaginary family were not precisely those of its prototypes, its members were, in their, I hope, inoffensive way, portraits.  I shall, therefore, make no bones about calling their dear originators 'The Lampreys'."
So, the "originators'" — Arthur and Helen (Nelly) Tahu Rhodes and their family's — home of Meadowbank, some 20 miles outside of Christchurch, became this mystery's Lampreys' Deepacres.  Their expensive London penthouse apartment became that of the Lampreys (albeit at a different, though equally fashionable address).  Their unputdownably cheerful characters, individually and collectively, became those of the novel's Lampreys.  As did the entire bandwagon of their life and lifestyle, which Marsh compares, in Black Beech and Honeydew, to an animated cartoon version of "some sort of cross between a Rolls-Royce and a Dodgem car", "driven jointly in all directions by a nanny, a very smart chauffeur belonging to another branch of the family and a Negro gentleman", "travel[ing] at an even pace, cutting its corners, run[ning] in and out of ditches and avoid[ing] head-on collisions by the narrowest of margins.  "Sometimes," Marsh continues, "a vital part would fall off.  Nobody would know where it was going and all the Lampreys would be very gay.  Even when their hearts were in their mouths, they would laugh a great deal, saying: 'Isn't it too awful!' to each other."  And, "however frequently [the vehicle's] parts disintegrated they would, after the fashion of all animated cartoons, be restored and the journey precariously maintained."  So, too, the back story of the fictional Lampreys, such as they are introduced in the novel, is, if not directly modelled on, at the very least closely inspired by events that really occurred in their "originators'" lives:
"In after years Roberta was to find a pleasant irony in the thought that she owed her friendship with the family to one of [their recurring] financial crises.  It must have been a really bad one because it was at about that time that Lady Charles Lamprey suddenly got rid of all her English servants and bought the washing machine that afterwards, on the afternoon it broke loose from its mooring, so nearly killed Nanny and Patch.*  Not long after [that …], the Lampreys were rich again, and all the servants came back, so that on Roberta's first visit Deepacres seemed very grand."
And, as is obvious even from this short introductory passage, the mystery's Roberta is an unabashed stand-in for Marsh herself, whose first arrival in London, too, is exactly retraced on the pages of the novel; with the sole exception that the "originators" were actually living outside the city at the time and went on to take their newly-arrived friend from New Zealand to their countryside home:
"It was still very early in the morning when we berthed at Tilbury.  I expected that I would have to wait for at least two hours before anybody appeared but when I looked over the rail, there, among a handful of people on the wharf, was a Lamprey.
My childhood dream of London is in some ways clearer in my memory than the events of that first morning: they, indeed, have a dreamlike, wavering quality.  Of the long drive through the East End into the City I remember little except, again, names.  'Limehouse' and 'Poplar', for instance, in those days evoked wonderfully sinister references to opium dens, gas-lamps wreathed in fog and wet stone stairs.  The Commercial Road looked drab, broad and bald on that bright summer morning and held no romantic overtones.
I remember being told to look up out of the car window and there was the dome of St. Paul's.
Up the Hill to Ludgate
Down the hill of Fleet.
I thought, and the words jingled confusedly in my head.  As if in answer there were bells, high in the air, clanging away above the roar of London.
'That's St Clement's Dane.'
There it stood like an island.  'Oranges and lemons' they were ringing as if there were no bombs in the future and they would sing it out for another three centuries or more.
'We'll have breakfast somewhere.  There's a new place in Piccadilly we might try.'
The smell of the West End in the early morning.  Hot bread.  Coffee.  Freshly watered pavements.  Hairdressing parlours.  Roses.  Being a Lamprey place of entertainment it was, of course, an extremely grand restaurant.  Why was it open at that hour, I wonder?  I smell and see it and am surprised by the waist-to-ankle aprons of junior waiters.  Eggs and bacon are ordered and then we are driving up a beautiful wide street.
'Do you know what that is?'
'Buckingham Palace?'
But it flashes up and is gone and so is the whole of the journey to Buckinghamshire."
Black Beech and Honeydew
"[O]n the wharf a crowd waited behind a barrier. Isolated individuals had begun to flutter handkerchiefs. Roberta's eyes searched diligently among the closely packed people and she had decided that neither Henry nor Frid was there, when suddenly she saw them, standing apart from the others and waving with that vague sideways sweep of the Lampreys. […]
The rest of the morning was a dream.  […] There was a trundling of luggage to a large car where a chauffeur waited.  Roberta instantly felt apologetic about the size of her cabin trunk.  She found it quite impossible to readjust herself to these rapidly changing events.  She was only vaguely aware of a broad and slovenly street, of buildings that seemed incredibly drab, of ever-increasing traffic.  When Henry and Frid told her that this was the East End and murmured about Limehouse and Poplar, Roberta was only vaguely disappointed that the places were so much less romantic than their associations, that the squalor held no suggestion of illicit glamour, that the street, Henry said it was the Commercial Road, looked so precisely like its name.  When they came into the City and Henry and Frid pointed uncertainly to the Mansion House or suggested she should look at the dome of St. Paul's, Roberta obediently stared out of the windows but nothing she saw seemed real.  It was as if she lay on an unfamiliar beach and breaker after breaker rolled over her head.  The noise of London bemused her more than the noise of the sea.  Her mind was limp, she heard herself talking and wondered at the coherence of the sentences.
'Here's Fleet Street,' said Henry. 'Do you remember "up the Hill of Ludgate, down the Hill of Fleet"?'
'Yes,' murmured Roberta, 'yes.  Fleet Street.' […]
'This is the Strand, Robin.  That church is either St Clement's Dane or St Mary le Strand and the next one is whatever that one isn't. […]'
'Henry, do let's stop somewhere and have breakfast.  I'm ravenous and I'm sure Robin must be.'
'It'll have to be Angelo's,' said Henry. 'He'll let us chalk it up.'
'I've got some money,' said Roberta rather shyly.
'No, no!' cried Frid. 'Angelo's much too dear to pay cash.  We'll put it down to Henry's account and I've got enough for a tip, I think.'
'It may not be open,' said Henry.  'What's the time?  The day seems all peculiar with this early start.  Look, Robin, we're coming into Piccadilly Circus.' […]
Henry opened the door and took Roberta's hand.  She scrambled out.  The voyage, the ship, and the sea all slid away into remoteness.  A new experience took Roberta and the sounds that are London engulfed her."
A Surfeit of Lampreys
Marsh says in Black Beech and Honeydew that she "must not try to ring the changes" upon what she had written decades earlier when portraying the family in her novel; yet, if these were texts by two different authors, a charge of plagiarism would conceivably be in the air — except that Marsh wrote the fictional text first and, thus, would merely seem to have plagiarized her own real-life experience, which is what writers do, and what she deliberately set out to do when writing this novel.
Consequently, the book's greatest draw is its eponymous family; they are the stars of the book almost to the exclusion of everything else — which is not a bad thing, however:  The murder that eventually occurs is an extremely brutal one (and Marsh doesn't spare us the details; not of the act itself but of its gruesome aftermath), and in the solution, one of Marsh's "pianos" makes an appearance; again to horrifying effects.  So, to anybody feeling drawn to this novel on account of its biographical elements or of the Lampreys' idiosyncratic brand of cheerfulness, which may be shaken, but not entirely obliterated even by disaster, do be aware that this mystery should properly come with a "graphic violence" warning sticker attached.
____________________________________
* The final half sentence may be a child of Marsh's writer's imagination: In Black Beech and Honeydew, she only records that the washing machine "threatened" to break loose, and that the simultaneously acquired ironing machine mangled masses of handmade shirts and a pair of Savile Row polo breeches.
Grave Mistake
Having run out of Roderick Alleyn mystery novels even partially connected to New Zealand, just to wean myself off the binge and move on to other authors at last, I decided to revisit one of Marsh's novels that I hadn't read in quite a while.  Grave Mistake is the 30th book in the Alleyn series, thus the one immediately prior to Photo Finish; and it is one of Marsh's English village mysteries (in fact, the very last one of those).
What immediately stood out to me when listening to the audio version of the book was that this one is not read by the trio of experienced narrators who read the rest of the books in the 2015-16 unabridged Hachette audiobook series (Philip Franks, Ric Jerrom, and James Saxon), but by Jane Asher; which is an odd change insofar as the mystery features not only a male protagonist (Alleyn) and his equally male sidekick (Inspector Fox), but also a substantial number of important male supporting characters.  Yes, there is also an important female POV character, but in other books that sort of thing never even brings about a female narrator if one of the POV characters is Alleyn's wife Agatha Troy, and nor should it: the books' main focus is still, with perhaps three or four exceptions, Alleyn himself; and even where Troy does have a bigger share of the action, the male narrators handle her part perfectly well. — Now, Jane Asher is a fine narrator, so the change ultimately didn't make too much of a difference … except for one thing, which I will never be able to get over in any narrator: She had prepared for her job well enough to give us an excellent reading of this book as such, BUT she obviously hadn't put in the time to find out anything about Alleyn's character himself, as a result of which I found myself screaming again and again (in my head, but on occasion also out loud): "That's ALLen, not AllEYN, dammit!"
In terms of setting, I visited, for the third time this past month (after Marsh's own Colour Scheme and Harriet Rutland's Knock, Murderer Knock!) a spa-cum-hotel, to which the victim-to-be had withdrawn for a sort of self-imposed rest cure.  (Talk about armchair travel in a time when you can't travel for real; though I probably still wouldn't have picked a spa as my own destination.  But be that as it may.)  As the prospective victim is a wealthy lady whose friendship and patronage is courted by many another person — including but not limited to the clinic / hotel's owner and chief physician, as well as a young down-at-heel relative –, and she is moreover believed (at least by some of her neighbors and relatives) to be in possession of an extremely valuable collectible stamp, Alleyn and Fox, when eventually brought into the case, aren't lacking for potential suspects; though any reader familiar with the way Marsh constructed her plots will probably be able to weed out the culprit before the book reaches its somewhat ghostly conclusion.  (I am, incidentally, using the term "weeding out" advisedly: The murdered lady's great love is her garden, and however much reason Marsh might have had to complain about cover artists otherwise, the St. Martin's Paperback cover is very much on the money.)
Marsh is sometimes criticized for the fact that her English village mysteries got stuck in a sort of pre-WWII time warp after a while, but I don't find that to be the case here; if anything, the book suffers from a mild case of the same sort of constipation that also plagues — and much, much worse so — Agatha Christie's final books; namely, an unwillingness or unability to embrace the social changes brought about in the 1960s and 1970s (as well as, though again fortunately only by way of an ultimately minor intrusion, one of Marsh's "pianos").  This book won't ever come anywhere near all-time favorite status within the Roderick Alleyn series for me, but I enjoyed it when I read it for the first time, and by and large I find that I still do.