Festive Tasks Master Update Post HERE
Festive Tasks, Door 19 — Community Traditions & Folklore: Read a fairy tale, or folklore story, or books based on either.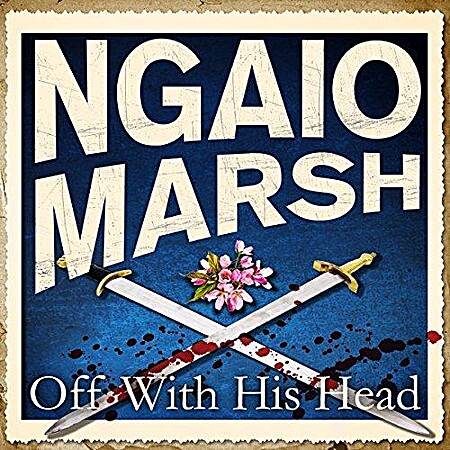 Marsh's third (de facto) holiday mystery, though not exactly set on Christmas but on and around Winter Solstice — because here her focus is on creating (with an amazing amount of visual detail) a unique piece of folklore, part Morris dance and part sword dance; based on various pieces of myth and legend, from the Green Man all the way to King Lear, with elements of resurrection myths, the father / progenitor killed by his offspring, the wise fool, the (sword)smith in his forge, etc. And of course, her theatrical insight stands her in good stead in putting together the ritual performance.

The Green Man (medieval roof boss, Dore Abbey, Herefords.)
(photo mine)
The setting of the mystery is not explicitly named; from the (fictitious) name of the village (South Mardian) and the general description of a sparsely-populated and apparently somewhat bleak area and a manor house crowning a hill on the fringe of the village — in whose courtyard the Winter Solstice dance is set — I think we may be supposed to imagine ourselves somewhere in the West Coutry: not the Welsh Marshes (too verdant, even in winter), but either Dartmoor or Cumbria, or just possibly the West Riding of Yorkshire.
The cast of characters are the usual mix of village original (good and bad) to be found in Marsh's English village mysteries; again, however, like in several other of her books written during or shortly after WWII, Marsh also uses the confines of a Golden Age mystery to explore the effects of the war; in this instance, in the character of a German refugee rather over-eager to fit in (and as a result, only managing to stand out all the more and thus instantly draw hostility and suspicion). The mystery is a rather clever take on one particular variety of seemingly impossible crime: not unsolvable if you pay close attention to detail, though you may still be sidetracked by a few bits of authorial sleight of hand with regard to certain aspects.
Trigger warning: The murder is of the extremely brutal sort implied by the book's original title, Off With His Head (apparently too explicit a title for Marsh's American publishers, who replaced it with a more sedate one).– and although this is still leagues from what a modern horror author would make of such a killing, never let it be said that Golden Age mystery writers were squeamish as to descriptive detail.
This was the final book of my 2021 return visit to the career of Ngaio Marsh's Inspector Alleyn, and given its use of elements from several pieces of folklore and mythology, it was the perfect book to use as my read for Festive Tasks, Door 19.