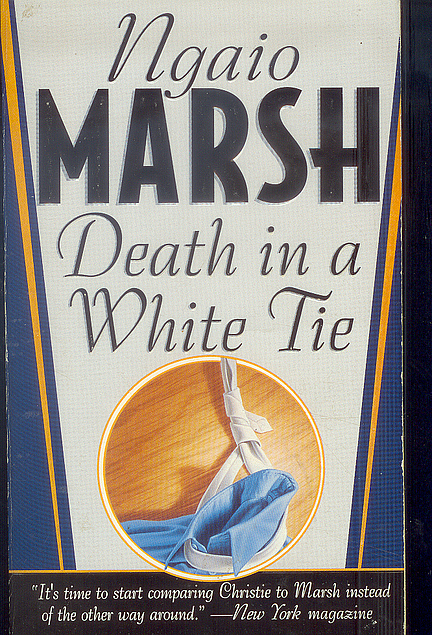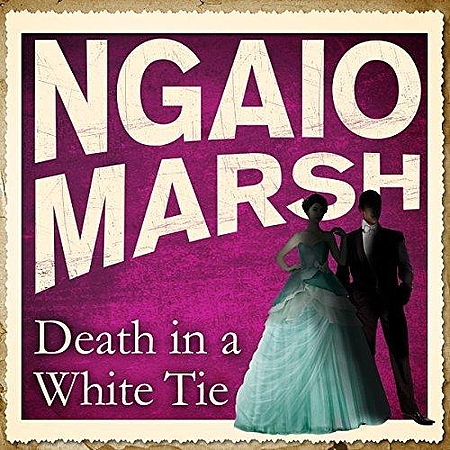 Blurb:
The London season has begun. But while debutantes and chaperones plan their luncheons and balls a deadly blackmailer is stalking the highest echelons of society.

Naturally, it falls to charming, aloof Detective Inspector Roderick Alleyn — son of Lady Alleyn — to investigate the case. He has already planted his close friend Lord Robert Gospell at the scene. But someone else got to Lord Robert first …

Death in a White Tie was first published in 1938 and is perhaps the finest of Marsh's 1930s novels — elegantly constructed, witty and marvellously entertaining.
I don't usually subscribe to book blurb hyperbole, but in this instance: "perhaps the finest of Marsh's 1930s novels — elegantly constructed, witty and marvellously entertaining" … I feel sorely tempted to let things stand with just that, even minus the "perhaps". This is one of my favorite Alleyn mysteries, second only to Light Thickens (which will always hold a very special place in my heart for reasons of its own), and for once, the blurb absolutely nails its charm.
Aside from her more or less overtly Shakespeare- and theatre-related books, Marsh invariably shines whenever she leaves her personal "pianos" (homophobia, the drug trade, and religious sects)* by the wayside and focuses on characters, setting and story … and just maybe, stretches the confines of the Golden Age mystery convention ever so slightly to sneak in her personal views on the / a topic underlying or associated with the story she's telling. That tends to be the case chiefly in her village mysteries; those set in London — if not concerned with Shakespeare and the theatre — are almost all bedeviled, to some extent or other, with at least one of Marsh's "pianos". (In fact, even some of the theatre mysteries are, though fortunately, none of them terminally.) Death in a White Tie is the exception to that rule; and what a glorious exception it is.
Marsh regales us with the full splendor of the London "Season" — the period in spring and summer when, ever since the 17th century, landed gentry would move to London and debutantes were "brought out" into society in a series of elegant balls, dinners, and other events such as the races at Ascot and Newmarket –, while making no bones about the fact that this is the world and the London of the social élite, where you're nobody if you don't know the right people and wear the right clothes (and jewelry); where a young woman with whom nobody will dance (or even converse) at a ball is quickly marked a failure; and where — as we learn at the beginning of the book — just the catering for a single ball may easily cost as much as £600, which allowing for inflation and purchase power, translates into over £43,000 in today's money. Against the appearance of all this social splendour, Marsh sets an extremely nasty tale of blackmail and the ruthless exploitation of trust, as well as the fragility of women's position in society, which even in the early decades of the 20th century — and nowhere more so than in "good" society — was still solely dependent on a spotless reputation for virtue and on graceful social manners, not on personal abilities and inclinations; outside those required of a stellar hostess of social events or a charming debutante, that is.
Along the way, we get asides from Alleyn's formidable mother on the stupidity of the "all-brawn-and-no-brain" clichéd male hero and on women's stupidity in falling for that particular cliché:
"How often does one not hear a married woman say with a sort of satisfaction that her husband won't let her do this or that? Why do abominably written books with strong silent heroes still find a large female public? What do you suppose attracts thousands of women to a cinema actor with the brains of a mosquito? […] Above all, his arrogant masculinity. I am not, I hope, one of those abominable women who cries down her own sex. I'm by way of being a feminist, but I refuse to allow [women who fall for this particular stereotype] to pull the wool over my elderly eyes."
And when Alleyn — stung into response by his preoccupation with a woman who corresponds to anything but that particular norm attached to the female half of society, and who so far has evidenced little inclination of establishing cordial relations with him, let alone allow him to air the notion of matrimony — points out that he would never be able to
"go to Miss Agatha Troy, hale her about her studio by her hair, tuck her under my arrogant masculine arm, and lug her off to the nearest registry office",
Lady Alleyn deadpans:
"Church, if you please. The Church knows what I'm talking about. Look at the marriage service. A direct and embarrassing expression of the savagery inherent in our ideas of mating."
And yes, to circle back to the setting of this book, Lady Alleyn, a member of the highest echelons of society herself, with customary pragmatism acknowledges that this judgment of hers conceivably also applies to the Season and its "more savage aspects", even if that doesn't prevent her from enjoying the London Season's more benign aspects, such as the time spent in the company of genuine friends who find equal pleasure in their get-together.
But I don't merely love this book because of the way in which setting, story and characters come together here: Crucially, this is also one of the few books where the murder touches Alleyn to his personal core, and where it is not his usually unflinching, cool and collected logical brain that leads him to unmask the murderer, but its exact opposite: a fevered, tireless pursuit that takes him beyond the limits of even physical endurance and, for once, shows us Alleyn at his rawest and most vulnerable; because he blames himself for having, himself, placed his murdered friend in the position that ultimately got him killed. (Ultimately it is this heartbroken, fevered hunt of Alleyn's, too, that breaks Troys resistance to their union — but Marsh never falls into the trap of bad romance writing by treating Alleyn's personal turmoil as merely a means to the end of uniting these two strong and independent personalities in marriage; she has too much respect for both of them not to give due space to both of their interiror lives in their own right.) Obviously in real life, Alleyn might possibly have been considered too close to the investigation to head it, and Marsh at least touches on the issue, but this being a murder of a friend, not of close family, maybe even in RL Alleyn would have stayed on the case (especially in the 1930s). Anyway, I suppose this is the one premise where we just have to lump it, because let's face it, this book wouldn't even exist if Marsh had concluded there would have been no way for Alleyn to stay in control of the investigation.
The screen adaptation of this book unfortunately excises Lady Alleyn, but it is faithful to the book in almost all other respects; and it also finds ways to maintain the spirit of Lady Alleyn's (and Marsh's) comments on the underlying "savagery" of the London Season. So, as long as it's still available on YouTube, I'm going to share not merely two (fairly representative) stills from that episode but the whole thing … watch and enjoy. (And never mind the video quality.)
____________________________________________
* See Ursula K. Guin's No Time to Spare: "If piano is the opposite of forte, graceful chitchat with strangers is definitely my piano."