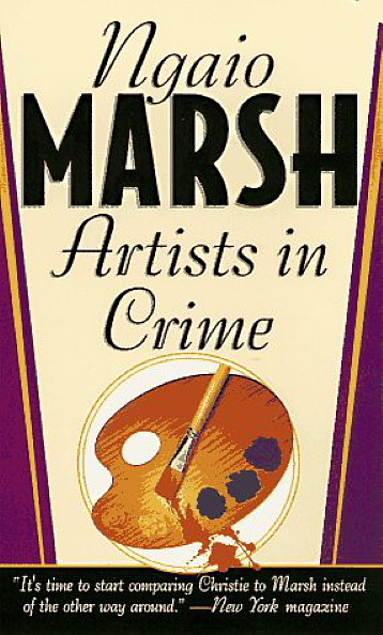 Blurb:
One of Ngaio Marsh's most famous murder mysteries, which introduces Inspector Alleyn to his future wife, the irrepressible Agatha Troy.

It started as a student exercise, the knife under the drape, the model's pose chalked in place. But before Agatha Troy, artist and instructor, returns to the class, the pose has been reenacted in earnest: the model is dead, fixed forever in one of the most dramatic poses Troy has ever seen.

It's a difficult case for Chief Detective Inspector Alleyn, who has to navigate between his infatuation for Troy and professional integrity, as, of course, no one can be above suspicion.
After having revisited roughly half Ngaio Marsh's Inspector Alleyn series last year alone (first as part of my Marsh / New Zealand birthday binge, then as part of the Appointment with Agatha group's Marsh-in-the-theatre bonanza in fall (for which, to my shame, I didn't end up writing a single review beyond the already-existing one for Light Thickens), and finally the three Christmas(-ish) books, Tied up in Tinsel, Off With His Head, and Death and the Dancing Footman), I'd decided I just might as well take it easy and leave her books alone this April, instead of going into another mini-birthday-binge. Well, so much for that idea … (in my defense, I was in sore need of a few comfort reads after the less than satisfying experience with Nabokov and Lauren Belfer, and the gut-wrench that was Priscilla Royal's third Tyndall book). So, this time I decided to go for the "Alleyn first meets Troy" duology, aka books nos. 6 & 7, Artists in Crime and Death in a White Tie. I mean, compared to last year's extravaganza, two books is still fairly modest, isn't it?

(Snippets from the adaptations of several other Alleyn novels — Artists in Crime didn't likewise become an episode in the series starring Patrick Malahide as Alleyn and Belinda Lang as Troy.)
Of the two novels, Death in a White Tie is decidedly my favorite; indeed, it's one of my favorite installments in the entire series. In Artists in Crime, by contrast, Alleyn's and Troy's initial awkwardness around each other, and the simmering (never explosively explicit) conflict arising out of his investigation of a murder committed in her very own arts school make for a good number of scenes controlled by repressed emotion and stiff, formal politeness, which — though perfectly in character for him (less so for her) — brings the book's dynamics to a near-standstill on a few occasions. This is made up for by the final stages of the investigation, which in turn, however, involve the discovery of an extremely gruesome second murder (as if the first dead body, that of a half-nude model spiked onto a dagger in exactly the position she'd been instructed to take on her dais were not graphic enough in detail in the first place) … and as in several other books, Marsh doesn't really give us a whole lot of characters besides Troy, Alleyn and his team, and Alleyn's formidable mother, to root for or even like here, either. So the whole thing mostly comes down to Troy and Alleyn after all.
This book's true stand-out moment for me, however, is its opening scene: Troy and Alleyn first meet on a sea voyage from New Zealand to England (Alleyn's voyage home from the trip that involves the "impromptu" investigation described in Vintage Murder); and as befits an artist and the man who will in short order fall in love with her, they come together over an image — or rather, the emotion brought on by an image — that has struck them both equally forcefully, namely, a scene at Suva harbor that Alleyn is observing when the book opens, and which, he will find soon afterwards, Troy has crystallized onto canvas:
"Alleyn leant over the deck-rail, looking at the wet brown wharf and the upturned faces of the people. In a minute or two now they would slide away, lose significance, and become a vague memory. 'We called at Suva.' He had a sudden desire to run a mental ring round the scene beneath him, to isolate it, and make it clear, for ever in his mind. Idly at first, and then with absurd concentration, he began to memorize, starting with a detail. The tall Fijian with dyed hair. The hair was vivid magenta against the arsenic green of a pile of fresh bananas. He trapped and held the pattern of it. Then the brown face beneath, with liquid blue half-tones reflected from the water, then the oily dark torso, fore-shortened, the white loincloth, and the sharp legs. The design made by the feet on wet planks. It became a race. How much of the scene could he fix in his memory before the ship sailed? The sound, too — he must get that — the firm slip of bare feet on wet boards, the languid murmur of voices and the snatches of song drifting from a group of native girls near those clumps of fierce magenta coral. The smell must not be forgotten — frangipani, coconut oil, and sodden wood. He widened his circle, taking in more figures — the Indian woman in the shrill pink sari, sitting by the green bananas, wet roads on the wharf and damp roads wandering aimlessly towards mangrove swamps and darkened hills. Those hills, sharply purple at their base, lost outline behind a sulky company of clouds, to jag out, fantastically peaked, against a motionless and sombre sky. The clouds themselves were indigo at the edges, heavy with the ominous depression of unshed rain. The darkness of everything and the violence of colour — it was a pattern of wet brown, acid green, magenta and indigo. The round voices of the Fijians, loud and deep, as though they spoke through resounding tubes, pierced the moist air and made it vibrant.

Everything shifted a little, stepped back a pace. The ship had parted from the wharf. Already the picture was remote, the sounds would soon fade out. Alleyn shut his eyes and found the whole impression vivid under the closed lids. When he opened them the space between vessel and land had widened. He no longer wanted to look at the wharf, and turned away.

[…]

'Damn!' said a female voice. 'Damn, damn, damn! Oh blast!'

Startled, Alleyn looked up. Sitting on the canvas cover of one of the boats was a woman. She seemed to be dabbing at something. She stood up and he saw that she wore a pair of exceedingly grubby flannel trousers, and a short grey overall. In her hand was a long brush. Her face was disfigured by a smudge of green paint, and her short hair stood up in a worried shock, as though she had run her hands through it. She was very thin and dark. She scrambled to the bows of the boat and Alleyn was able to see what she had been at. A small canvas was propped up in the lid of an open paint-box. Alleyn drew in his breath sharply. It was as if his deliberately cultivated memory of the wharf at Suva had been simplified and made articulate. The sketch was an almost painfully explicit statement of the feeling of that scene. It was painted very directly with crisp, nervous touches. The pattern of blue-pinks and sharp greens fell across it like the linked syllables of a perfect phrase. It was very simply done, but to Alleyn it was profoundly satisfying — an expression of an emotion, rather than a record of a visual impression."
Reportedly (and I can well imagine this is true), Marsh herself observed this scene on her first voyage from New Zealand to England and, not having her painting gear to hand, she memorized it — presumably, in exactly the same manner as Alleyn does in the book — and later gave it to Troy and Alleyn to bond over. Alleyn (of course) ends up surreptitiously buying the painting and hanging it in his apartment …

Two of Paul Gauguin's South Sea paintings — I think this may be the sort of thing Marsh had in mind for Troy's Suva harbour painting, only with even more vibrant colors.