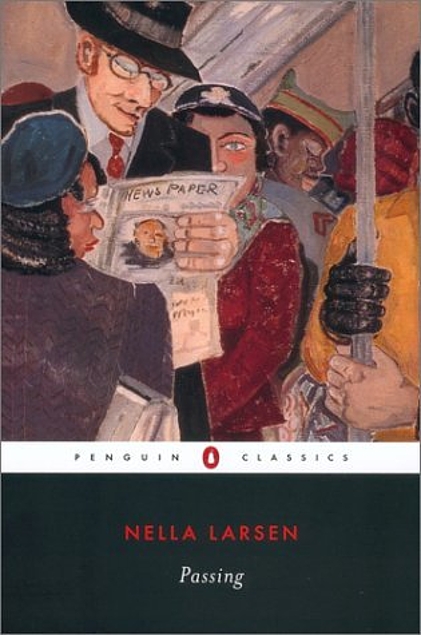 Nella Larsen's Passing had been sitting on my TBR for a minor eternity; when I found that her birthday, too, was in April, I knew that I had laid my hand on another entry for this particular reading challenge.
The novella's title refers to an extremely light-skinned person of color's "passing" from their community — their (black / colored) family, friends, and neighbors — into the white man's world, leaving their own community behind and hoping for acceptance in white society, all the while praying that their true origin will never be discovered, as that will inexorably lead to their being ostracized (and quite possibly, physically harmed): all this, not merely in the profoundly segregated Jim Crow South, but just as much in the oh-so liberal northern states (the story begins in Chicago and eventually moves to New York City). 
There is much to admire about this book; Larsen unflinchingly exposes the underpinnings of a society still tinged by the attitudes of pre-Civil War America, where every step across racial lines (even if only a single, fleeting one) is fraught, for any person of color taking it, with the risk of rejection and humiliation; and of course, even worse so, the attempt to partially reverse the "passing" — the attempt to reconnect with the black community, once the crossing of racial lines has been revealed as an empty, meaningless choice; replacing one's authentic roots, whatever their nature, with the constant, fierce, stubborn struggle to maintain a fiction, a lie, and the as-constant fear of discovery — is bound to bring even more heartbreak: "Passing" makes a person a chimera, a creature belonging nowhere, and the way back (to the extent it is even possible at all) will be watched with as much suspicion by their former black friends and neighbors as the chimera fears while moving in the white man's world. 
If there is one thing about Larsen's book that left me a bit unsatisfied it was the ending; chiefly because she does present a clearly identifiable ending at all, at least as far as the outside world is concerned (and it is not a surprising ending, either): Yes, there are the psychological ramifications of that ending, which everybody will have to live with (however much one might want to deny them and push them away), but still, this turns the book's events into a mere episode within the life of most of its characters, which they can leave behind if they so choose, whereas that would likely not necessarily have been an option in real life.  By and large, though, I am very glad I finally read this book — and it's yet another way in which my Diversity Bingo reading project has paid off, too, as this was another book that I had initially considered in connection with that particular project.