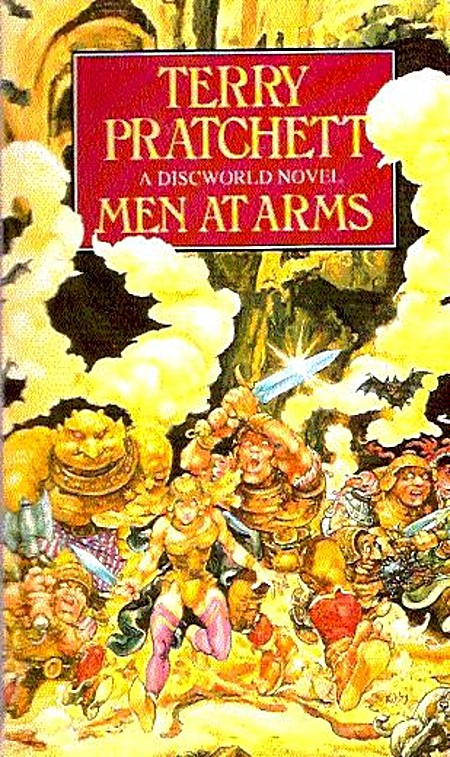 24 Festive Tasks: Door 23 – Hogswatch, Task 2:
Who is your favorite Discworld character and why?
Hmmm.  Until I read Pyramids two months ago, this one would have been a no-brainer.  Then I met You Bastard …
OK.  This may be slightly unfair, since Granny simply gets more page time than You Bastard, but:
1. Granny Weatherwax
2.  Runners-up, on an equal footing:
You Bastard
DEATH
Angua
HEX
The Librarian
Total badasses and hilariously funny, the lot of them — and all of them can expose humanity's (and society's) utter inanity more effectively with a single word, facial expression or gesture than most other characters even by Pratchett himself.
ETA: AND the Librarian of course, for all of the above reasons.  How could I possibly forget the awesome Librarian of Unseen University?!
Original post:
ThemisAthena.booklikes.com/post/2005159/24-festive-tasks-door-23-hogswatch-task-2
Other Hogfather-related Posts:
16 Tasks of the Festive Season – Hogfather Buddy Read
Terry Pratchett: Hogfather – The Bathroom
Terry Pratchett: Hogfather – FTB Enabled
Terry Pratchett / Ian Stewart / Jack Cohen: The Science of Discworld
Hogfather Buddy Read
24 Festive Tasks: Door 23 – Hogswatch
Terry Pratchett: Hogfather – The Boot Menu
Glingleglingleglingle
Hogswatch – Door 23
Sleigh Rides
Terry Pratchett: Hogfather (Annual Reread)
Bloody Stupid Johnson
Santa in Literature: Theodor Storm's Knecht Ruprecht and DEATH as Department Store Santa in Terry Pratchett's Hogfather
Terry Pratchett: Hogfather (Annual Holiday Read)
Narrativium: Where the Falling Angel Meets the Rising Ape
– Terry Pratchett and Discworld
Project Page
Reviews and Blog Posts