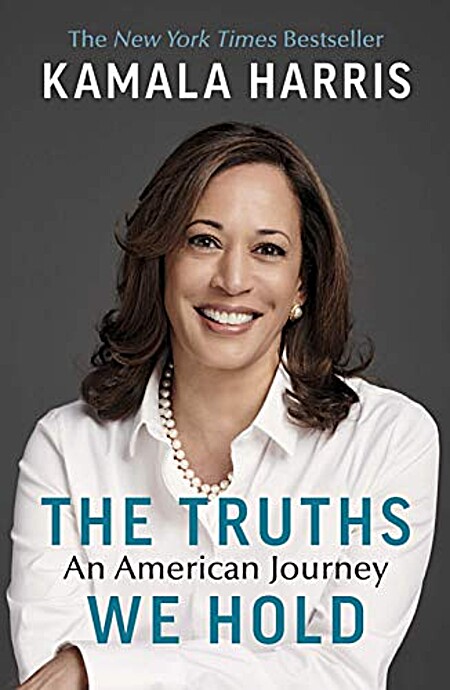 Harris wrote this book while still serving as a U.S. Senator; still, it also conveys quite a good picture of what kind of Vice President she will be — because it leaves little doubt about the kind of person that she is, and the things that motivate and drive her.  The Truths We Hold: those are not merely the truths that she sees as core to the belief system underpinning the American society, but very much also her own personal creed.
There is a fair amount of emphasis on her initiatives in the context of issues such as the housing crisis and immigration law (detention centers, Dreamers, etc.), plus her various election campaigns for San Francisco and later California Attorney General, as well as U.S. Senator of course, and a bit (though not quite as much as I had expected) on her work as a sex crimes prosecutor, the gay marriage campaign, the Women's Marches, gun safety, and the 2016 election interference investigation; as well as less generally known initiatives such as her (anti-)school truancy program and the prosecution of fraudulent private corporate universities.  If all of this spells "fighter", that is hardly a surprise; not only based on her public record and her cross examination of witnesses during public Senat hearings, but also in the daughter of a mother active in the medical battle against breast cancer, who moreover as a student had once been part of the Berkeley civil rights movement, who upon later moving to Montreal (in the middle of winter, at that) enrolled her California-born-and-bred daughters in a native French speakers' school as the quickest way for them to learn the language (and, apparently as a matter of course, expected them to make their way just fine), and whose standard response to her daughters' tales of injustice or wrongs observed, no matter where and how, was, "Well, what did you do?" 
What impressed me considerably more here was the seemingly small stuff, such as the fact that Harris's very first action as a summer intern in the Alameda County D.A.'s office was to make sure that an innocent bystander who had falsely gotten caught in a drug bust  — a mother who might have lost her children if she'd had to stay in jail over the weekend — got her case taken care of and dismissed even though it was late on a Friday afternoon and the judge had already retired to his chambers, his regular court day done, and had to be asked to return to the bench.  What also strongly resonated with me was Harris's assertion that justice is necessarily a matter "for the people" (as expressed, in fact, in every American prosecutor's introductory words at the beginning of a trial), as that is a notion that is front and center to my own belief system as well.
Among the images included in the book's photography section is one of Harris being sworn in as a U.S. Senator by then-VP Joe Biden, as one of his last official acts before leaving that office.  She is smiling, her eyes are beaming, and apparently they have established eye contact (it's not clear because his back is to the photographer, but she is definitely looking in the direction of his face).  I hope that photo is a foreshadowing of Harris's and Biden's working relationship in years to come.  It is clear that they both passionately care about justice, equality, and the rights of the individual (especially the protection of and assistance for the weak and disadvantaged vis-à-vis bigger and more privileged players) — I didn't have to read this book to know as much about Harris, but it was still inspiring to see just how passionately she feels about these issues.  And I hope President Biden will extend to her the same privilege as that which he extracted from then-President-Elect Obama as his condition for agreeing to be his Vice President: to always be the last person remaining in the room and being listened to, no matter what topic is on the agenda and who else has been part of the discussion.
Oh, and incidentally, did I mention that I love that Harris's first name means "lotus flower"?