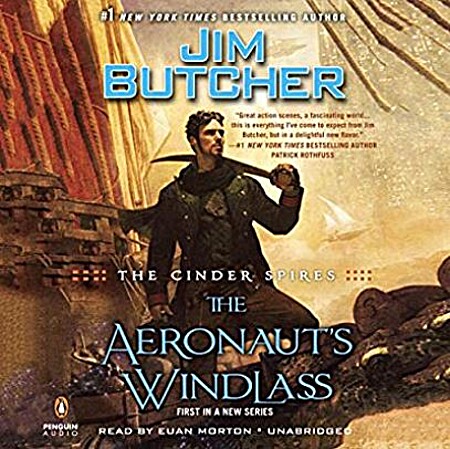 The week's longest read and, perhaps surprisingly, not its best one.  To start with the plus side, this novel's most interesting characters (and its single most outstanding feature) are the cats — not merely Rowl, the feline protagonist, but all of them; not least also Naun, the giant black tomcat leader of a tribe of street (or rather, tunnel) cats whose character constituted my reason for attributing this book to the "black cat" bingo square.  (Rowl is a ginger.)  Butcher really "gets" cats, and their scenes come across as both laugh-out-loud funny and entirely authentic.  Needless to say, almost all of the cats in this book are completely badass — Rowl first and foremost.  If the rest of the book had lived up to the cats, unquestionably this would have ended up straight on my "favorites" shelf.
Unfortunately, that was not to be.  And it's not the fault of the human characters, either — particularly the three young women, Bridget, Gwen(dolyn) and Folly, as well as Captain Grimm (the eponymous aeronaut) and Gwen's cousin Benedict — but Butcher's own approach to storytelling.  (Which, incidentally, also makes me even more wary about his Dresden Files series than I had been before reading this book.)  The main characters in The Aeronaut's Windlass are fine, and if Butcher had given them (and me) different stuff to work with, I'd be eager to follow them on their future adventures.  As it is … well, let's just say the jury is still out on that one.
For one thing, the world building here is not anywhere near as innovative as blurb writers and five-star reviews want to make you believe: Heaven knows I'm not the most ardent reader of speculative fiction, and if even I recognize some the stuff cribbed from elsewhere, there's bound to be a lot more that I didn't see.  (Seriously, Mr. Butcher — Habble Landing as a place name and The House of Lancaster as one of the ruling families?  Geez, I thought George R.R. Martin was derivative, but are we into the derivative of a derivative now?  And a Discworld style guild system (only minus the satire)??  Be glad you're not being sued by the estate of Terry Pratchett.)
Similarly, Captain Grimm and the whole aeronautics thing — warfare, tactical battle manoeuvers, ship construction and equipment, even down to the details of (aero)nautical language included — are straight out of Patrick O'Brian's Master and Commander and C.S. Forester's Horatio Hornblower series: Replace aeronautics (obviously, with the sole exception of aerial ascents and descents) by early 19th century / Napoleonic Wars seafaring craft, ships, and language, and that is precisely what you get.  Grimm himself, too, is so obviously a cousin to Hornblower in his more mature years and to his former Captain Pellew — and Grimm's Predator a near-identical twin of Jack Aubrey's HMS Surprise (plus the whole "privateer" subplot / past so obviously built on O'Brian's Letter of Marque, as well as, incidentally, Rafael Sabatini's Captain Blood) — that Forester's and O'Brian's (and Sabatini's) estates should, by rights, be asking for a share of the royalties as well.  To be fair, from the book's descriptions this was the one aspect I had expected — just don't please anybody tell me that this is anything even close to original.
Finally, while I did appreciate the whole "cinder spire" idea, and I seriously also appreciate the absence of any sort of infodumps, I would have liked to find out a lot more, over the course of the book, what happened to make Earth's "surface" world an uninhabitable wilderness and caused "the Builders" generation to construct the spires to begin with — and I'm also not entirely clear how you get to square an alleged "democracy" (this is the exact term actually used) with a de-facto king (called Spirearch) who is quite obviously much more than merely a representative figure and wields true power.
My other gripes tie into those that I have with a lot of speculative fiction (especially sci-fi, as well as George R.R. Martin's Song of Ice and Fire series), so this may be an instance of "it's not you, book, it's me" — but anyway, the book's plot essentially consists of an incessant series of incidents of armed combat (aeronautic and on terra firma / the spires alike), every single one of which incidents goes down according to the tried and true formular of "hero(es) drawn into fight by overwhelming enemy force — hero(es) bravely stand their ground in the face of impossible odds — after a while enemies seem to get the upper hand after all — and a millisecond before it all goes pear-shaped for good salvation for hero(es) comes from unexpected quarters".  Sorry, but this sort of stuff flat-out bores me every time it's served up more than once to begin with (preferably only at a book's point of climax), and that is true even more if the entire plot of a 700+ page book consists of little else.  (And it is even more true if I can anticipate the precise person or group providing the last-minute rescue — even if not also the precise manner — at least a chapter or two in advance, as was invariably the case here.)
On a related note, "surviving impossible odds in battle" also seems to be the only thing accounting for whatever character growth we seem to be seeing in this book; especially with regard to the younger main characters, particularly the young women, all of whom are inexperienced recruits and barely out of their teens.  OK, so Gwen has her moment of "how do I go back from all this warfare and combat to ordinary everyday civilian life" at the end of the book, and that was another moment I truly appreciated.  I just would have wished there had been more of this, instead of our protagonists incessantly rushing from one fight to the next — and I would also have wished there had been some experiences for them to grow on outside the fighting stuff, as there are (aplenty) in the Hornblower and Aubrey / Maturin books.
Long story short, it's a miracle this book hasn't been made into a movie yet — there's plenty of things going "boom" with a vengeance, the CGI department would have a field day, and there are also plenty of great characters to root for, both feline and human.  And who knows, I might even watch that movie.  But the whole thing is also so similar to the movies that made me essentially stop caring about any new blockbuster releases years (nay, decades) ago that I'm not sure whether I ultimately would go and see it.  And I'm not sure I'm going to be reading the sequel to this book, either … even though Rowl (and Naun) might eventually tempt me to do so after all.
Reading Progress Updates:
288 of 768 Pages
425 of 768 Pages