This year's Halloween Bingo started a lot more promising than last year's with a strong joint entry in Michael Connelly's Bosch and Ballard series, and in fact, not one of the books I read earned less than a four-star rating — with the standout being Nicholas Blake's The Beast Must Die, which turned out to be a perfect choice for the "Psych" square.
The "Week 1" Books

Michael Connelly: The Night Fire

My bingo pre-read and a very welcome return to Los Angeles — or at least, the version thereof that constitutes the world of Connelly's characters, which however only ends up making the city a major character of its own in addition to the humans living in it.
Harry Bosch may not officially be a cold case investigator any longer, but that doesn't stop him from seeking justice for those who died without their murderers ever having been brought to justice; particularly if he is handed the relevant file by the widow of his own recently-deceased mentor.  He ropes in Ballard, and I loved seeing that it was she who was first to tumble to what was wrong with that long-dead investigation.  (I'm also relieved that, for the time being at least, Connelly doesn't seem to be planning to make a couple out of them.)  Two other investigations keep our two protagonists busy at the same time, both concerned with more recent deaths.  The ending relies a bit too much on coincidence for my liking (for however much Connelly may be protesting that there is no such thing — and of course, in his writer's mind there isn't, since he's the one who plotted the whole thing out to begin with, but from the characters' / from inside the story's perspective, it still remains a case of protesting too much); yet, by and large, a more than solid entry in the series.  It also would seem to explain, incidentally, why Connelly decided to focus on Jack McEvoy for a change again for his next book (Fair Warning), as there are recent developments in Bosch's (and potentially Mickey Haller's and Maddie's) lives that he'll likely will want to take some time developing.

Joy Ellis: They Disappeared

Before starting this book, I'd said I hoped Ellis was done with the serial killer plots, as I had a feeling she was at risk of turning into a one trick pony that way — well, let's say I both did and didn't get my wish.  (Several gruesome deaths, yes, but not a mentally diseased mind behind them.)  I loved that Ellis had the courage to give us a fresh perspective on IT whiz Orla Cracken: There's always a risk associated with making a character heretofore so unapproachable and shrouded in secrecy as her more accessible, but Ellis pulled it of very well for the most part … even though I'm only half convinced by the part of "Orac"'s past that is explored most in depth here: surely, based on the feats we've seen her perform in the past (and based on what we now know about her training), this should be a mystery that Orac herself should have been able to solve long ago — and on her own?  Be that as it may, though, it was interesting to see another character being included in this particular series's sweep of Ellis's authorial focus.  I also liked the setting she picked for this book — "urban exploration" — which seems almost tailor-made for her sort of books; even if her protagonists (who are all cops, after all) have a somewhat too tolerant (if not, downright gushing) attitude to that occupation, which is prohibited for a reason, after all.
Big spoiler warning for a previous non-series book, however: While I think it's fair to say that any reader reading the Jackman & Evans series as such out of order does so at their peril (and this is true for this particular book, too, as it provides — or would seem to provide — a definite ending for one of the past several books' major narrative strands, so it should definitely be read after everything from The Guilty Ones onwards by anyone wanting to avoid spoilers in that regard), I'm still a bit miffed to see this book also containing a major spoiler for a recent stand-alone by Ellis, which I haven't read yet and had been planning to get to later this year (Guide Star).  I'm fine with authors setting all of their various series in the same universe (Michael Connelly does the same thing, after all), and as long as this merely meant swapping supporting characters (like Dr. Wilkinson) or cross-references in dialogue, I haven't had a problem with this  sort of thing in Ellis's case so far, either.  But the main characters from Guide Star have, it would seem, fully been integrated into the Jackman & Evans series, and Ellis apparently couldn't find a way of doing that without giving away that other book's conclusion, as it constitutes a major premise of the events in They Disappeared.  Shame.

Margery Allingham: More Work for the Undertaker

The thirteenth book in the Campion series; one of the few I hadn't read yet and thus, a proximate choice for the "13" bingo square.  In tone, I find that the post-WWII stories are markedly darker than the series's very first entries, which by and large is all to the good, however; even if they don't quite reach the heights of The Case of the Late Pig, Police at the Funeral, or Death of a Ghost.  The story is typically wacky and also a typical entry in the series in other respects (characters, setting, etc.) nevertheless, culminating in a rather outré / macabre chase (the clue is in the title) … and introducing a character who will feature as a light in other post-WWII episodes as well (now that Stanislaus Oates has made it all the way to the top of the apple tree), the theatrically / oratorically-gifted D.I. Charlie Luke.

Nicholas Blake: The Beast Must Die

Wow. What a stunner. Blake (aka Cecil Day Lewis) messes with the reader's mind literally from page 1, and being fully aware of the fact still doesn't mean you'll be up to what he is doing — or at least not all of it.  Even to begin talking about the plot would mean giving away half  the twists, so let's just say it concerns a writer's search for the reckless driver who mowed down his little son a few months earlier, as well as a family dominated by a bullying patriarch (and his equally bullying mother).  And from outright suggestions of lunacy to characters deliberately disguising their identities — or their innermost nature and / or intentions — to a myriad other ways in which Blake indulges in his cat-and-mouse game with the reader's mind (authorial / narrative perspective, sequencing — the whole kit and caboodle), this is one big screwed-up joy ride … for those of us who like this sort of thing every so often, that is.
Side note 1: If you've read any of Blake's other Nigel Strangeways books before (particularly any of the early ones), forget everything you've seen there.  Even though this book features both the Strangeways couple (Nick and Georgina) and Inspector Blunt, it is anything but a typical entry in the series (and all the better for it).
Side note 2: If you are interested in sailing, you may particularly enjoy this story.  It also probably helps to be familiar with the lingo  — which I am not, but I could follow along nevertheless, and during the one crucial scene set on a boat, I was just too glued to my speakers to pause listening in order to embark on an online search for the meaning of individual terms.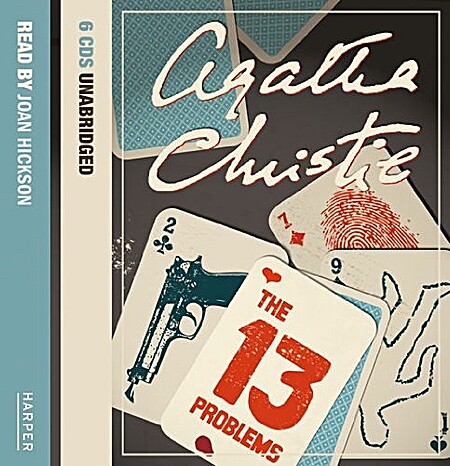 Agatha Christie: The Thirteen Problems

Audio revisit courtesy of Joan Hickson's narration, both for Halloween Bingo and as part of the Agatha Christie Centennary celebration of her first novel (The Mysterious Affair at Styles) — and I find I'm drawn to these stories more and more with every time I'm revisiting them. Review HERE.
Currently Reading

Anthony Gilbert (Lucy Beatrice Malleson, aka Anne Meredith): Death in Fancy Dress
Country house mystery meets Wuthering Heights, with rather enjoyable effects (though more for the reader than for the main characters).  I'll probably finish this either tonight or tomorrow morning.
The State of the Card
Master Update Post: HERE
My Markers

Read             Called                   Read & Called   Read = Called