My Square Markers and "Virgin" Bingo Card:
"Virgin" card posted for ease of tracking and comparison, as called and read squares will, bit by bit, vanish behind my markers and everybody's cards are different.

Black Kitty:
Read but not called

Black Vignette:
Called but not read
Black Kitty in Black Vignette:
Read and Called
Current Status of Spreadsheet:
(Note: Physical print editions unless stated otherwise)
Books Read / Listened to – Update 2: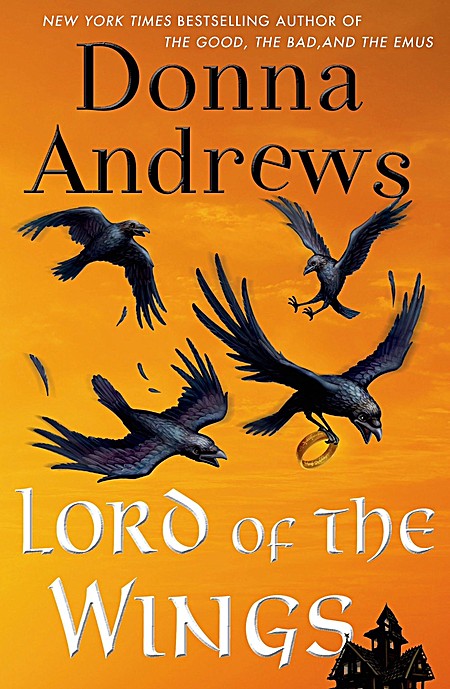 Donna Andrews: Lord of the Wings

A Halloween entry in Donna Andrews's long-running series featuring Caerphilly, VA artisan blacksmith and volunteer town events organizer Meg Langslow — what could possibly be more fitting for this bingo square?
Caerphilly (that's CaerPHILLY to you reporters if you don't want to have the locals screaming at their TVs at the top of their voices) has decided to join the Halloween festival craze and is going at it hammer and tongs.  Mayor Shiffley is supposed to have an assistant organizing the festivities, but she's more bossy than efficient (and vanishes halfway through the event, to boot), so unsurprisingly the whole thing lands in Meg's lap all over again.  Unfortunately, some evilminded soul has decided to hijack the festivities for their own purposes, so soon enough Meg, the Mayor and Chief Burke have two real corpses on their hands, the local would-be vampire (formerly: the police department's forensic pathologist) is carted off to hospital with a near-fatal head wound administered with a blunt object, the town is beset by scavenger hunters who seem to stop at very little in pursuit of a computer game called "Vampire Colonies II" created by the software company of Meg's brother Rob, Mutant Wizards; and a group of live action role playing vampires have converged on the town with who knows what agenda of their own. — Meanwhile, Meg's grandfather has added a bat cave to the local zoo (which is run by him), has managed to tame a bunch of ravens to stick to him more or less like sown to his wizard cloak with fine thread and croak "Nevermore" and similar Halloween'ish things, realistic-looking body parts show up in the zoo's lion's den and Florida alligator swamp areas (they are soon revealed as part of the scavenger hunt pranks, however) — and in the middle of the festivities, a former heavy metal drummer of Scandinavian origin comes into his own again, which promises great things for the subsequent year's Halloween.
As an installment in the series that is set against the backdrop of a major holiday I didn't love this quite as much as Andrews's recent Meg Langslow Christmas books (Duck the Halls and The Nightingale Before Christmas) — perhaps because unlike Christmas, Halloween is the sort of holiday where you more or less expect a certain amount of craziness anyway; so oddly, it didn't offer quite as much opportunity for Andrews's comic genius to shine as the Christmas setting, where the contrast between the expectation of a supremely peaceful holiday (certainly in a small town setting at least!), and the chaos engendered by the intrusion of violent crime and various pranks seems to work a bit better — at least for me — than in a setting that, like Halloween, must have had Andrews walking a fine tightrope practically all the time in order not to have things going over the top.  But this is ultimately nit-picking … first and foremost, at now over 20 entries (of which this is no. 19), I'm happy to see that the series is still going so strong at all!
Ruth Rendell:
The Babes in the Wood


& Not in the Flesh

For the "In the Dark, Dark Woods" square, I decided on a Ruth Rendell double dip.  The Babes in the Wood and Not in the Flesh are books no. 19 and 21 in Rendell's Chief Inspector Wexford series, and now that Rendell is no longer around to add to the series, I'm getting ever more nostalgic about revisiting Wexford's Kingsmarkham (notwithstanding that IMHO Wexford did, probably, retire just about when it was really time).
Both books feature classic Rendell territory: the victimization of women (physical abuse in The Babes in the Wood, female circumcision in Not in the Flesh), child abuse, xenophobia, racism, the marginalization of immigrants and minorities (also including, in Not in the Flesh, "travelers", aka gypsies) and, oh yes, all that amidst the investigation of a murder or two.
The title of The Babes in the Wood is largely symbolic, referring as it does to the title of a traditional children's tale dealing with — you guessed it — two kids all alone in the woods, after their parents have unwittingly left them to the care of their evil uncle, who in short order proceeds to deliver them into the hands of murderers.  The tale was first published as a ballad by Thomas Millington in Norwich in 1595 — the late 19th century Caldecott version is available for free on the Project Gutenberg site — and has given rise to a proverb indicating essentially the same as someone being "in over their head"; i.e., being overwhelmed by situation requiring decidedly more experience than one really possesses. Rendell's novel does in fact trace the eponymous children's story to a certain extent, however, in that it concerns the disappearance of two kids and their caretaker during their parents' brief absence from home — and I guess both the fact that there's a wood on the cover (of the CD I listened to, as well as on that of the paperback edition) and the fact that the one corpse showing up some time after the kids' and their caretaker's disappearance is found in a quarry near a patch of woodland makes it qualify for the "In the Dark, Dark Woods" bingo square.
Not in the Flesh begins with the discovery of a corpse in a forest near Kingsmarkham, and a while later, a second corpse is found in a locked and abandoned basement nearby (besides, here, too, both the CD and the paperback edition have a wood on their respective cover).  As both murders have occurred quite a while ago, Wexford and Burden get to be their own cold case investigators, or rather, criminal archeologists.
Of the two novels, I slightly preferred the later one (Not in the Flesh): The subplot of The Babes in the Wood, which brings a case of domestic violence to Wexford's family, is not quite convincing (once Wexford's daughter Linda, who has been victimized by her boyfriend, is rescued, she seems to recover surprisingly quickly from her ordeal — quickly and fully enough to have another boyfriend in absolutely no time whatsoever, as if she didn't have some fairly significant trust issues to overcome first), whereas that of Not in the Flesh — which was written at the height of the public outrage over female genital mutilation — left room both to explore the horrors involved in the practice as such and the cultural complexities involved, and it also served as an uncomfortable reminder that a human rights issue making headlines one day will just as easily drop from public consciousness as soon as more pressing concerns emerge.  Female circumcision is still as much of an issue in many parts of the world as it was ten years ago when this book was written, but at a time when the Western world is buffetted by everything from the Trump presidency to ISIS, Brexit and the aftermath of the 2009-2009 financial crisis, it hardly seems to impinge anymore. — As a side note, I very much enjoyed briefly meeting again Dr. Akande, Wexford's doctor and one of the protagonists of the series's 16th novel, Simisola.
For both novels, I listened to the audio narration by Christopher Ravenscroft, the Inspector Burden of the long-running TV series starring George Baker as Wexford.  (I do also own a paperback copy of Not in the Flesh, however, and consulted it for reference and plot tracking purposes.)  Ravenscroft gives Wexford a bit more of a country man's accent than he has in the TV dramatizations — and, I have to say, in my head when I read the books — but he is a pleasure to listen to, and his obvious familiarity with the source material only adds to that pleasure, as does his classical stage training.

Robert Louis Stevenson: Dr. Jekyll & Mr. Hyde

One of the great classics of the horror genre — which I'd read before, but when I heard that there was a recording of the story by Sir Christopher Lee, I just had to have it.  And Lee more than delivers on the promise associated with his name alone.  No wide-eyed, flamboyantly-gestured horror movie antics here (or their audio equivalent), just great empathy for all of the characters involved — and for none more so than for the unfortunate, tragically overreaching Dr. Jekyll.
Never mind the story's one minor logical inconsistency — by which I'm not referring to its central premise, the notion of (even physically) splitting apart a man's personality into its "good" and its "evil" components (reject that, and the story falls apart entirely, obviously), but if Hyde is initially significantly smaller in stature than Jekyll because his is, or has heretofore been the less dominant part of Jekyll's personality, shouldn't Hyde then grow in stature, too, as his influence over Jekyll grows? — this is rightfully a classic of the genre, and a cautionary moral tale to boot; and in an age that has made the manipulation of human genetic material easier than ever, also eerily timely … not to mention that it brilliantly shows that "horror" does not have to involve bucketfuls of blood oozing from the pages in order to achieve a truly terrifying effect; psychology and atmosphere, if as brilliantly executed as here, really does it all.  (Oh, yes, of course there is the one brutal murder committed by Hyde, but let's be honest, that doesn't even come close to the real life horror that would be spread, barely two years later, by Jack the Ripper; and it certainly hasn't got a dime's worth on our latter days' slasher yarns.)
Having lucked out with the two most recent bingo calls, in that one of them (Genre: Horror) isn't on my card and the other one (Locked-Room Mysteries) is one I'd already read a book for, I decided to indulge in a bit of a mini-binge for one of the squares I had been particularly looking forward to — and had also had a disproportionately hard time making up my mind what book(s) to read for it.  I ended up settling for a print edition of Cornell Woolrich's The Bride Wore Black and an audio threesome of Chandlers: an unabridged reading by Elliott Gould (who better?!) of Chandler's second Philip Marlowe novel, Farewell, My Lovely, and full cast audio dramatizations of Marlowe books nos. 3 and 6, The High Window and The Long Goodbye.
Cornell Woolrich: The Bride Wore Black

Woolrich was one of the classic noir era's masters of psychological suspense; few of his contemporaries were capable of making nightmare scenarios come alive within a few short pages the way that Cornell Woolrich could.  Many of his stories have a downright evil twist at the end, and as far as such endings go, The Bride Wore Black certainly shows Woolrich at the top of his game.  (Be warned, however: Woolrich doesn't always play fair.  His final twists may come out of left field not only for his characters but also for the reader; and this, too, is certainly true for this particular novel.  While certain clues are provided throughout the story hinting at yet another narrative level, they in themselves are not sufficient to allow a deduction what precisely that level might coonsist of.)
There is very little that can be said about the plot without spoiling at least significant parts of it, so let's just stick with what the title implies — this is a twist (and a fairly major one) on the "black widow" trope, in that over the course of 2 1/2 years, several men are murdered … though not by a woman whom they themselves have married.  It's a thrilling tale that I greatly enjoyed, even if not all of the background details provided over the course of the book and in the final reveal do, IMHO, fully resolve the things that had nagged at me while I was reading the book.
(Note: If you don't know the book and are seriously planning to read it, DO NOT read the below paragraphs, which contain significant spoilers.)
In the Moran chapter particularly, "the woman"'s background research — notably, into Miss Baker's habits and into Cookie's kindergarten routine (the "gold star" awards system for the children's drawings, etc.) would seem to have had to be much more extensive than a brief absence from her job (as she owns to during the final reveal) would have enabled her to carry out, and I also think this is the one section where the book most clearly shows its age in terms of child psychology. — Moreover and still in that same section, the murder method seems inconsistent with "the woman"'s otherwise extremely careful planning in that it seems opportunistic, as she certainly couldn't expect to come across that conveniently suffocating closet (and we neither have any indication that she had ever actually seen the inside of Moran's house before, nor that she had initially been planning on a different murder method, e.g., for using that fruit paring knife, and changed her mind only at the very last moment, baiting the trap with a game of hide and seek).
Similarly, given the back story it seems hardly credible to me that Corey should not have been aware of her (and able to recognize her) long before she even showed up at Bliss's engagement party: This is the woman who ruined his business racket and made his former partner abscond with the proceeds … and yet, to Corey she's supposed to have been "that unimportant little white doll-like figure" next to her husband even on their wedding day?!
And, finally, I find it hard to believe that Wanger should not have focused on the cross sections of the victims' lives much earlier than we are told he did.  Surely if you are convinced there is a connection between several killings, taking a look at the victims' lives and seeing where they intersect is one of the very first things you do … especially if you have a hard time convincing your superior officer because all else you can come up with is the fairly esoterical notion that the killer might — just might — be the same woman?
(Spoiler paragraphs end.)
So, a bit of suspension of disbelief is required on the part of the jaded modern reader who's read one or two mysteries too many.  But the quality of the writing, the clever build-up of suspense, and the wicked twist in the final reveal more than make up for that.
And just as a side note now, take a look at that cover: Isn't it simply fabulous?  It alone almost tells you everything you need to know about the story going in — and in the actual physical copy I own, the red and deep black almost have a lacquer glow.  So gorgeous!  Hats off to the artist whoever came up with it.
Raymond Chandler:
Farewell, My Lovely

Farewell, My Lovely is supposed to have been Raymond Chandler's own favorite novel, and although it didn't quite manage to elbow The Big Sleep out of the top spot of my personal affections for Chandler's writing, it came darned close and is also, along with the Christopher Lee / Robert Louis Stevenson "co-production" (of sorts) on Dr. Jekyll and Mr. Hyde (see above and here), easily the stand-out experience of this particular batch of bingo books.  It certainly helped to have it read to me by Elliott Gould, whose dark, slightly husky voice and laconic intonation is a perfect match for Chandler's language — and for Marlowe's character –, but even narration aside, this book has everything you can possibly ask for in a Raymond Chandler novel: razor sharp language and observation, perfect pitch, a 1940s Los Angeles leaping off the pages in every conceivable shade of gray, dodgy characters (both male and female) aplenty, and a Philip Marlowe in deep trouble after successive run-ins with representatives of both sides of the law (with both sides of the law sometimes being represented by the very same persons, of course).
Structurally, the book follows a similar pattern as The Big Sleep and virtually every other Marlowe novel: After having made an acquaintance with every potential to land him in the deepest of muck — and not before the first specks of said muck have indeed begun to materialize — Marlowe is hired by a(nother) client, as a result of which his attention is temporarily deflected from the muck already accumulating elsewhere, until it dawns on him that the two piles of manure are actually — or at least very likely — products of the same stable.  He digs deeper (or is dragged deeper in), whereupon the manure acquires Augean proportions.  Further complications ensue, until at the end Marlowe emerges from it all: yet a bit more cynical and disillusioned by his recent experience, minus a client or two, and feeling that, once again, in a city where not even the police can be trusted to do their job, he has done their job for them very much at his own cost.
In this instance, the trouble begins with a variation of the "two men enter a bar" joke, except when a private dick (Marlowe) and a black six-foot heavyweight boxer-material ex-con appropriately named Moose Malloy enter this particular bar, the punch line is, in quick succession, a dead body in a back room, Marlowe's first of several run-ins with the cops, and a phone call from an equally rich and shady character seeking to hire him, at the very last minute, as a bodyguard for a nightly rare-jade-necklace-for-a-suitcase-of-ransom-money-exchange in the hills above the city.
Plot serpentines the size of Mulholland Drive aside, however, the true feast in any Raymond Chandler novel is the language and imagery.  Oh, it's cynical beyond belief (this is a noir novel, remember), and female sensibilities in particular aren't catered for; much less so than even in the writings of Chandler's contemporary Dashiell Hammett.  But there's a rapid-fire gut-punch quality to it that just hasn't got any equals anywhere — just take these few examples, all within just a few pages of each other (if that) fairly early on:
"I said: 'Mrs. Florian? Mrs. Jessie Florian?'
'Uh-huh,' the voice dragged itself out of her throat like a sick man getting out of bed."

"A couple of frayed lamps with once gaudy shades that were now as gay as superannuated streetwalkers."

"The woman's eyes became fixed in an incredulous stare.  Then suspicion climbed all over her face like a kitten, but not so playfully."

"[T]heir faces were as threadbare as a bookkeeper's office coat."

"I wouldn't say the face was lovely and unspoiled, I'm not that good at faces.  But it was pretty.  People had been nice to that face, or nice enough for their circle.  Yet it was a very ordinary face and its prettiness was strictly assembly line."

"'Huh?  Oh yeah, funny.  Remind me to laugh on my day off.'"

"They had Rembrandt on the calendar that year, a rather smeary self-portrait due to imperfectly registered color plates.  It showed him holding a smeared palette with a dirty thumb and wearing a tam-o'-shanter which wasn't any too clean either.  His other hand held a brush poised in the air, as if he might be going to do a little work after a while, if somebody made a down payment.  His face was aging, saggy, full of the disgust of life and the thickening effects of liquor.  But it had a hard cheerfulness that I liked, and the eyes were as bright as drops of dew."

"Montemar Vista was a few dozen houses of various sizes and shapes hanging by their teeth and eyebrows to a spur of mountain and looking as if a good sneeze would drip them down among the box lunches on the beach."
"I walked back through the arch and started up the steps.  It was a nice walk if you liked grunting.  There were two hundred and eighty steps up to Cabrillo Street.  They were drifted over with windblown sand and the handrail was as cold and wet as a toad's belly."
Let me tell you, after you've been through a whole novel's length of that sort of stuff, you feel like you're fresh out of the wringer, too; right down there with Marlowe!

The High Window


The Long Goodbye

Compared to an unabridged reading of Chandler's own words, any radio adaptation of his novels must necessarily fall a bit short, even if it's got the BBc's stellar production quality and the cast — lead by a very credible Toby Stephens as Marlowe; accent, cynicism and all — do their level best to convey the essence of Chandler's works.  Still, I wasn't disappointed, and quite frankly, another two servings on the same level ast he Elliot Gould reading of Farewell, My Lovely would have been more than I'd have been able to stomach in this rapid succession.
The High Window, Chandler's third Marlowe novel, sees the detective hired by a rich bully of a widow (magnificently portrayed by Judy Parfitt) to recover a "Brasher Doubloon", a valuable antique coin (see left) that she has inherited from her late husband.  Like The Big Sleep, this story has an extremely jaded "it's all in the family" subtext, and while its storyline is not quite as tangled and knotted as that of Chandler's most famous novel (where reportedly not even the author himself was ultimately able to unravel all of the plot strings), there are noir joys aplenty along the way … and Marlowe even gets to go on a cross country trip to rescue a Mid-Western damsel in distress from her toxic big city environment and restore her to her parents' porch.
The Long Goodbye, finally, was Chandler's penultimate Marlowe novel complete and published during his lifetime.  It begins when Marlowe makes the acquaintance of a drunk ex-soldier in a sort of on-again-off-again-marriage/relationship with a rich tycoon's daughter, who after several months on-again-off-again friendship with Marlowe asks the detective to help him to make it to Tijuana airport … only to be reported to have died in Mexico a short while later; not however before dispatching two farewell notes to his late pal — a short letter accompanied by a larger banknote than Marlowe has ever seen.
 Los Angeles in the 1940s:
A map of Raymond Chandler's / Philip Marlowe's Los Angeles:


Source: Huffington Post
… and finally, a couple of my own photos (from the 1990s and early 2000s):
View from Mulholland Drive: Hollywood Bowl, 405 Freeway, Westwood;
on the horizon, downtown Los Angeles

Left: Westwood, Beverly Hills and Century City;
Right: Bel Air and Hollywood Hills

Hollywood Hills and Hollywood Sign

Beverly Hills: Sunset Blvd. and Rodeo Drive

Santa Monica

Rancho Palos Verdes
Next Read:
  TBD!

Terry Pratchett: Equal Rites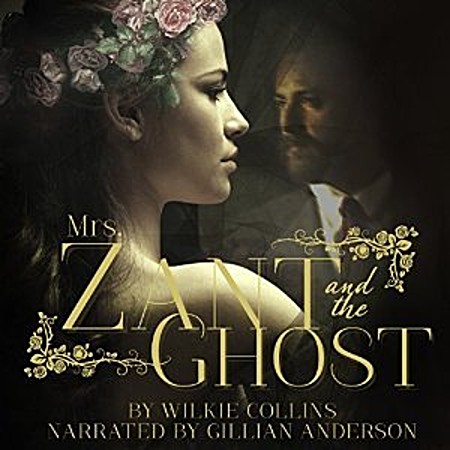 Wilkie Collins: Mrs. Zant and the Ghost
(Gillian Anderson audio)


Martin Edwards / British Library:
Miraculous Mysteries – Locked-Room Murders and Impossible Crimes


Agatha Christie: Mrs. McGinty's Dead
(Hugh Fraser audio)
The Book Pool:
Most likely: Donna Andrews: Lord of the Wings
Alternatively:
* Diane Mott Davidson: Catering to Nobody
* One or more stories from Martin Greenberg's and Ed Gorman's (eds.)
Cat Crimes
* … or something by Lilian Jackson Braun
Most likely: Emily Brontë: Wuthering Heights (audio return visit courtesy of either Michael Kitchen or Prunella Scales and Samuel West)
Alternatively:
* Wilkie Collins: The Woman In White
(audio version read by Nigel Anthony and Susan Jameson)
* Isak Dinesen: Seven Gothic Tales
* Carol Goodman: The Lake of Dead Languages
* … or something by Daphne du Maurier
Candace Robb: The Apothecary Rose
Most likely: Simon Brett: A book from a four-novel omibus edition including An Amateur Corpse, Star Trap, So Much Blood, and Cast, in Order of Disappearance
Alternatively:
* Georgette Heyer: Why Shoot a Butler?
* Margery Allingham: The Crime at Black Dudley
(audio version read by David Thorpe)
* Carol Goodman: The Lake of Dead Languages
* Minette Walters: The Shape of Snakes
Most likely: Something from James D. Doss's Charlie Moon series (one of my great discoveries from last year's bingo)
Or one of Walter Mosley's Easy Rawlins mysteries
Alternatively:
Sherman Alexie: Indian Killer
Terry Pratchett: Carpe Jugulum
One or more stories from Martin Edwards's (ed.) and the British Library's Miraculous Mysteries: Locked-Room Murders and Impossible Crimes
Most likely: Agatha Christie: Mrs. McGinty's Dead
(audio return visit courtesy of Hugh Fraser)
Or one or more stories from Martin Edwards's (ed.) and the British Library'sSerpents in Eden: Countryside Crimes
Alternatively:
* Carol Goodman: The Lake of Dead Languages
* Josephine Tey: Brat Farrar, To Love and Be Wise, or The Singing Sands
* Georgette Heyer: Why Shoot a Butler?
* Peter May: The Lewis Man
* S.D. Sykes: Plague Land
* Arthur Conan Doyle: The Mystery of Cloomber
* Michael Jecks: The Devil's Acolyte
* Stephen Booth: Dancing with the Virgins
* Karen Maitland: The Owl Killers
* Martha Grimes: The End of the Pier
* Minette Walters: The Breaker
One of two "Joker" Squares:
To be filled in as my whimsy takes me (with apologies to Dorothy L. Sayers), either with one of the other mystery squares' alternate books, or with a murder mystery that doesn't meet any of the more specific squares' requirements.  In going through my shelves, I found to my shame that I own several bingo cards' worth of books that would fill this square alone, some of them bought years ago … clearly something needs to be done about that, even if it's one book at a time!
Isabel Allende: Cuentos de Eva Luna (The Stories of Eva Luna) or
Gabriel García Márquez: Crónica de una muerte anunciada (Chronicle of a Death Foretold)
Most likely: One or more stories from Charles Dickens: Complete Ghost Stories or Sharyn McCrumb: She Walks These Hills
Alternatively:
* Wilkie Collins: Mrs. Zant and the Ghost
(Gillian Anderson audio)
* Stephen King: Bag of Bones
Terry Pratchett: Men at Arms
Obviously and as per definition in the rules, the second "Joker" Square.
Equally as per definition, the possibles for this square also include my alternate reads for the non-mystery squares.
Most likely: Cornell Woolrich: The Bride Wore Black
Alternatively:
* Raymond Chandler: Farewell My Lovely or The Long Goodbye / The High Window
* James M. Cain: Mildred Pierce
* Horace McCoy: They Shoot Horses, Don't They?
* David Goodis: Shoot the Piano Player or Dark Passage
* … or something else by Cornell Woolrich, e.g., Phantom Lady or I Married a Dead Man
Most likely: Ruth Rendell: Not in the Flesh or The Babes in the Wood (audio versions read by Christopher Ravenscroft, aka Inspector Burden in the TV series)
Alternatively:
* Carol Goodman: The Lake of Dead Languages
* Sharyn McCrumb: She Walks These Hills
Most likely: Peter May: Coffin Road
Alternatively:
* Stephen King: Bag of Bones or Hearts in Atlantis
* Denise Mina: Field of Blood
* Carol Goodman: The Lake of Dead Languages
* Minette Walters: The Breaker
* Jonathan Kellerman: When The Bough Breaks, Time Bomb, Blood Test, or Billy Straight
* Greg Iles: 24 Hours

Most likely: Sharyn McCrumb: She Walks These Hills
Alternatively:
* Karen Maitland: The Owl Killers
* Greg Iles: Sleep No More
Most likely: Margery Allingham: The Crime at Black Dudley
(audio version read by David Thorpe)
Alternatively:
* One or more stories from Martin Edwards's (ed.) and the British Library's Murder at the Manor: Country House Mysteries
* Georgette Heyer: They Found Him Dead
* Ellis Peters: Black is the Colour of My True-Love's Heart

Most likely: Something from Terry Pratchett's Discworld / Witches subseries — either Equal Rites or Maskerade
Alternatively:
* Karen Maitland: The Owl Killers
* Shirley Jackson: The Witchcraft of Salem Village
Most likely: Antonia Hodgson: The Devil in the Marshalsea
Alternatively:
* Rory Clements: Martyr
* Philip Gooden: Sleep of Death 
* Minette Walters: The Shape of Snakes
* Ngaio Marsh: Death in Ecstasy
* One or more stories from Martin Edwards's (ed.) and the British Library's Capital Crimes: London Mysteries
Most likely: Robert Louis Stevenson: The Strange Case of Dr. Jekyll and Mr. Hyde (audio return visit courtesy of Sir Christopher Lee)
Alternatively:
* H.G. Wells: The Island of Dr. Moreau
* … or something by Edgar Allan Poe
Most likely: Something from Ovid's Metamorphoses
Alternatively:
* Robert Louis Stevenson: The Bottle Imp
* Christina Rossetti: Goblin Market
* H.G. Wells: The Island of Dr. Moreau
Most likely: Jo Nesbø: The Snowman
Alternatively:
* Val McDermid: The Retribution
* Denise Mina: Sanctum 
* Mo Hayder: Birdman
* Caleb Carr: The Alienist
* Jonathan Kellerman: The Butcher's Theater
* Greg Iles: Mortal Fear
Most likely: The Medieval Murderers: House of Shadows or Hill of Bones
Alternatively:
* Sharyn McCrumb: She Walks These Hills
* Shirley Jackson: The Haunting of Hill House
* Stephen King: Bag of Bones
* Carol Goodman: The Lake of Dead Languages
* Michael Jecks: The Devil's Acolyte
Ooohhh, you know — something by Shirley Jackson … if I don't wimp out in the end; otherwise something by Daphne du Maurier.
Original post:
ThemisAthena.booklikes.com/post/1597306/halloween-bingo-2017-update-2