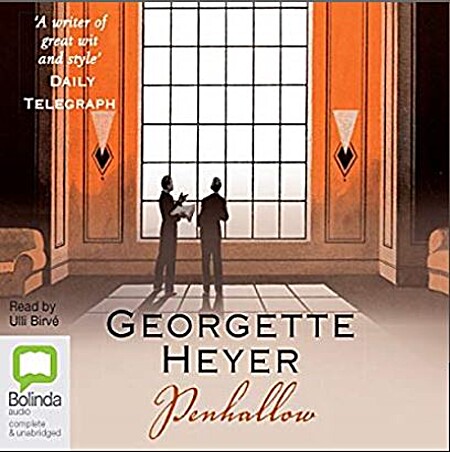 On the face of it, your classic country house mystery, country estate and horse farm in Cornwall and all; but Heyer wrote this as a contract breaker, and boy, does it ever show.  Neither seekers after romance and after knights in shiny armour nor seekers of a genteel country house atmosphere need apply here, and what might be termed "a somewhat crotchety original" in any other book (including but not limited to Heyer's own), here is styled as a crass, meanspirited old family tyrant who likes nothing better than bullying each and every member of his vast and long-suffering family into submission and downright terror.  With the exception of two creations by Agatha Christie (Simeon Lee in Hercule Poirot's Christmas and Mrs. Boynton in Appointment with Death), I can't think of any character in another mystery, Golden Age or not, who is so totally devoid of redeeming qualities.  However, while both of Christie's two infamous bullies — who clearly come from he same mold as old Penhallow — meet their ends fairly early on in the respective books and thus relieve both the reader and their families of their continued presence, we (and Penhallow's harassed household) have to suffer until almost the 65% mark of this book until someone's nerves finally snap once and for all.  We actually get to witness the murder, so there's no great mystery as to whodunnit — although I admit that for the longest time I kept hoping for a Christie-esque twist, but that was not to be.
(Also, though this is a far cry from George R.R. Martin, be careful which of the other characters you invest your sympathies in … though God knows, few enough of them deserve any empathy to begin with; but then, with old man Penhallow around, it's hard to see how any of them could have grown both a spine and halfway decent manners at all.)
There's some ambivalence as to the book's two LGBT characters — one son of Penhallow's who is obviously modeled on Oscar Wilde and who, apart from a few witticisms, comes across rather negatively and as checking off pretty much every anti-gay cliché in the book, and a daughter who, apart from being a bit "bossy", is one of the few members of the younger generation endowed with a brain, a healthy dose of common sense, and the gumption to stand up to her father (albeit helped, no doubt, by the fact that she is also one of the few family members not financially dependent on the old man).
All in all, a far cry from your typical Heyer (or at least, from her mysteries — can't speak to her Regency romances) — I'm not sorry I read it, but as far as grumpy old patriarchs and bickering families go, I vastly prefer one of her Inspector Hemingway mysteries, Envious Casca (republished as A Christmas Party).
Reading Progress Update: 120 of 833 Minutes