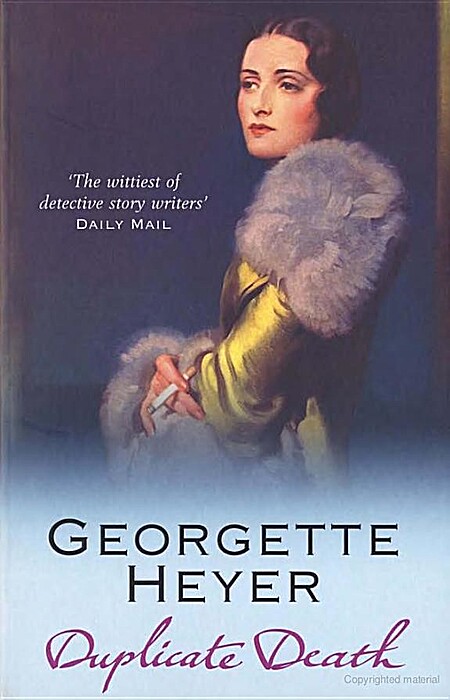 This is the penultimate of Georgette Heyer's Inspector Hemingway mysteries, and while in other books Hemingway and his former boss, D.I. Hannasyde — as whose sergeant Hemingway appears in the first four novels of the eight-book arc — occasionally make reference to previous cases they've been involved in, outside of the fact that the four mysteries focusing on Hemingway operate as a collective sequel to the four Hannasyde books as such, this is the only instance of a later mystery constituting an express sequel to an earlier one.  I didn't know this when I read Duplicate Death for the first time, and I reread it again, this time around, without having gone back to its D.I. Hannasyde prequel (They Found Him Dead); but if there is one case in point for reading the Hannasyde and Hemingway mysteries in publication order, it is the sequence of these two books, especially as Duplicate Death contains, literally on its very first page(s), a major spoiler for one of the key plotlines in They Found Him Dead, as well as several allusions to the plot and characters of the earlier book that make a lot more sense to anyone already familiar with it by the time they're reading the later book.
The mystery's title references duplicate bridge, as it is during a bridge party using this method of the game that the first of the book's murders takes place, and later on, a second murder occurs, using exactly the same method as the first one.  Both victims, as is usual in a Heyer novel, have it coming to them in a major way; and while the novel may lack some of the acerbic wit of Heyer's other mysteries, it at least also spares us the embarrassment of contemplating whether or not we can bring ourselves to like any of the several youthful TSTL characters featured (as Patricia Wentworth all too frequently pushes her readers to do) — in Heyer's book, a TSTL character is almost invariably either a satire that literally makes you laugh out loud or as unlikable as the murder victim, even if they don't end up as the victim themselves.  Indeed, somewhat untypically for Heyer's mysteries, Duplicate Death features a comparatively straightforward and even conservative love story, with plenty of protective knight in shining armor flashes, and the only reason why I don't mind this — to my surprise, it's one of the elements of the book that I rather like here — is because the lady in question really has been through the wringer in more ways than one, even if the most salient aspect of which is one no longer half as significant in today's society as it was back then, and the knightly young man doesn't ham the shiny armor protection act but is, particularly by the standards of the time, fairly low key about it: it's more a matter of lending a friendly arm to lean on (and cry on if she weren't manifestly too proud to do that) instead of strong-arming her for her ill-perceived own good.
Duplicate Death doesn't quite reach up to my very favorite Heyer mysteries (No Wind of Blame, Envious Casca, and Behold, Here's Poison), but it makes for a fitting sequel to They Found Him Dead (which I also rather like, even though it's decidedly more on the conventional side than some of Heyer's other detective novels) and I had fun revisiting it for this year's Summer Games.

Duplicate Bridge
(Image source: Wikipedia)