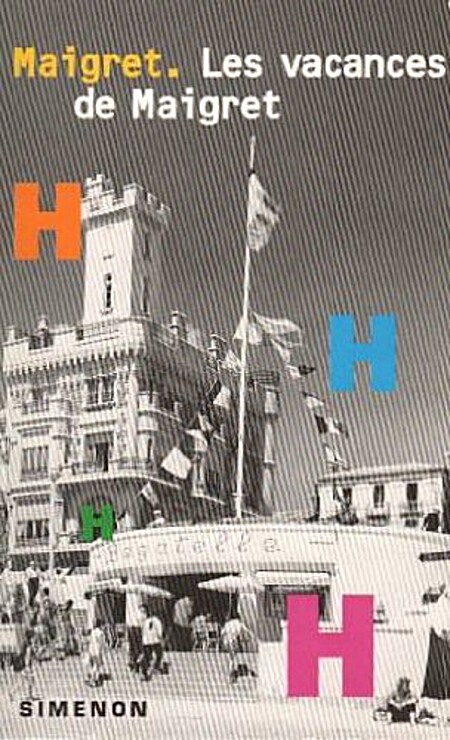 The Appointment with Agatha group's May 2021 "side read" theme took us to France yet again, and who better to read in this context than Simenon?  Like Poirot in our main (Christie) read, Simenon's commissaire Maigret has also taken himself to one of the country's manifold vacation spots in this particular installment of the long-standing series, though to quite a different place than Nice; not only in terms of geographical region (Vendée / Pays de la Loire on the western / Atlantic coast instead of Côte d'Azur / Mediterranean), but also in terms of atmosphere. 
While Les Sables d'Olonne had, by the time the Maigrets decided to seek it out for a holiday outing in the late 1940s, long been a popular vacation spot, it possessed little of the glamour of the French Riviera.  That being said, Simenon manages to make pretty much every French seaside location that he uses in his books come across as seedy, provincial, and an insalubrious mixture of stuffy and lethally corrupt: This is true for Fécamp (Normandie), where Maigret detours in the course of his 1931 investigation of the case of Pietre le Letton (Pietr the Latvian) (Simenon's very first Maigret book) and for Concarneau (Brittany), where another early case takes the Commissaire (Le chien jaune / The Yellow Dog, also 1931), as much as for Saint-André-sur-Mer (like Les Sables d'Olonne, not far from La Rochelle), where Maigret finds himself in the later (1954) case entitled Maigret à l'école (Maigret Goes to School); and also for the non-Maigret book Le voyageur de la Toussaint (Strange Inheritance), which is again set in La Rochelle, a place with which Simenon was intimately familiar due to several extended stays in the area — and it is unmistakeable yet again in this present book, where Maigret's holiday is rudely interrupted first by the hospitalization of his wife due to acute appendicitis and then by an anonymous plea "for pity's sake" ("par pitié") to ask questions about another patient at that same hospital (run by Catholic nuns), a young woman who, however, by the time that Maigret does work up an interest in her circumstances, has died just the night before.
In fact, in this instance we are not so much looking at a traditional whodunnit but, almost, an inverted mystery.  It takes a while for Maigret to be convinced that there is anything unusual about the victim's accident, which had sent her to the hospital in the first place — he really only begins to take a serious interest after another young woman disappears, whom he has met by chance and somewhat furtively at a the home of a doctor practicing at the hopsital –; and we're initially treated to an extensive exploration of Maigret's boredom: He misses his Quai d'Orsay desk and colleagues, and his stultifying daily routine, now that his wife is stuck in a hospital bed, consists of slow, extensive walks along the beachfront (the Remblai), daily visits to a beachfront bar (the Brasserie du Remblai) and other bars and cafés, and also daily visits with his wife, who updates him on what little hospital gossip she manages to get a hold of.  His visits to the hospital — where, based on his wife's room number, he is known only as "monsieur 6" — also follow the same dull routine day in, day out: he calls at 11:00 AM, is assured that everything is going well and as planned with his wife's recovery; at the hospital he is then welcomed and conducted to his wife's room by the same nuns every single time, and after M. and Mme. Maigret have tried (with small success) not to bore each other to tears for the duration of his half hour-long visit, he is conducted out of the hospital again by the same nuns as before and resumes the rest of his numbskull daily routine.
However, once Maigret at last does decide to take an interest in the circumstances of the other patient's accident and death, he fairly quickly settles on one particular suspect, and Simenon doesn't even go to the length of pretending that there could possibly be another serious candidate.  If there is any question at all, it is whether the reason for "patient 15″'s hospitalization really was an accident (which the unknown writer of the "for pity's sake" note obviously doubts) and what precisely has happened to the other young woman, whom nobody (including the doctor himself) seems to have been intended to meet at the doctor's home; as well as to her brother, who is believed to have left for Paris but never seems to have arrived there.  But even to the extent that there are unanswered questions, as in the other books mentioned above, Simenon's interest is not so much in constructing a fiendishly clever mystery; rather, his focus is on the the slow and painstaking deconstruction of the web of family ties, friendships, filth, fraternization, and (Catholic) faith characterizing this provincial town like so many others, and which provides the local élite with a near-impenetrable shield against prosecution even for murder — whereas those without ties to the rich and powerful are left without any protection at all, and are best advised to stay out of the high and mighties' way, because any entanglement with them can only lead to disaster and tragedy.  From the point of view of the local élite, it obviously helps that the local juge d'instruction (chief investigating magistrate) — a picture of vacuous vanity such as only a French (or British) élite education is able to produce — is firmly tied into the web of power by bonds of blood; and the fact that Maigret's concerns are initially dismissed as ridiculous by the local police is, unsurprisingly, only par for the course as against this background.  As is the fact that once the layers of protection have at last been peeled off, the culprit is revealed as the naked, empty shell that he really is.
There is only so much seedy French provincial life, Simenon style, that I can take at any given time, so I was glad that this was a comparatively short book; and given the total number of novels that he published over the course of his life (which even exceeds that of Agatha Christie), I suspect at some point certain books with a similar atmosphere and setting are going to run into each other in my memory, the more of them I read, even if they all have distinct and very different plots.  But I'm not quite at that point yet — and the one thing that will probably make this particular novel always stand out to me is Simenon's rendition of the hush-hush, strictly regulated atmosphere at the convent hospital, which for the time period is absolutely spot-on and excellently done.
Detail of a 1946 cartoon style French Department map showing the location of Les Sables d'Olonne, north of La Rochelle and west of Poitiers. (Source)
1934 guide Michelin map of Les Sables d'Olonne, showing several locations used in Simenon's novel, including the Hôtel Bellevue, the hospital (right side of the map, white cross on black background, below and a bit to the left of the roman numeral "IV"), and the police station (gendarmerie, "G") just beyond the next major street to the left of the hospital).  According to this review, which is also the source of the above image / map, the letter "A" in the center / left part of the map marks the church of Notre-Dame-de-Bon-Port (near the the market place and the Hôtel de Ville, "H"); and the Brasserie du Remblai is in the same spot as is, on this map, the Hôtel du Remblai et de l'Océan, on the beach front next to the Hôtel Bellevue.
Les Sables d'Olonne in 1948 (the year in which Les vacances de Maigret was published)
… and today.
The Remblai (beach front promenade) in the 1950s
(image sources here, here, here, here, here, here, here, and here) —
— in the 1960s (image sources here and here) —
— and today (image sources here, here, here, here, and here).
Les Sables d'Olonne in the arts: 1928 poster using a painting by Maurice Perronnet — 1948 painting by Ludwig Bemelmans —  ca. 1958 poster using a painting by Robert Falcucci — 1933 painting by Albert Marquet — and 1988 painting by Raphaël Toussaint (image sources here, here, here, here, and here)