Festive Tasks Master Update Post HERE
Task 1: Are you a fan of gift giving, or is it a burden? Have you figured out a way to balance the commercialization of the season with the desire for a sense of meaning (whether religious or not)? Tell us about it and, if you want, post a picture of your wrapped gifts under the tree, or wherever you display them before the unwrapping celebration.
I like giving gifts — as a token of friendship and appreciation, to say thank you, etc.  However, the only persons with whom I exchange gifts on a regular basis (on birthdays, holidays, and as vacation souvenirs) are my mom and my BFF Gaby.
Gaby, some years ago, asked for a link to my Amazon wishlist, which I've thus learned to keep updated; so books from that list will virtually always be included in her gifts to me.  But it's not a mutual thing, nor do I exchange wishlists with my mom.  My mom, especially, would probably consider a wishlist the first step to creating an expectation of actually receiving gifts, and that's the last thing she would want to happen.  And, anyway, the thing she likes to receive  most are flowers, so in spring (Easter, Mother's Day) and for her birthday (in September) especially, I always make sure to put together a lovely bouquet.

This year's birthday bouquet for my mom.
If one of our Frankfurt splurge trips happens in or close to December, I usually get part of my Christmas or birthday gifts for Gaby there (her birthday is in December, too; most of the time I make up my mind at the very last minute what to give her for Christmas and what for her BD).  This year, the following two boxes will be part of my gifts to her — they're made up as presentation boxes, but the contents are hand-picked during yesterday's visit while she was chatting with another one of the store's employees and selecting her own purchases:
The purchase of the cookbook was largely inspired by the fact that one of the book's authors happened to be at the store just yesterday for a book presentation.  We had a lovely time chatting with him, and he came across as both extremely knowledgeable and a very nice person.  Plus, it turned out that this is not just a "how-to" book on making the various doughs themselves; it also contains plenty of recipes for related dishes … some of which I just know Gaby is going to enjoy trying out.  So how could I resist?!
In turn, while my birthday was a few weeks ago, the last time Gaby and I had dinner together was just before my birthday, and opening her gifts while she wasn't even present was obviously not an option, so I said I'd wait for yesterday's trip to Frankfurt.  Here's the bag she handed me (and which itself is part of her gifts) … and the birthday gifts it contained:
And, lastly, along the lines of "be good to yourself", here's what I took home from yesterday's trip to Frankfurt (the tartuffi at the very front are for my mom; the jams we'll be sharing for breakfast, and the chocolate with the jaguar (?) on the package is yet another gift from Gaby):
Task 2: Gift wrapping: Friend or Foe? Fancy or utilitarian? To bow or not to bow? Do you make your own wrapping or do you purchase? Are you a toss it all out at the end kind of person, or do you quietly grab the reusable ribbons, etc. to tuck away for another year? No judgements, we promise.
Oh, I'm definitely a friend of gift wrapping.  Nothing ostentatious — if I wrap one item in gold or silver paper it will probably be "surrounded" by other gifts wrapped in less eye-catching colors — but I like seasonal themes, not only for Christmas, and I also like to add ribbons or ornaments associated with the occasion.  Here's a photo of wrapped gifts from a few years ago:
Task 3: Judge a book by its cover! Choose a book you've never read and speculate on the quality of the story based on its cover, OR, Post a cover of a book you've read that you think is beautiful and tell us if the book lived up to its 'wrapping'.
Three Daughters of Eve
by Elif Shafak
Publication Date: May 4, 2017
Pages: 384
Rating: ★★★½
Genre: General Fiction, Literary Fiction
Fits Halloween Bingo Squares: Dark Academia, Diverse Voices
Set across Istanbul and Oxford, from the 1980s to the present day, Three Daughters of Eve is a tale of faith and friendship, tradition and modernity, love and an unexpected betrayal.

Peri, a wealthy Turkish housewife and mother, is on her way to a dinner party at a seaside mansion in Istanbul when a beggar snatches her handbag. As she wrestles to get it back, a photograph falls to the ground – an old polaroid of three young women and their university professor. A relic from a past – and a love Peri had tried desperately to forget.

The photograph takes Peri back to Oxford University, as nineteen year old sent abroad for the first time. To her dazzling, rebellious Professor and his life-changing course on God. To the house she shares with her two best friends, Shirin and Mona, and their arguments about identity, Islam and feminism. And finally, to the scandal that tore them all apart.

Shirin, Peri and Mona, they were the most unlikely of friends. They were the Sinner, the Believer and the Confused.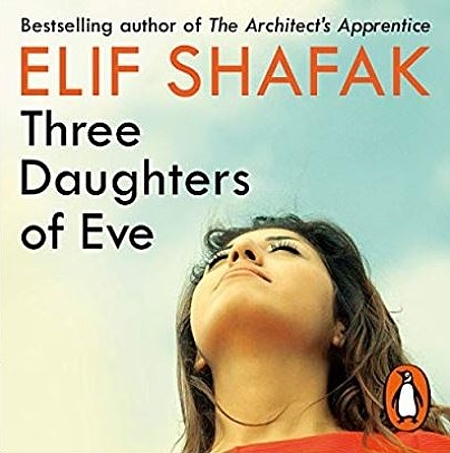 The gorgeous print edition I own of Elif Shafak's Three Daughters of Eve (pictured above) evokes 1001 Nights, and everything oriental and mysterious — nothing could be further from the truth.  While this is a book intensely concerned with Islam, its concern is with the role (if any) that religion plays in the lives of Muslim women in modern society; so the much more prosaic cover of the audio edition is actually a lot truer to the book's contents.
As a piece of fiction, this largely worked for me in terms of its general concern and also in terms of its contemporary Istanbul and Oxford setting; however, Shafak has a tendency to preach rather heavy-handedly at times, which got in the way of my enjoyment to a certain extent.  Also, virtually of the plot's cataclysmic events — the outcome of the purse snatching that sets the plot in motion, as well as an event in Oxford towards the end of the book, and an event at the dinner party where Peri is a guest during the novel's outer framework plot — came across to me as rather contrived.
It's still an interesting read — but whatever gave Penguin the idea to come up with that particular cover for this book seriously mystifies me.
Task 4: (Cheeky): Tell us about the worst, or cheesiest gift you ever received, or, tell us about the BEST present you ever received, whether it was something you really wished for, or something you never knew you needed or wanted but treasure now.
This is a story — or actually two stories — that I've told in answer to a Festive Tasks question before, so I'm just going to embed that particular post: