Task 4: Let's play Six Degrees of Literation! Start with the book that you are reading right now and make a chain of six books, linked in however you want to link them, to one of the classic holiday reads mentioned in this Guardian article.
My brain started going into nonstop spin as soon as I began thinking about this one, so I probably better get this out of the way fast so I can focus on other stuff again, lol.
My starting point is  Bodies from the Library 4: the most recent installment of the Collins Crime Club series of anthologies of Golden Age mysteries, edited by Tony Medawar, which I started listening to last night.
From there, I can go either of (at least) two ways:
Version 1
The title Bodies from the Library is very similar to Agatha Christie's classic The Body in the Library, in honor of which it just may in fact have been chosen in the first place.
The Body in the Library is a Miss Marple mystery featuring both Jane Marple herself and her friend Dolly Bantry.  The two reappear together in The Mirror Crack'd from Side to Side, in one of the numerous screen adaptations of which Miss Marple is played by Angela Lansbury, aka Jessica Fletcher, who in turn gets to solve a mystery on Christmas involving nothing less than the murder of Santa Claus in A Little Yuletide Murder.
Santa Claus actually makes fairly frequent appearances in Christmas mysteries; and "the murder of Santa" is even a bit of a trope at this point.  But involving Santa in a Yuletide murder is not a recent invention: a character coming across as a hapless version of Santa and all his elves rolled into one already features prominently in Georgette Heyer's mystery Envious Casca (recently republished as A Christmas Party).
Envious Casca is set at the countryside home of a curmudgeonly rich family patriarch, and the atmosphere is, in fact, imbued with anything but the proper holiday spirit and the notion of "peace on earth, good will toward men."  Rather, the family members and other guests hate each others' guts, and the air in- and outside the house reeks with poison.  The same is true for Agatha Christie's Hercule Poirot's Christmas, which is set at the countryside home of Simeon Lee, one of Christie's most deserving murder victims — and any of old Simeon's kin assembled for Christmas would have had motive aplenty; not only to do the deed but also to try and pin it on one of their assembled nearest and (not-so-)dearest.
The TV adaptation of Hercule Poirot's Christmas sets the story in Shropshire, and has Poirot seek out Inspector Japp, who happens to be spending the holidays with his wife's family nearby, just across the border in Wales — which of course is also the setting of Dylan Thomas's A Child's Christmas in Wales.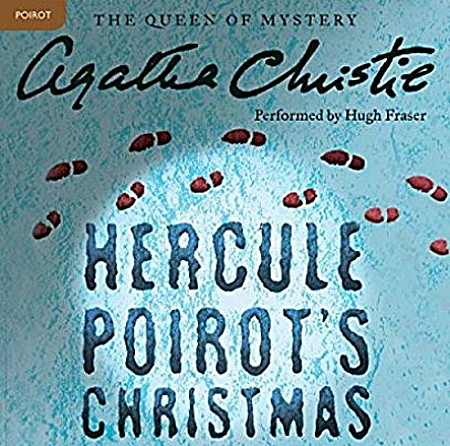 Version 2
Bodies from the Library is an anthology featuring, as one of its contributors, Ngaio Marsh, who wrote, inter alia, a Christmas mystery named Tied up in Tinsel.
Ngaio Marsh was also the author of the Appointment with Agatha group's just-concluded group of October side reads.  An author who provided one of our side reads earlier this year was Georges Simenon, whose commissaire Maigret we joined for a bit of vacation time sleuthing in Les Sables d'Olonne in Maigret's Holiday.  Not being much of a holiday person, Maigret, however, not only solves crimes while other people are lying on the beach (or in hospital, like his wife in that particular book), but also during Christmas.  Three short stories featuring that setting were recently republished in English translation in a volume called A Maigret Christmas.
While Maigret's creator Simenon himself was Belgian, Jules Maigret is as French as baguette and camembert.  And while camembert-style cheese is, today, produced all over the world, it originated from Normandy in the late 18th century, and "Camembert de Normandie" is still a protected trade name today.  Also from Normandie hailed M. Maigret's 19th century compatriot Guy de Maupassant, who is renowned to this day as one of the masters of the short story, and who wrote a much-anthologized Christmas story known in English as A Miracle; contained, inter alia, in the collection A Very French Christmas.
Maupassant's A Miracle features an egg in a critical role.  A rather special egg is laid by a Christmas goose in Arthur Conan Doyle's seasonal short story The Adventure of the Blue Carbuncle, which is contained in the collection The Adventures of Sherlock Holmes.
The Adventure of the Blue Carbuncle is a Victorian Christmas story set in London.  So is, of course, Charles Dickens's A Christmas Carol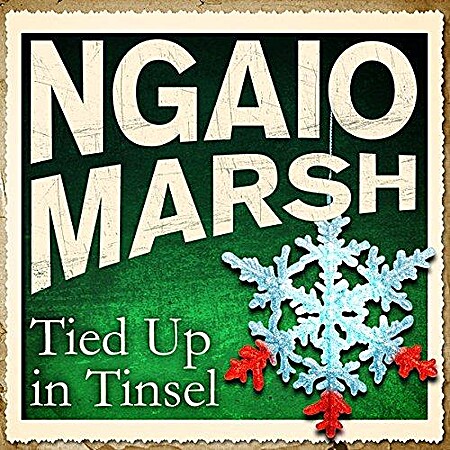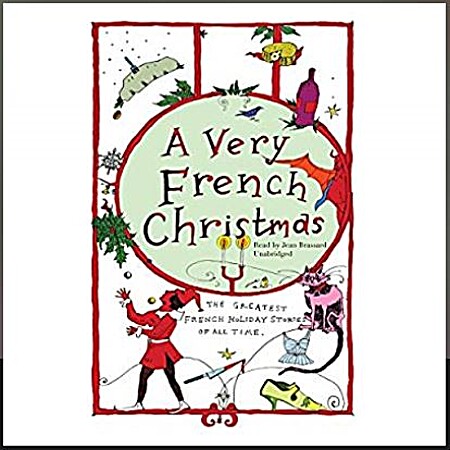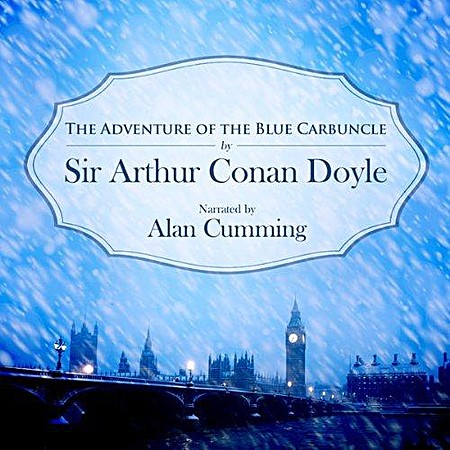 (Note, just in case anyone should be wondering: Using only holiday books isn't part of the requirements for this task, and I don't consider the Christmas setting in and of itself a link in the chain; at least not in the second chain.  I just decided to do this with holiday books only — or at least primarily — to make it a bit harder on myself and to see how many classic holiday tales I could wangle in.  Now off to try and create a chain involving Dorothy L. Sayers's The Nine Tailors and / or Terry Pratchett's Hogfather …)
ETA (a day later):  Aaaand … here we are:
Version 3
Bodies from the Library features stories by a number of members of the Detection Club; including Gladys Mitchell, whose Christmas mysteries Dead Men's Morris and The Groaning Spinney have recently seen republication as Death Comes at Christmas and Murder in the Snow, respectively, and who wrote a lovely reminiscence of the Detection Club, entitled The Golden Age, as an introduction to a 1981 anthology called Post Mortem Books Catalogue of Crime.
One of the co-founders of the Detection Club — and elected its second President, after C.G. Chesterton — was Dorothy L. Sayers, of whom Mitchell, in The Golden Age, says that as a co-founder of the club she made it a point of honor to attend everyone of its bimonthly dinners, and that "Conversation [at those dinners] was on general subjects, but was always dominated by the strident tones of Miss Sayers, then really beginning to come into her own, not only as a good writer of detective stories, but, what was far better, as a good writer of English."  Sayers herself wrote a holiday mystery named The Nine Tailors, stringing together New Year's Eve, Easter, the Spanish Flu, WWI, a priceless emerald necklace and, of course, murder, to the sound of a Kent Treble Bob Major bell ringing tune.
Bells at midnight on New Year's Eve also play a pivotal role in Charles Dickens's The Chimes, where the protagonist has a (possibly) life-changing supernatural encounter with spirits and goblins in the bell tower of his local church.
A supernatural encounter of quite a different nature is unexpectedly visited upon the Hogswatch shoppers stopping by the holiday grotto in Crumley's department store in Terry Pratchett's Hogfather, when Death (as the Hogfather's stand-in) makes a surprise appearance, wee'ing hogs and grumpy elf Albert in tow, and starts handing out the store's merchandise as gifts — not least, by giving kids the things they really want, not the version their parents think is good for them.
 This, in turn, finally brings us to David Sedaris's Holidays on Ice, the first part of which recounts his own (hilariously cringeworthy) experience as a department store holiday elf.