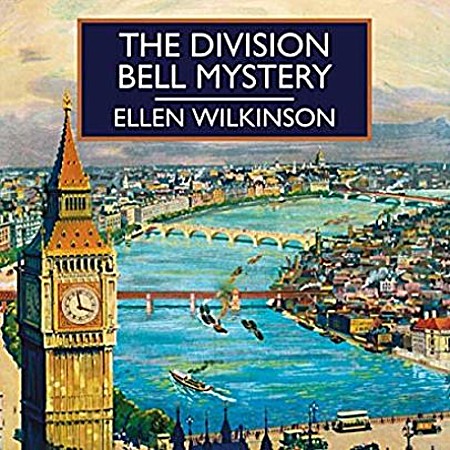 The Division Bell Mystery is one of my favorite BLCC republications to date — though not on account of the actual mystery, which, setting (The Houses of Parliament) aside, doesn't have much going for it: the "locked room" / impossible crime scenario has (as even series editor Martin Edwards acknowledges in his introduction) a plot hole deep enough to sink the whole ship right from the start; basically, if the investigating police had done their job properly on day 1, there would have been no locked-room scenario and little enough mystery even as to the "who" and "why" to begin with. 
Nor am I particularly taken with our amateur investigator, Robert West, a young Tory politician who gets caught up in the investigation as the murder victim — a self-made, super-rich American financier — had an important, confidential appointment with his boss, the Home Secretary, but who is altogether too easily distracted by the slightly questionable exoticism of a young lady named Annette figuring in the investigation (and, in turn, fairly obviously using Robert in order to try and manipulate the course of said investigation, in a spot-on instant assessment of his mental faculties).
Rather, the actual star of the show is the author herself, "Red Ellen" Wilkinson, one of Britain's first female M.P.s (Labour), and her insight into the political life of the era in general, the national debt in particular, women's role in public and private life, and the inner workings of Parliament and Government.  Martin Edwards, in his introduction, asserts that Wilkinson wisely met her readers halfway, as it were, by not telling the story from the POV of the one character obviously doubling for herself in the story (a Labour M.P. named Grace Richards), but from the POV of an up-and-coming, sympathetically-portrayed young Tory.  Well, I'll grant him the wise choice (Wilkinson's political views, as her popular nickname shows, were more than occasionally controversial with her contemporaries), but even taking 1930s attitudes and public opinion into account, I'm not so sure about Robert's sympathetic portrayal:
"Like most young politicians (male) he had given as much thought to the rôle he should assume when he entered Parliament as a newly elected woman M.P. gives to the costume to be worn on her first appearance.  After considering several models he had decided that a slightly cynical air of detachment from the worries of common man, an unruffled calm amid political storms, coupled with a keen watch for the right moment to intervene, was to be his special rôle.  As he kept these decisions carefully to himself no one could tell him that every young politician (male) had made a similar decision during the days between the count at his winning election and taking his oath in the House of Commons.

Actually Robert West could not maintain the slightest detachment even from a street dog-fight.  It was as a dog-fight that politics interested him, though he was always assuring himself that some time or other he would settle down to find out how the country ought to be run, and why politicians made such a mess of running it.  But as a popular young bachelor he found life too interesting at any particular moment to acquire sufficient of that knowledge to be awkward to his part whip.

That was why, at twenty-nine, in his second year in Parliament, he was Parliamentary Private Secretary to the Home Secretary, was known to every one as Bob, and was well inside the comfortable fairway which leads in due but long course, when the tides of youth have ebbed, to that placid company of politicians who decorate the Front Bench of any particular Government, whose names are seldom remembered during its lifetime and forgotten the day after the dissolution."
And:
"The attitude of Robert West to the modern young woman was typically of that of a very young man.  He preferred the intelligent woman.  He liked to be seen about with one who was making a name for herself.  But while he was interested in her he expected her to put her own affairs into the background, and devote herself to his.  When she was no longer needed she might be permitted to pick up her own threads again, but she must not trouble him.  This he called allowing a woman to live her own life."
Consequently, although Robert mentally and patronizingly dismisses the opinions of a fellow Tory M.P. named Stuart-Orford (a fossilized left-over from the Victorian Age) on national finance and the government's alleged "selling out" to Unspeakables — American financiers like the murder victim in the instant case — as "whin[ing] like ladies in reduced circumstances, like genteel governesses always talking about the glories of the old families" and as "patriotism that could only see a little island leading the world" (sound familiar, anybody?), Robert's only personal answer to the financial pressures of the day is that there is nothing wrong with obtaining cash from wherever it's to be had because you have to move with the times, and presently the times are essentially under the sway of America.  But he has never thought about, nor does he have any answer as to the wider implications of national finance and its impact on social peace and stability:
"The price of bread.  The costliness of Annette.  But a bread-march was not like England.  Robert suddenly realized that he had never seen a bread-march in his life before.  He had read of the demonstrations of the eighties and nineties, the long parades of unemployed in 1911.  But the unemployment benefit had settled all that.  Now it had been cut to the bone, and so …

[…] The House with its lighted windows seemed the quiet centre of the whirlpool that was London.  A harassed Cabinet Minister negotiated with an American financier inside, and outside the raw material of their transactions, the people who elected the Minister and would have to pay interest on the loan, surged and demonstrated.  They wanted bread.  It wasn't like England — Stuart-Orford was right about that.  But it was the new England, and what was to be done about it?"
"Qu'ils mangent des brioches" … and before Marie Antoinette could blink twice, she had blinked her last and France was a Republic.
Indeed, if there is one thing that this novel highlights from an early 21st century perspective, it's the notion of plus ça change, plus c'est la même chose when it comes to British politics.  In the last 10 years alone, Britain has undergone another period of so-called "austerity", with government benefits cut right, left and center — and frighteningly huge numbers of British children from unprivileged backgrounds growing up in poverty and literally going undernourished.  British exceptionalism and nostalgia for the Victorian Empire are alive and well and recently brought us all the dubious "gift" of Brexit.  Just as described by Wilkinson in the 1930s, 21st century British Government is still characterized by the irreconcilable dichotomy of the elected political leadership on the one hand and a career Civil Service whose members are appointed on the basis of merit and qualification, and who are (these days, even openly) disdainful of the elected government.

(Source)
And, just like in Wilkinson's novel, potentially scandalous events are still brushed under the carpet, so as to spare the government the embarrassment of being dragged through the mud "in the Opposition press", in the age of social media more brazenly than ever before — or maybe it only appears that way, as more embarrassing messes actually do seem to come out: this, incidentally, is of course not an issue limited to Britain alone.  (Nor is the idea of politicians clinging to their jobs instead of resigning even in the face of a manifest scandal.)
Yet, Wilkinson is intelligent enough not to judge explicitly:  She describes the events associated with the financier's murder, and the machinations that have ultimately brought it about (as well as a second murder in its immediate wake) matter-of-factly and leaves it up to her readers to decide whether to admire the bold, swift sagacity of those in high office who eventually take charge of the matter and stamp out every spark of a scandal before it can develop into a wildfire, or whether to condemn the same persons for keeping things under wraps and for preventing even those who, faced with the unconscionable consequences of their irresponsible course of action, offer to take public responsibility, from doing just that, because it would bring down the entire Government; first and foremost, the Prime Minister himself.  In this narrative approach, which treats her readers as adults capable of judging for themselves, arguably lies the greatest strength of Wilkinson's novel; particularly in light of the fact that many of "Red Ellen"'s fellow Labour Party members might conceivably have expected her to nail this book's fictional Tory government as firmly to the pillory as they themselves would in their speeches, and the "Opposition press" in its publications, the real Government of the day.
Taken all in all, Wilkinson's book may only rate as a footnote in the canon of Golden Age mystery writing, as a document fictionalizing the politics of the era alone it is well worth of notice, and I am glad it was included in the BLCC series.

(photo mine)