Gaskell Does Austen — With a Twist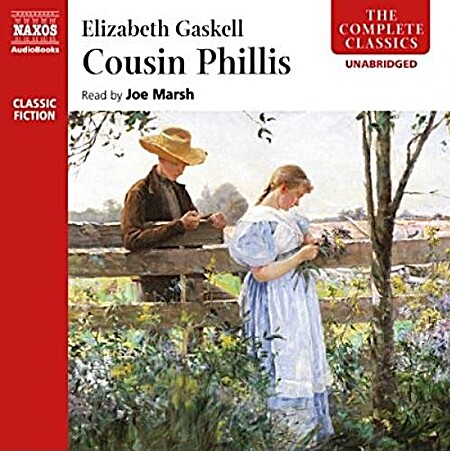 Facially, the story is your basic Austen setup with the sole difference apparent at first sight that the narrator is a male observer of the events (which incidentally is unusual for Gaskell, too) and there is no HEA — the ending is open.
However, this wouldn't be Gaskell if she were content with just copying another author's formula and giving it a little spin.  Here, that spin is women's education: Anybody who has read North and South and My Lady Ludlow knows that Gaskell was a proponent of general education, including and in particular the education of those left by the wayside; the urban and rural poor and women of all classes.  Compared to these two books, as well as other Gaskell stories addressing the social ills of her time (e.g. Ruth — ostracization of single motherhood and Mary Barton — social and judicial prejudice against the working poor), Cousin Phillis at first blush comes across as somewhat more of a cautionary tale, and might be taken to suggest that there can be too much of a good thing:
The heroine is exceptionally well-educated for her time, which, in 19th century rural England, was apt to work against her prospects in marriage: No matter how beautiful the young lady is (and Phillis is, plenty) and no matter how much her future husband would have prospered financially from the union (and he would), most men — including educated men like the novella's narrator, who is an engineer — would have expected their wives to look up to them, not be their superior.  Thus, Phillis is vulnerable to the attentions of a charming colleague of the narrator's, who easily matches her in education and knowledge and seems to thoroughly welcome their exchange … until, that is, he accepts a new position in Canada (ostensibly on a two-year contract, but notwithstanding his violent protestations of his love for Phillis upon his departure, he marries a French Canadian lady within months of his arrival there).
The novella reads very much like a straight, nonjudgmental rendition of a tale of first love disappointed and innocence lost; this and the fact that it ends with Phillis's marital prospects unresolved and her by no means an old maid (the plot covers roughly the span of a year, and Phillis is barely out of adolescence when it begins) might suggest that this was all that Gaskell wanted to say ("sad but true, well-educated women don't have an easy time finding a husband").  But there is no criticism of Phillis's father for "burdening" her with a "too much" of education; indeed, the young narrator is gently scolded by his own father for shying away from Phillis himself on those grounds, and throughout, her education is shown as a perhaps unusual but decidedly admirable thing.  So what remains is the impression of a delicately-woven tale … which ultimately might perhaps have resolved a bit more than it actually does, but that, apparently, simply was not Elizabeth Gaskell's intention.
With this read, I finally get to check off the letter "G" in the Women Writers bingo.
Original post:
ThemisAthena.booklikes.com/post/1765871/gaskell-does-austen-with-a-twist