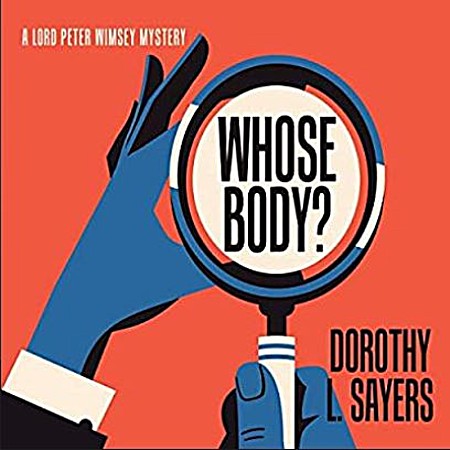 Finally an audio version that does justice to this particular book.
I don't know if this January 2019 release signals a new series of audios of all of Dorothy L. Sayers's Lord Peter Wimsey mysteries, but if it does, please God let them all be narrated by Mark Meadows.  Although my overall favorites still remain the Ian Carmichael audios (not the BBC full cast dramatizations, but those where Carmichael actually narrates the unabridged novels themselves), there doesn't seem to be a full set of those available any longer, and the alternatives produced in the interim are of — putting it gently — extremely varied quality.**
This is particularly true for the first Wimsey book, Whose Body?, whose audio version narrated by Ian Carmichael is OOP (though still available second-hand to those who are big enough fans to be willing to pay extortionate prices); and where otherwise those looking for an audio version so far have had the choice between two ridiculously over the top, trying-too-hard (and thus failing) British versions — one male, one female — and an American version failing even worse, for incongruously incorporating what the narrator obviously thinks Wimsey's nasal upper crust voice would have sounded like into an otherwise unabashedly American accent.
Imagine my delight, therefore, in listening to this Mark Meadows recording and finding that Meadows quite literally hits all the right notes; chiefly with Wimsey's own voice, but actually with those of all the characters and, notably, also with Sayers's own narrative voice … and with extra brownie points for also getting the occasional French and German bits right, with only a slight English accent to boot.  So even if this recording doesn't usher in a full series of new Lord Peter Wimsey recordings — although I hope it may — it's definitely the one I'd recommend as the one to turn to for those audio- rather than print-edition minded.  Who knows, you may even end up finding you like the usually shrugged-on Whose Body? better — or at any rate not any worse — than some of the later Wimsey novels.  (Five Red Herrings and Unnatural Death do come to mind in that department …)
___________________________________
** The one notable older, "non-Carmichael" audio I have yet to listen to is Patrick Malahide's recording of Five Red Herrings.  Even with, as BT reports, his Scots accent somewhat regionally "off", I can't imagine it to be anywhere near as awful as the so far extant versions of Whose Body?, however.
Original post:
ThemisAthena.booklikes.com/post/1860434/finally-an-audio-version-that-does-justice-to-this-particular-book
As My Wimsey Takes Me
Project Page
Reviews and Blog Posts