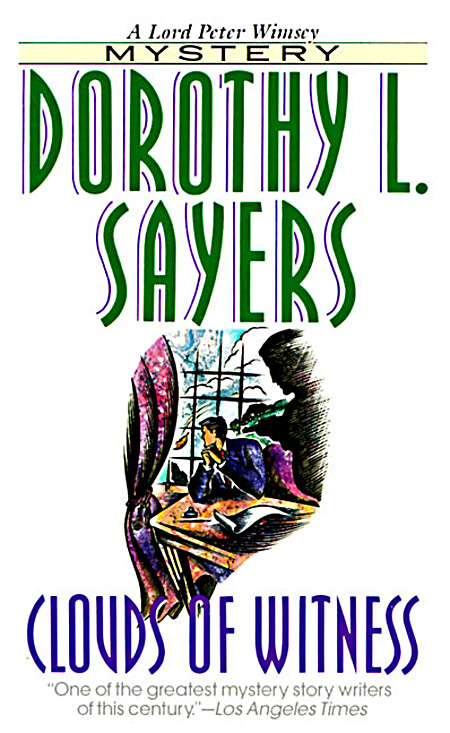 June being Dorothy L. Sayers's birthday, a revisit of her books was in the cards anyway — and speaking of which, the topic of this year's summer reading project pretty quickly also determined which books I would be picking: Clouds of Witness, where card sharping is a key plot element, and The Five Red Herrings, which is all about fishing.
The title of Clouds of Witness derives from the bible (Hebrews 12:1: "Wherefore seeing we also are compassed about with so great a cloud of witnesses, let us lay aside every weight […] and let us run with patience the race that is set before us"), and it is the first of several instances where Sayers, even before taking to theological topics outright, in her detective fiction, too, reveals herself as the daughter of a pastor and as a passionate Christian lay scholar.  The biblical cloud of witnesses from Hebrews 12:1 are the prophets referred to in the preceding book, Hebrews 11, testifying to God's standing by his people even in the face of adversity; translated to Sayers's novel, this is a reference to Lord Peter's (and his fellow sleuths') standing by his brother, the Duke of Denver, in the face of all the evidence seeming to paint him a murderer.
The book was only Sayers's second Lord Peter Wimsey mystery, and there rarely is such a marked step up from book 1 to book 2 of a series: while in book 1 (Whose Body?) Lord Peter doesn't really know yet whether he wants to be a cipher or a fully-rounded character, a Bertie Wooster look-alike or a man of his own, a character appealing to an "everyman" audience or an audience of his peers in intelligence and education, by the time we get around to the sequel there can be no doubt that what we are looking at was a finely-honed picture of the figure bound to become one of the most iconic and lasting characters of detective fiction.  The mystery, too, is very well thought out, and as from this book on, Wimsey's world has come together in almost every respect; family, friends, and faithful retainer alike — everybody but the love of his life, whom we and he will be equally surprised to meet a few books later, under circumstances just as perilous as those in which Wimsey's elder brother is placed here.
Setting is another forte in Clouds of Witness, from the sombre Yorkshire moors all the way to Paris and, finally, the lofty House of Lords; and the lawyer (and legal historian) in me gets no slight kick out of the final description of the Duke of Denver's trial, where an ordinary blue serge suit singles out the accused as the pariah present among the ermine and toques of his peers more brutally than prison garb would in any other courtroom: for sheer splendor, proceedings in any part of the British Houses of Parliament beat those in pretty much any other parliament around the world even on a daily level, and when it comes to a trial of the high and mighty, give me the House of Lords over any of the rest of them every time.  Yet, Sayers describes all the pomp and circumstance of the proceedings with her tongue firmly planted in her cheek — not for her to admire form over substance and be dazzled by appearances.
Something else that Sayers has firmly settled on from this book onwards is that she is writing for her own peers in intelligence and education: not so much in a class sense but as reflecting brain power and the way it is being put to use in daily life.  While Agatha Christie very consciously wrote for everybody, deliberately used short sentences and a simple vocabulary, and only mildly satirized her fellow Brits' xenophobia (towards none more prominently than Hercule Poirot) and their bumbling about abroad — if they went abroad at all — with their exceptionalism firmly in place and without, frequently, even a rudimentary knowledge of foreign languages, Sayers was not adverse to complex sentence structures and vocabulary, cultural references that take the reader's understanding for granted without so much as a whisper of explanation, and the frequent use of French, the hallmark of education all the way from the 18th century to interwar Britain; a language that Sayers herself loved and had mastered well enough not only in its contemporary but also its various historical forms to be able to translate the medieval Song of Roland (even the Penguin edition on sale today still contains her translation), and which public school and university graduates like herself, as well as — thanks to herds of French nannies and governesses — British aristocrats spoke almost as fluently as native speakers, Lord Peter and his family, of course, being no exception to that rule.
Sayers was probably aware that this choice in defining her audience would necessarily limit that audience to a certain extent; but I think she felt that do otherwise would simply have meant not remaining true to herself: Intelligence and education were the two assets that she had come to value most in her own life, and which according to her views (as expressed, most notably, in the two addresses published under the title Are Women Human?, as well as the novel Gaudy Night) should be the sole determinative factors in any person's position in society; regardless whether male or female, and regardless of their social or national origin.  Sayers was by no means a social revolutionary — if anything, her world view leaned towards the conservative, and she detested the term "feminist" because she saw it as expressive of posturing more than of substance — but is is clear in her writing, in parts even in Whose Body?, but definitely from Clouds of Witness onwards, that she appreciated genuine brains and a person's desire for education and for a well-informed perspective and she despised stupidity.  Lord Peter feels brotherly loyalty towards the Duke of Denver, but neither he nor any other character possessed of a modicum of intelligence in this novel leaves the slightest doubt that the heir to the Denver title isn't anywhere near the sharpest blade in the family's armory; and his wife is dismissed (by the author and characters alike) as the functional equivalent to an empty jewel box with all of its diamond sparkle strictly on the outside, to the point that her poor husband ends up feeling compelled to seek genuine human sympathy in much lower quarters, only to get himself tangled up in a murder trial as a result.  By contrast, while Bunter is of too humble an origin to ever make it even into the middle class range socially, there is no question that — besides Chief Inspector Parker and Peter's own mother, the supremely impressive Dowager Duchess of Denver — there is nobody whose opinion Lord Peter values as much as that of his butler.  Similarly, there is nothing aristocratic and everything middle class about Parker (probably even lower middle class, since his education doesn't extend to the Abbé Prévost's Manon Lescaut, which would have been a book every educated member of the British middle class would have been familiar with at the time, and in a later Wimsey novel we learn that Parker does not have any schooling in painting and the visual arts, either); yet, Lord Peter doesn't hesitate for a second to encourage a liaison between Parker and his sister Mary, solely because he appreciates Parker's considerable mental abilities and practical common sense (and because he sees just how genuinely Parker cares for his sister).  And the same is true for every other character of the novel as well: Goyles may be posing as an intellectual, but he is quickly unmasked as a blustering fool (and a coward into the bargain).  Mrs. Grimethorpe may be a Yorkshire farmer's abused wife, but not once does Sayers permit herself (or the reader) to merely pity her and thus make her small; instead, she is raised in the reader's estimation by her courage and the vestige of pride that she has maintained even after years of abuse — whereas her husband is shown as a vicious bully; yet, Lord Peter is able to outmanoeuvre him in every situation, physical disproportionality notwithstanding, because Grimethorpe is, literally, as dumb as an ox.  (No offense to the oxen of this world.)  Undoubtedly the novel's most tragic figure is its version of Manon Lescaut's Chevalier des Grieux, Denis Cathcart, who (like the Abbé Prévost's original character) understands perfectly well how far below everything expected of a "gentleman" he has sunk in the futile pursuit of his love and yet is too weak to alter his course.
Clouds of Witness wasn't the first Wimsey book that I read — nor, for that matter, was Whose Body? — but it shot up to the rank of one of my all-time favorites from the very first and has never abandoned that spot; nor is that likely going to happen.  I can even forgive Sayers for its whiplash-inducing resolution … which only stops being just that once you realize that Sayers really was not merely writing a detective novel but deliberately updating Prévost as well.

Left: North Yorkshire Moors (photo mine); 
Right: The House of Lords (Image source)