24 Festive Tasks: Door 9 – Thanksgiving, Book:
Autumnal covers, set in New England, or a turkey shows up in the story.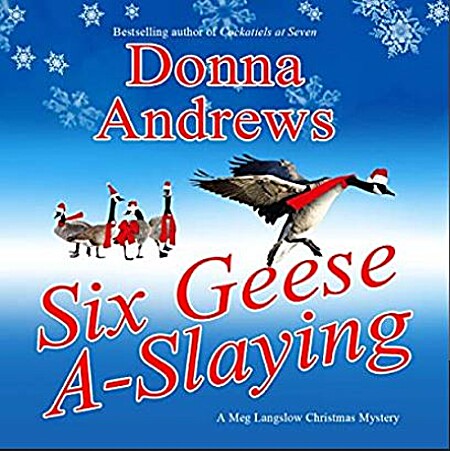 I decided to backtrack a bit to the series's first (I think) Christmas entry, which is set right after Meg and Michael's marriage and in which Meg is in charge of organizing Caerphilly's annual holiday parade — emphatically not a "Christmas" parade, since it includes a nod to Diwali (complete with elephants), as well as a Kwanzaa float, which obviously makes this book a fun match with "24 Festive Tasks".
Andrews had definitely found her Meg Langslow legs by the time of this book, and the writing and plotting is great fun … of course a holiday parade themed on The Twelve Days of Christmas offers countless opportunities for things to go hilariously haywire, but you still have to be able to hit just the right balance of humor and storytelling instead of simply stringing together a series of (wannabe) quirky incidents and characters, which not every writer is able to pull off convincingly.  Perhaps the one tiny letdown was that the murderer (and their motive) was fairly obvious well before the conclusion of the book, but still, I very much enjoyed my annual return to Caerphilly for Christmas the holidays.
And since a whole rafter of turkeys show up in various parts of the book — they march in the holiday parade, they're being offered as charity gifts to the local poor, they're roasted at one of the local church community's food stand, and a turkey also features in the Christmas dinner "in the off" at the end of the story, to be prepared by Meg's mother — I feel justified in using this as my Thanksgiving square read in "24 Festive Tasks" … even if the turkeys are not accorded quite as prominent a role as the titular six geese (or actually, 37 geese … or make that 38, counting one deceased of natural causes).
Original post:
ThemisAthena.booklikes.com/post/1817937/24-festive-tasks-door-9-thanksgiving-book