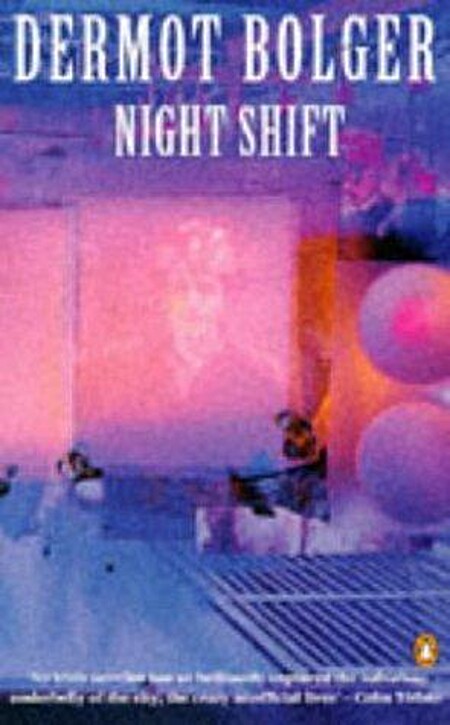 A ghost train ride through Dublin's nightly underbelly.
"I've been riding on a ghost train where the cars, they scream and slam; and I don't know where I'll be tonight, but I'd always tell you where I am."
Mark Knopfler: Tunnel of Love
It's a dull, dumbing and exhaustive routine, that night shift at the run-down metal factory, and it's only society's losers who are working there; those who no longer have the hope of a better life and of a future to speak of, and who now live from night to night only, trying to beat the graveyard shift one bleak weeknight at a time: Duckarse, the chargehand, never introduced by any other name than that of the nickname which the men have given him, and which seems to sum up his entire existence. Dan, the lonesome old man who has spent his life running away from and simultaneously following from a distance the pitiful fate of the woman he met in post-World War II London, and whose image now haunts his sleepless days because he abandoned her, and because his guilt-ridden conscience has convinced him that he is responsible for her fate; although he has long since lost the ability to do anything about it – or about anything else, for that matter. And Frankie, who spends his weekends in pubs and bars, unsuccessfully trying to build a career as a rock band promoter, and for whom paradise consists of one idea only: to delve head-first into the limitless stashes of Amsterdam's drug market, and never to re-emerge.
And then there is Donal, who does not seem to fit in with this group. Donal, who married his girlfriend Elizabeth after high school because he truly loves her – not just because they found out that she was pregnant and marrying her was the honorable thing to do. Donal, who now lives with his delicate, beautiful and very pregnant young wife in a trailer in the backyard of her parents' house. Donal, who actually has the hope of escaping the dull routine of his nightly work, and of all the days not spent awake with his wife because he is catching up on the sleep he did not get at night. Donal, who only took this job (which his childhood friend Frankie found for him) because he quickly needed a source of income after they had found out that Elizabeth was pregnant. And Donal, who is caught between his loyalty to Frankie and the life that he represents on the one hand and his love for Elizabeth and their shared, fragile hope for a better future on the other hand; desperately trying to hold on to their one chance at luck and happiness and to defend it against the bleakness threatening to encroach their life from all sides simultaneously in the post-industrial streets and neighborhoods of blue collar Dublin.
In less than 150 pages and in gritty, direct terms, Dermot Bolger tells the story of Donal and Elizabeth and of the other men of the night shift at the factory; chronicling their seemingly eventless life and the tenuous normality to which all of them are clinging by the thin threads of their existence. Yet, his narrative is of an almost cineastic quality: As in a motion picture, the story begins to unfold in the middle of a scene in the factory; and even if you've never lived through an industrial night shift, Bolger's prose places you right there, to the point that you literally see the artificial light emanating from the tubes below the ceiling beams, hear the thumping, thudding, clicking and whining of the machines, smell the ever-present dust and chemicals and feel the headache they invariably produce. As in a motion picture, you observe Donal and Elizabeth in the narrow world of their trailer, slowly losing the ability to communicate with each other and unable to make up for it with their love and with their hopes for the future alone; two pebbles in an avalanche "jolted apart and … trying to scramble back to each other." And as in a motion picture, you watch Donal float alone through the streets of nightly Dublin, past the city's other losers, past its fast food joints, video arcades and late night movie theaters, and past the crumbling façades of its quays.
"No Irish writer since McGahern has been so obsessed with the poetics of love, sex and death; [none] so brilliantly captured the suburban underbelly of the city, the crazy unofficial lives," Colm Tóibín wrote in Magill about 1985's "Night Shift" which was, hard to believe, Dermot Bolger's literary debut, and instantly established him as a major force in contemporary Irish literature. Seven novels, nine plays, a slew of literary awards, poetry collections, literary contributions, and several screen plays and literature collections edited by Bolger later, it is well-neigh impossible to overstate the impact of the author who, together with Roddy Doyle, almost single-handedly redefined the literary image of Ireland and, in particular, the working class neighborhoods of its capital Dublin. But whether you begin with the "fury of despair" (Penguin) of Bolger's entrance into the world of modern literature in "Night Shift" or with his somewhat more mainstream contribution to the more recent and wildly successful "Finbar's Hotel" venture, which he also devised and edited, and then work you way backwards: Don't be deterred by the fact that not all of his fiction is easily available in print everywhere and at all times. You'd be missing out on a uniquely important experience if you did.